Local
The state's first recreational pot shops opened a year ago. Here's what the owners have learned.
"It's been a year, but it feels like three."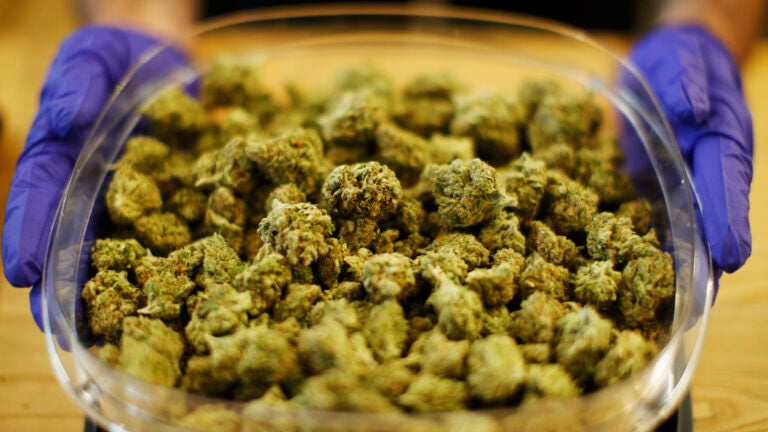 The lines started to form in the dark, predawn hours.
Shuttles ferried customers from satellite parking lots and snacks were passed around as hundreds huddled under umbrellas in anticipation of the openings of the state's first two recreational marijuana dispensaries.
People waited for hours in the queues, braving the sleet and cold, for their chance to be part of the historic day in Massachusetts and make their cannabis purchases. Now, more than two dozen recreational dispensaries are open across the state — with others still aiming to set up shop.
Cultivate in Leicester and New England Treatment Access (NETA) in Northampton opened their doors on Nov. 20, 2018, as the first shops authorized to sell pot for recreational use, and, a year later, the leaders of both dispensaries told Boston.com they are proud of the first year of business and excited for what happens next.
Below, Amanda Rositano, president of NETA, and Sam Barber, president of Cultivate, reflect on the anniversary of recreational cannabis in Massachusetts and what they're focused on for year two.
What are the biggest lessons that you learned in the first year of business?
Amanda Rositano, NETA: I think the thing that has been most eye-opening for us and something that we anticipated, but maybe not to the extent that we're seeing every day, is really the expansion of access that the adult-use market has provided for people who can really benefit from cannabis. I think there are a lot of misconceptions that it's a completely different group of people shopping on the adult-use side than it is on the medical-use side. And what we're finding more and more is that we're having the same conversations with our adult-use clients by-and-large as we're having with our medical patients. People are really, really excited to finally have access to this plant that can be so helpful with so many different conditions. And they're finding ways to incorporate that into their lives without needing to be on a registry and maintain an active patient status. They're still able to find so many benefits from cannabis. So it's been really exciting to see how we've been able to really change lives through this access to cannabis that's now available to adults over 21.
Sam Barber, Cultivate: For us, it's been a packed year, and the biggest part that's been really exciting for us is just hiring on our team. Going from what was around 30 employees, and we're currently at around 90 right now. So that was one of our biggest learning curves — just the amount of hiring that we needed to be able to get up to that pace.
[Barber added later that building a good relationship with the town of Leicester was another important lesson over the last year as the company grew.]
We are very much a part of the town. A very large number of our employees currently live in the town or are from the town over, including our managers. As well as [being] our neighbors — us being able to work with them [on] any issues or problems that they may have — they've really turned into advocates for us. We currently have people right across the street from us and they couldn't be more supportive of us. And when we're going to these new towns, to get people real information about how we do operate — that we're there to be a good neighbor, we're not there to have an impact on them — we really just want to add to the community, really be a part of it, between creating jobs, upgrading facilities, and creating tax revenue for the town and the state.
What would you say the most challenging parts of the first year were?
Amanda Rositano, NETA:  It's always the challenge of helping to break down that stigma that still exists throughout cannabis use. I think that part of the way we do that is through education. And that's not just educating people in our stores and in the confines of the dispensary, but also educating people throughout the community about what it is we really do and what our mission is and how we're out there to help all people through the use of cannabis. So I think one of the bigger challenges has just been continuing to break that stigma down — to provide people insight and a look into what we do and bring them in to the dispensary and show them how it works and that it's not the stereotypical head shop that a lot of people assume when they think about a cannabis dispensary. That it's really — we operate a place that is there to help people and that is there to be professional and responsible. So that I think is something that's been a challenge, but has also been a real positive in how we've been able to influence thinking around cannabis and cannabis consumption.
Sam Barber, Cultivate: We were such a small team that was wearing so many different hats. As we were able to hire, being able to better define what's in everybody's responsibilities and making sure that we're setting everybody up for success. It is a huge amount of learning as the [regulations] are updated — for both us and the state to be learning together as we got up and running. What are the challenges and understanding that it's a much different business — going from the medical side where you're seeing max 40 people a day to 1,500 overnight. That's where all your systems need to be dialed in. And it also just takes a bit of time for the team to get settled into their positions. But it's been very cool to see how much everybody's grown and we've come a very long way. It's been a year, but it feels like three.
What are you looking forward toward changing, expanding, or accomplishing in year two?
Amanda Rositano, NETA: I think we're always looking for feedback from our patients, from the communities that we serve, and to make adjustments — whether it be to our product line, whether it be to, again, ensure that the community really is understanding about what we do. So I think that it's just continually evolving with the needs of your patients, of your customers, [and] with the needs of your community. And that's something that NETA is always looking forward to doing — continuing to evolve and continuing to innovate in its product line, in its operation. That's how we operate. We learn from our experiences, and we continue to improve as we go forward. So I think that there's a lot of opportunity to continue to do that. But all-in-all, things have been going remarkably well coming on one year out in Northampton.
Sam Barber, Cultivate: We're really working hard on our locations in Framingham and Worcester and then a grow [operation] in Uxbridge right now. So it's very exciting. It kind of feels like — I don't want to say it feels like we're starting all over again because now we have a fantastic team that's making it go smooth — it feels like that same excitement when we first opened the adult-use side. [It's] bringing us into the second year with the excitement of our new locations.
How does it feel to have made history and been the first, looking back?
Amanda Rositano, NETA: We really think that was a jumping off point to a whole new way of thinking about cannabis and our whole team is really committed to making sure that the people who come into our stores are really having a good experience with cannabis and that they're getting the right information to use it safely and responsibly. To be able to have that impact and to shape the way that Massachusetts does legal cannabis has been really, really, really awesome for us, and it's something that I'm really proud of.
Sam Barber, Cultivate: I think for us we're still just heads down focused because we see there's so much left still to do. There's not a huge amount of time to reflect on it, we're more excited about what's coming next.