Business
An 'unsustainable' rent increase is forcing Black Ink to close in Cambridge. Hundreds have written to the landlord in outrage.
The purveyor of "unexpected necessities" will close its Harvard Square location at the end of 2019.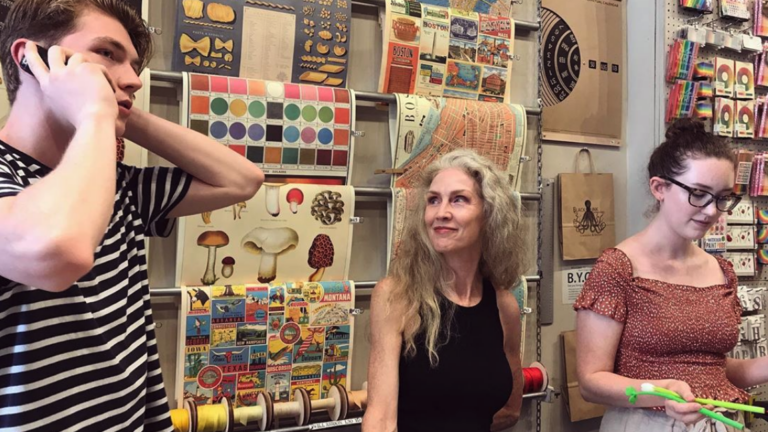 The hometowns of the note-writers stretch from the United Kingdom and Croatia to New Jersey and Massachusetts.
But the messages of the notes, scrawled on page-after-page in large sketch pads in black marker, echo one another.
"Keep Harvard Square quirky not corporate!"
"You're hurting our hearts. Think about local impact."
"LET Black Ink STAY — PLEASE"
The beloved locally-owned shop, known for its tagline of being a purveyor of  "unexpected necessities," will close its doors at the end of the year, a move owner Susan Corcoran says is the result of an untenable rent increase by her landlord, a North Carolina-based real estate investment company, Asana Partners.
"It's out of our hands," Corcoran told Boston.com. "I would have hoped that they had some feel for this community, it doesn't seem that they did."
Asana bought her building and a stretch of storefronts along Brattle Street in 2017 for $108 million. Flat Patties, another tenant of the company, has announced it will also close by the end of the year. Crema Cafe departed last December citing a failure to negotiate a new lease with the landlord.
"I just didn't feel like the community had been listened to — clearly they weren't," Corcoran said. "Crema closed, and that was really huge for people that work here and frequent this neighborhood. So I felt like the community really hadn't had a chance to say anything about this."
She wanted to give people a way to express their thoughts about the spate of closings that have plagued Harvard Square in recent years, driven in part by the rising rents and multiple, extensive construction projects.
So, after hanging a banner in her storefront in September announcing her shop's closure, Corcoran started a project she calls "Dear Asana Partners," collecting messages of support from customers, which she has mailed to her out-of-state landlord.
"It's not about us, it's about the entire community," she said.
She hasn't gotten a response from Asana — but she didn't expect one. She said she's only had direct contact with the company once, when she was attempting to discuss a new lease term.
Asana Partners did not respond to multiple requests for comment from Boston.com.
"I wanted them to know what their changes were doing to the community," Corcoran said. "Because it's unprecedented. Harvard Square, it's a very idiosyncratic place. This is not your typical development, and I think this could have been done with a lot more thought and consideration for those of us who live here."
'This is my home'
As her shop's run in Harvard Square draws to an end, the Cambridge resident and business owner said she has been preparing herself to say goodbye to a space that has been like a second home to her and her family.
She and her husband, Tim, opened their first location of Black Ink on Charles Street in Boston in 1994. They started out by selling rubber stamps they made themselves, created from images Corcoran had been collecting over the years.
She wanted to sell something no one else sold — a goal she continues to strive for and do with her business.
"It was one way to make your correspondence special," she said of the stamps. "It was fairly new at the time and people were really responsive to it and we sold a lot of stamps. And eventually it just sort of happened that we added some product and as our lives continued, we added things for children and kids. It just sort of grew along with our family life."
They learned to use every inch of space in the small storefront in Beacon Hill.
As the business grew, they opened a second location on Broadway in Cambridge. Then, in 2001, they signed a lease for a third space — a spot on Brattle Street at the center of Harvard Square.
Like they had before, they did the build out and design of the space themselves. Corcoran's husband built the shelves that still line the walls, stocked with an assortment of puzzles, gift items, books, and housewares.
But a year later, he was diagnosed with cancer. He died in 2003, leaving behind Corcoran and their daughter and son, Rory and Finn, who were 7 and 3 years old at the time.
With the loss of her husband, her business partner, and the parent of her two young children, Corcoran closed the Broadway shop immediately, which was considered his location.
It was too sad, she said, for her family, customers, and staff to be there without him.
But she maintained the Charles Street and Harvard Square shops, setting up her headquarters for the business in the back of the Cambridge store and traveling back and forth between the two locations by the Red Line.
"This is my home," she said, gesturing around at the Cambridge shop.
Her son and daughter worked at the store all through school and still do.
"They literally grew up here, and my husband built the shelving," she said. "It's very personal."
In the time that she's been in the square, Corcoran said there were always small changes, typical in a community of independent businesses. But the sense that significant change was coming began when her former landlord, the Dow Sterns Family Trust, sold the parcels across the street from Black Ink, which included the Abbott Building where the World's Only Curious George Store was housed, for $85 million in 2016.
"When that happened and I heard the price — you do the math — and I knew we were next," she said.
With a "feeling of impending doom," she said she and the community of local business owners went to all the city meetings as plans were put forward to redevelop the Abbott Building.
"Everyone came on their own time, after a long day of work, and we'd go and sit through a four-hour meeting," she said. "Because it was shocking that that entire lot would be displaced — all those businesses — and they all were."
 In 2017, her building and others belonging to the trust were sold to Asana. 
"It was like a slow train wreck because each of us, and I can only speak for myself, we each had some sort of agreement left that Asana Partners inherited with the purchase," Corcoran said. "But they're all limited amounts of time. So when my time was approaching when I knew I would need to renegotiate, I contacted them to ask if we could start a conversation. And I spoke with them once, and then was really not responded to again."
Cambridge City Councilor and Vice Mayor Jan Devereux tried to help, speaking with representatives of the company.
"At the end of the day, it didn't make any difference," Devereux told Boston.com.
Corcoran hired a lawyer, who the company responded to with a new proposed agreement. But it came with a rent increase that would be "unsustainable" for her business, she said, declining to get into specifics.
Since she reports her sales figures to the company monthly, Corcoran said she imagines her landlord knew the new amount would be untenable.
She decided against moving to a new storefront, as other businesses have. She'll maintain Black Ink with her original location on Charles Street.
"It's extremely costly and laborious to do that," she said of moving. "The thought of trying to do a whole new buildout, a new space that's untested, and to sign another, to take another risk of five years somewhere else just makes no sense to me at this point in my career. I'm an established business, I put all my energy into this."
'This is not about the people'
Inside Black Ink, Tim Corcoran's green shelves stretch up, reaching toward the ceiling packed with colorful displays. Glass jars of toys — from rubber alien "Men In Black Extras" to spinning tops — tempt purchase near the register.
The banner Corcoran put in the window in September to announce the store's closure hangs high on a wall inside the shop.
Sharing the news of the closure first with her staff, vendors, and then the community was "soul crushing," she said.
But, in the moment of hanging the banner in the store window, there was another emotion — relief.
"I wasn't carrying all that around myself," she said. "It's been an extremely stressful two years. And again, it's not just me. It's up and down the street and across the street. It's about the bigger picture. … I believe in them, and I know their customers do too. I never expected that this would happen. People were shocked. And I don't know what's going to happen in the future."
Corcoran estimates more than 1,000 people have participated since she kicked off the "Dear Asana Partners" project.
She isn't certain yet what day will be the store's final one, but she will be open through the end of December. And the notebook, bearing the signatures of customers new and old advocating for local businesses in Harvard Square, will remain, resting on a counter under the watchful eye of mini animal calendars, in the shape of pandas, cats, and pugs.
"There was no gain for me," she said. "I don't think it will change anyone's mind, but I did want to get this on record, what was happening here and how people felt about their own community being hijacked. And they're not happy about it."
She hopes her experience will serve as a cautionary tale for city officials and the community that values local businesses in Harvard Square.
"It's all about profit," the owner said. "This is not about the people. Equity money sort of chases equity money. And apparently small businesses don't have anything in — we're not in that realm. The buildings have been sold, and that money has been spent."
Heading into her last holiday season in the square, Corcoran is focused on serving the community and her longtime customers, fulfilling her mission of providing "unexpected necessities" to people of all ages looking for gifts for loved ones.