Business
Here's what led to the Wayfair layoffs
"We no doubt built some excess, inefficiency, and even waste at times, in almost every area."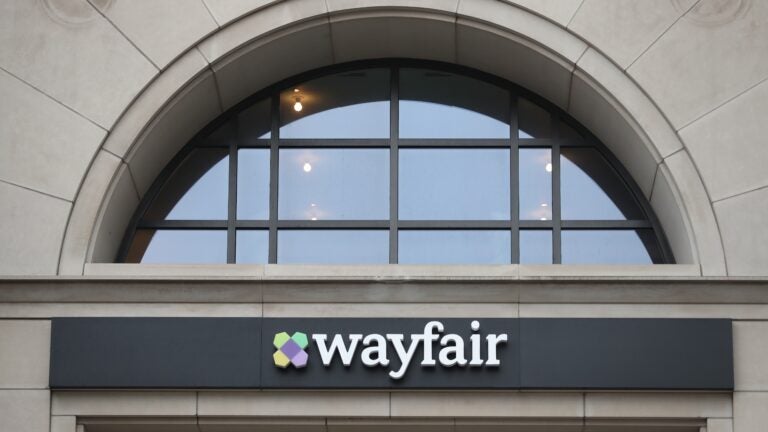 Wayfair has been one of Boston's fastest growing companies over the past decade.
A little too fast, apparently.
The online furniture retailer announced Thursday that it is laying off hundreds of employees, primarily in its Copley Square headquarters, in the midst of aggressive efforts to scale its business. In the last two years, Wayfair has doubled its size from around 8,000 workers to more than 17,000 worldwide. However, despite its growth, the company has also yet to turn a profit. And the news Thursday is part of what Wayfair says is an effort to reposition itself to "take advantage of the opportunity ahead."
How many people are affected?
Wayfair says it is laying off a total of 550 employees, including 350 at its headquarters in Boston. The company notes that the number, while large, is just a fraction of its worldwide employees, with corporate offices in Boston, London, and Berlin. It employs a total of 6,000 people at its two Back Bay offices.
Wayfair spokesperson Susan Frechette says the company continually looks to "increase efficiencies while aligning our teams with the initiatives that drive the greatest impact for our customers."
"As part of that process, we have made some organizational changes that affect approximately three percent of our global workforce," Frechette said in a statement Thursday. "We are continuing to hire for the many roles needed to drive our long-term success and the continued growth of the business."
Wayfair's website shows more than 400 job openings, including 200 in Boston.
How did it happen?
Wayfair did not immediately specify which departments were hit with the brunt of the layoffs. But the company's CEO, Niraj Shah, indicated that they occurred across several different areas.
"On reflection this last period of investment went on too long," Shah wrote in an email to employees obtained by The Boston Globe, which first broke the news of the layoffs Thursday.
"We find ourselves at a place where we are, from an execution standpoint, investing in too many disparate areas, with an uneven quality and speed of execution," the Wayfair head said. "Through two years of aggressive expansion, we no doubt built some excess, inefficiency, and even waste at times, in almost every area."
According to the Globe, an IT team in the company's Berlin offices was laid off Tuesday. Then employees reportedly received a message on Slack around 2 a.m. Thursday that certain internal systems were being locked so that web developers could not deploy code or make significant data changes.
What followed, according to an unnamed employee who spoke to the Globe, was a general meeting Thursday morning, during which hundreds of workers were told they were being laid off. On social media, others said they found out remotely that they were losing their jobs. And according to the Globe, those who weren't laid off had to speak with their supervisors and "were told they needed to be more efficient."
According to the Globe, scores of upset-looking Wayfair employees could be seen descending the escalators from their seventh-floor offices at the Copley Square mall Thursday morning. While they declined to comment, a Globe photographer was able to take a picture of one employee carrying his possessions in a cardboard box.
Within two hours of the news Thursday, Wayfair's stock had dropped 9 percent.
What led to this?
Wayfair has tried to model itself after Amazon, a fellow online retailer that has grown to remarkable size despite two decades of barely returning a profit. But that's the point: Instead of posting near-term profits, the company invests the vast majority of its revenue back into its business to fuel further growth. Amazon's business model has subsequently spurred numerous copycats — from Uber and Lyft to Spotify to WeWork — with varying degrees of success.
Likewise, Wayfair was scaled aggressively over the course of its 18-year history, particularly during the second half of this past decade. Their workforce has more than quadrupled since 2016.
"We're at a point in our history where it makes more sense to invest and grow," Jeff Naylor, a Wayfair board member, told the Globe in 2018, comparing the company to Amazon, its bigger, more broadly focused competitor.
However, some question how much that comparison holds up. Before it became a broad-based tech giant, Amazon's rise began with a focus on books, a relatively cheap product to supply and ship. Operating an online furniture and home decor store, as Wayfair does, is more complicated — and expensive.
"The returns on those investments are still not clear-cut," Seth Basham, an investment analyst, told the Globe in 2018, adding that the company "should be seeing more revenues than we are at this point in time."
Despite continued revenue growth, Wayfair repeatedly reported larger-than-expected losses last year, which analysts like Basham called a "yellow flag." According to its last quarterly earnings report in October, Wayfair's net revenue grew nearly 36 percent to $2.3 billion, but the company still incurred a loss of $272 million. Its stock subsequently plunged nearly 19 percent. Basham also noted that Wayfair had been spending heavily on advertising and that those "may not be paying off."
Or at least not yet; the company still reported increases in both customers and average order value ($252).
"Wayfair has a very powerful consumer offering, but profitability remains even more elusive," analyst Edward Yruma wrote at the time.
Daniel McCarthy, a marketing professor at Emory University, has suggested that the company's aggressive hiring could be a factor. Last fall, he noted that the company's hiring rate was outpacing its sales.
"It's not just that the headcount growth is higher than sales growth, it's that the gap between them is widening, with the former accelerating while the latter is decelerating," he said. "Shouldn't the opposite be happening, given the large capital investments the company has been making?"
Wayfair is scheduled to report its fourth-quarter earnings on Feb. 28, and the company remains outwardly optimistic.
"We remain as confident as ever in Wayfair's future," Frechette said.