Business
Here's how to safely do your laundry at the laundromat during COVID-19
It's recommended you wash and dry your clothes on the highest heat settings, then take them home to fold.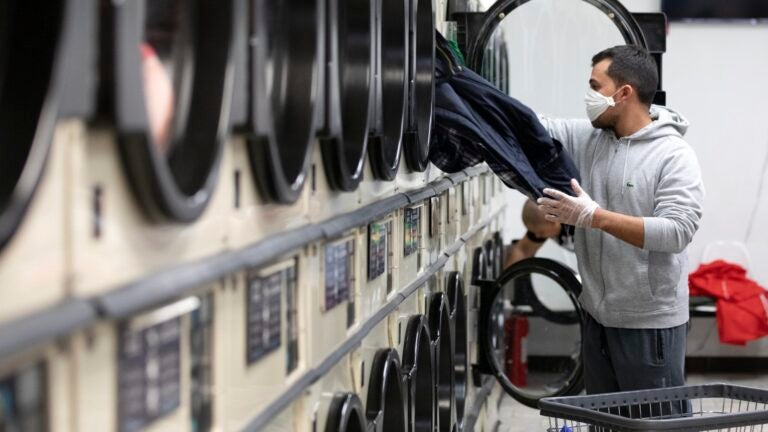 As all non-essential businesses closed down throughout Mass. following Governor Charlie Baker's order on Monday, laundromats have been allowed to keep their doors open, qualifying as essential to life during COVID-19. 
But staying open comes with a responsibility, according to The Coin Laundry Association (CLA), which has provided laundromats around the country with a document outlining safe laundering practices and ideas to encourage social distancing among customers. 
David Delaney, who's owned the Millbury Sudz City Laundromat for two years, said the best tip CLA offered was "do not shake dirty laundry." 
Not shaking your laundry minimizes the possibility of scattering the virus through the air, he said. 
The CLA also recommended people disinfect their clothes baskets, carts or hampers, and wash their clothes in a water temperature of at least 140 degrees. 
"Our hot water tanks are now set to the highest level," Delaney said. "And when you're using the dryers it should be on the hottest settings."
Viruses hate heat, he said.  
Taking extra cleaning precautions, Delaney said he's been using bleach and hot water to clean the washers every couple of hours, wiping them down afterward. 
"People are afraid to come into laundromats," he said. "But the first thing people have to realize is that a laundromat owner is being certain the equipment is sanitized because they don't want to bring it home to their families." 
Delaney said Tuesday's sales were down 50 percent, but he's hopeful business will pick up again. 
"I'm sure that has to do with the governor's request to stay home, but also bear in mind that laundromats are an essential business," he said. "If you do have the virus, you have to wash your clothes, you have to wash your pillows … If you're not doing laundry, the virus will stay in your house."
CLA also recommends people use the recommended amounts of soap when washing their belongings, noting how too much soap can create excess suds and allow grime to build up in the fabric. 
Brian Wallace, CLA's president and CEO, recorded a statement on Friday explaining the work they've done, sending letters to all 50 states to ensure laundromats are deemed essential to the public's health and hygiene. 
"I think that if we're working hard to keep our industry on the essential list, that also, in my view, comes with some responsibility for each of us," Wallace said. "It's a responsibility to try to operate the business in something other than a status quo or business as usual."
He called on owners to consider what steps they could take to navigate cleanliness and crowds. 
"As I've said from the very beginning of this crisis, this is a moment for us to shine as an industry. We're getting this opportunity to be of service to our communities," Wallace said. "So let's embrace that opportunity, let's be of service and really show everybody what this industry is all about and the importance of that service."
To encourage social distancing, Delaney said they've eliminated their wash, dry, and folding services for a couple of weeks. 
"People have been extremely respectful of us asking them to take their laundry home and fold it there," he said. "It's an important time for the world and if we can all kind of work together, we can help [prevent] the spread." 
Delaney also said Sudz has an open-shelf policy food pantry that he's been keeping well stocked for anyone who wants to take what they need. 
He said he's been running the food pantry in his shop for eight months, but people have needed it now more than ever.
"Right now we've seen a massive increase in people needing food," Delaney said. "We've seen a lot of people come in for it." 
---
Get Boston.com's e-mail alerts:
Sign up and receive coronavirus news and breaking updates, from our newsroom to your inbox.