Business
Mass. Secretary of State Bill Galvin calls for 30-day suspension of GameStop stock trading
"It has no basis in reality."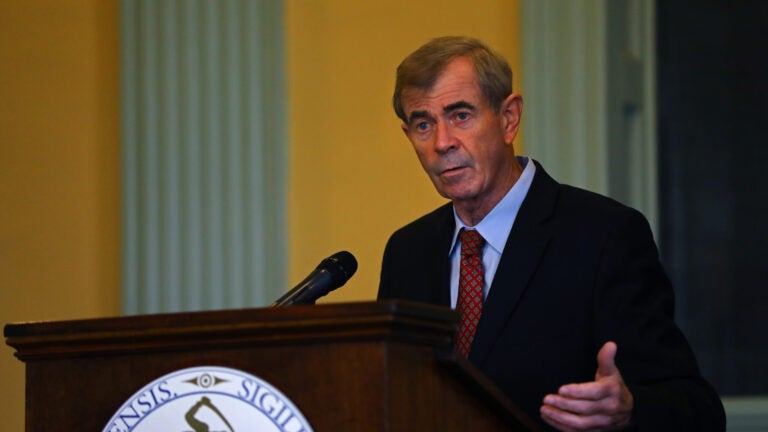 Massachusetts Secretary of State Bill Galvin is calling for a 30-day suspension of GameStop stock trading, after social media users propelled the brick-and-mortar video game retailer's share price to nearly implausible heights this week.
"It's dangerous not only to the investors, but it's dangerous to the marketplace," Galvin, the state's top securities regulator, said Wednesday on CNBC.
His comments came after GameStop was taken up as the cause of a so-called "short-squeeze revolt," in which Reddit users rallied to buy stock in the money-losing company in a battle against major investment firms that had made financial bets — known as short selling — that GameStop's share price would continue to decline.
According to the Associated Press, there's no overriding reason for the organized effort, though it appears to be at least somewhat motivated by revenge against Wall Street.
The growing movement crescendoed this week, as GameStop's stock price — which was less than $3 last spring and below $18 a few weeks ago — surpassed $380 Wednesday morning. As a result, two major investment funds that were shorting GameStop effectively abandoned their bids Wednesday, both taking massive financial losses.
But according to Galvin, the frenzy is also a risk to smaller, "unsophisticated" investors who are looking to make a profit off GameStop's volatile run up. A critic of "gamified" retail investing, the Brighton Democrat said the New York Stock Exchange should place a 30-day trading halt on GameStop stock.
"The current pandemic has created a unique situation where many people have gotten into day trading and really have no idea exactly what they're doing," Galvin said. "It's something that they're trying to figure their way as they go. These types of entities, such as GameStop, have created a really difficult situation for these people. They think they're missing out if they don't make a bet on them. They don't really understand what they're doing. I think small-time investors like that, unsophisticated investors, are going to be hurt."
Galvin also argued that the situation threatens to "undermine" the financial market, calling the movement in GameStop's share price "irrational."
"It makes absolutely no sense," he said. "It has no basis in reality. That is not what you want in a capital market."
However, after stock indices ended 2020 on a record high in the midst of a global pandemic and economic strife, Sen. Elizabeth Warren said Wednesday afternoon that "it's not news that the stock market doesn't reflect our actual economy."
"For years, the same hedge funds, private equity firms, and wealthy investors dismayed by the GameStop trades have treated the stock market like their own personal casino while everyone else pays the price," Warren, a fellow Massachusetts Democrat, said in a statement.
Warren and Galvin both said they expected action from federal regulators under President Joe Biden's administration. But in the meantime, Galvin reiterated that he wants the stock exchange to halt GameStop trading for 30 days.
"In the short run, I think it's certainly within the power of the marketplace itself in this case to suspend it," he said Wednesday. "They shouldn't be providing a forum for this type of activity."
Galvin first floated the idea in an interview Wednesday with the finance magazine Barron's, before defending it on cable news. While some individual retail investors have reportedly made huge financial gains on GameStop's surge, Galvin says he's concerned about the ones who could take hits.
"There is inherent risk in the market, and no one's trying to make that go away," Galvin said. "We want that. That's what makes it grow. On the other hand, when it becomes reckless, when it becomes fraud as opposed to froth, that's when I think things have to be dealt with."
Get Boston.com's browser alerts:
Enable breaking news notifications straight to your internet browser.