Business
How the Boston Ujima Project is fostering change in Boston
The organization is working to create a new economic model for Boston's communities of color.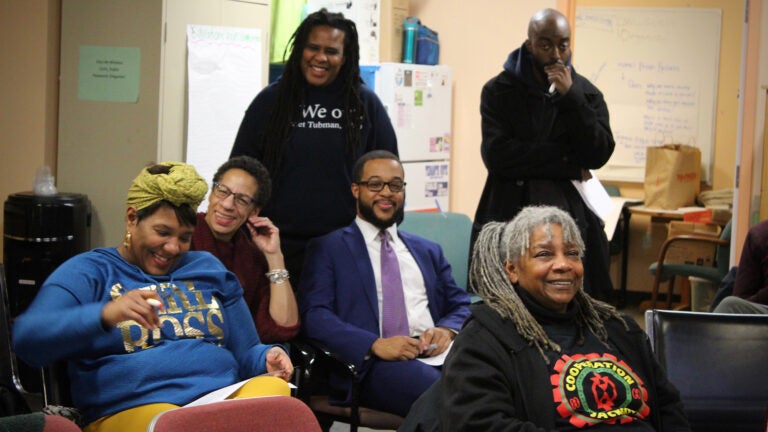 For small businesses like CERO, a Dorchester-based composting cooperative, $100,000 can go a long way — especially during a pandemic. 
At the end of 2019, CERO was approved for a $100,000 loan from the Boston Ujima Project's Ujima Fund, which paid the loan out over two installments in 2020.
"It came in handy to help us with cash flow while we waited for PPP [Paycheck Protection Program] help and some other things to get us through the pandemic," said Lor Holmes, CERO's general manager and a worker-owner. "Even more importantly, we used some of that money to make the investment in growing our sales staff. We were able to hire an additional person onto our sales team, which has been tremendously helpful."
The money also helped CERO acquire an additional truck, which Holmes called "the core of our operations as a composting services provider."
"Ujima is a great model and something that we need a lot more of," Holmes said. "It's really unfortunate that not enough resources are being applied to help minority-owned businesses. We really need them, and Ujima is showing that it's possible."
In 2017, the Boston Globe's Spotlight series on race in Boston highlighted the median net worth for non-immigrant African-American households in the Greater Boston area: $8, compared with $247,500 for white households. It's a number that continues to illustrate the city's vast racial wealth gap — and a number that the Boston Ujima Project is working to address. 
The Boston Ujima Project launched in 2015 with a focus on building a community-driven economy geared toward communities of color. "Ujima" means "collective work and responsibility" in Swahili, and the initiative follows those values: A governing body of members votes on which businesses and resources they want to see in their communities, as well as which businesses to invest in. Members are comprised of working-class Boston residents, small-business owners, activists, and investors; Boston residents who do not identify as working class and/or a person of color can join as a solidarity member. Businesses being considered for investment are held to community standards designed by members, which include requirements like allowing workers to complete a yearly workers' satisfaction survey, employing at least 60 percent people of color, and demonstrating commitment to a green energy plan and zero waste plan. 
Nia Evans, who joined the Boston Ujima Project in 2017 as executive director after working at the Boston branch of the NAACP, said she was drawn to the organization because it reflects the needs she had been hearing from communities of color.
"During that time I had been hearing from community members things like, 'I actually do have visions for my particular neighborhood,' or, 'I do have visions for the City of Boston, I just don't have the resources to carry it out.' …[Boston Ujima Project] wasn't an idea that was conceived in a disconnected fashion or in a way that was distant. This was something that people were saying they wanted. For me, that was perfect."
2021 is a big year for the organization. In 2018, Boston Ujima Project launched the Ujima Fund with a goal to raise $5 million by the end of the year. Evans said Ujima is well on its way to reaching that goal, having raised more than $3.7 million with 313 investors to date. The fund pools money from community members, supporters, and foundations, and will be invested in local businesses in communities of color, all vetted and voted on by Ujima members who get one vote each — no matter how much they invested. There are three tiers of investor types: the Kujichagulia note, which Evans said is geared toward working-class Massachusetts residents ($50 to $10,000 investment range); the Umoja note ($1,000 to $250,000); and the Nia note ($5,000 to no cap).
"The returns go down with each [note] that I've named, which is not conventional," Evans said. "The convention is the more money you [put] in, the higher your target return is, and we've flipped that. The idea behind that is to be redistributive in principle and also demonstrate reparations in a way. We're disrupting this notion that it's only wealthier people that are able to have opportunities to build wealth."
While the organization's fundraising is still underway, Evans said the Boston Ujima Project plans to make seven investments in local businesses this year, with two that are currently undergoing their community standards process. Because the two businesses haven't been finalized, Evans declined to name them, but a provided list of around 80 businesses in Dorchester, Mattapan, and Roxbury that Ujima members compiled for consideration include a significant number of restaurants — Bred Gourmet, Dorchester Brewing Co., Oasis Vegan Parlor, Taste of Eden, P&R Restaurant, Suya Joint — along with places like America's Food Basket, Frugal Bookstore, the Strand Theatre, and Urban Farming Institute. 
"We talk about dreaming and imagination a lot," Evans said. "But this is real. We've actually built this ecosystem in Boston. Community members have actually made a decision to invest in CERO Co-Op. This is not some far off thing, and this isn't pie-in-the-sky stuff."
The pandemic hasn't hindered the organization's fundraising efforts, either.
"The pandemic definitely showed what we had been saying," she said. "Everybody got that message loud and clear, that our current structures — whether you're a hardcore adherent of capitalism or not — were woefully inadequate to manage a health crisis. And then on top of that, [our current structures] cannot manage a social crisis, because then we have George Floyd's murder after that. Ujima being present in the midst of that allowed people to say, OK, they are talking about an economy where we don't have to have someone losing for someone to win. They're talking about an economy where they don't have to choose between endangering their lives and working."
While the Ujima Fund is a central part of Boston Ujima Project, the organization also works to highlight arts and culture in Boston's communities of color. On Sunday, the organization launched We Be Knowin': A Boston Ujima Project Celebration, a week-long lineup of curated virtual events that revolve around music, arts and culture, brewing, and planning sessions. The schedule is stacked: On Wednesday, Crue Brew Brewery owner Kevin Merritt and Brockton Beer Co. owner Eval Silvera will discuss Black-owned breweries in Massachusetts and the state of the beer industry during the pandemic, while on Thursday, Ujima will host a citywide assembly, where voting members will discuss and refine the list of businesses being considered for future investments. Jacolby Satterwhite and Jonathan Lyndon Chase — two Black, queer artists — will team up to discuss their work on Friday, followed by a DJ set with Dee Diggs. On Sunday, guests are invited to join a panel on transnational organizing. The celebration concludes Monday with a Black trust lecture, where Black thought leaders and practitioners like Kiese Laymon and Porsha Olayiwola will discuss trust, belief, and faith in a community.
"Ujima is so multifaceted that completely different people will find completely different things that kind of brings them in," Evans said. "We can't tell people how to think or how to be. What we can do is be what we think is the best way to be, and hopefully it's a compelling enough invitation to join us."
Get Boston.com's browser alerts:
Enable breaking news notifications straight to your internet browser.