National
Strahan to join next Blue Origin space flight
"I believe that this is the way of being innovative, creative, pioneers in aviation, now space travel."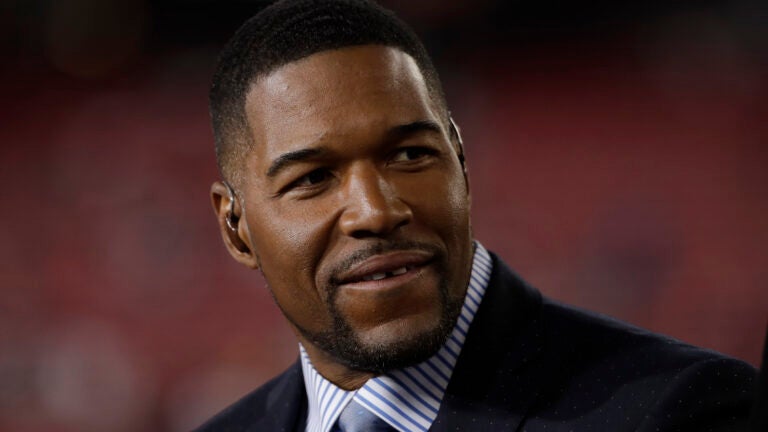 "Good Morning America" co-host Michael Strahan signed up to follow billionaire Jeff Bezos and actor William Shatner to the edge of space on the next Blue Origin spaceflight, the private company said Tuesday.
Blue Origin, the rocket company founded by Bezos, said Tuesday that its third flight with a human crew would launch in early December. This spaceflight will have six passengers, two more than were on the company's two previous crewed flights, and follows several other private launches this year, as billionaire-backed companies compete to send wealthy tourists on space jaunts.
Strahan had covered Blue Origin's first crewed flight, in July, from the company's launch site in West Texas. On Tuesday, he told his colleagues on "Good Morning America" that when the company approached him about joining the flight he said yes, "without hesitation."
"I believe that this is the way of being innovative, creative, pioneers in aviation, now space travel," Strahan said Tuesday on the show. "And it's going to take awhile, but I do believe that it will bring a lot of technological breakthroughs and also innovations to us here on Earth, and I just want to be a part of it."
Strahan said he had met the other members of the crew on Zoom and had been fitted for a spacesuit.
Blue Origin invited two guests for its next spaceflight, Strahan and Laura Shepard Churchley, the daughter of Alan Shepard, who became the first American in space in 1961. The other four passengers paid for their seats. A spokesperson for Blue Origin, Sara Blask, declined to say how much they paid.
The other crew members include the first parent-child pair to fly into space: Lane Bess, a technology investor who founded the company Bess Ventures and Advisory, and the father of Cameron Bess, a content creator.
Blue Origin said the other passengers will be Evan Dick, an engineer and investor, and Dylan Taylor, chairman and CEO of Voyager Space, a space exploration company.
Bezos, the founder of Amazon and one of the richest people in the world, was a passenger on the company's first flight with a human crew in July. Also that month, another private spaceflight company, Virgin Galactic, took the company's founder, Richard Branson, to the edge of space and back.
Blue Origin completed its second crewed flight in October. The crew included Shatner, who at 90 became the oldest person to fly in space. Another passenger, Glen de Vries, died less than a month later in a plane crash in New Jersey.
The third flight is scheduled to launch from West Texas on Dec. 9. Next year, three passengers plan to reach the International Space Station on a rocket developed by a third spaceflight company, SpaceX, on seats bought through the company Axiom Space.
This article originally appeared in The New York Times.