Local
Navigating the office holiday party
Some organizations have decided to bring back the annual celebrations, while others have canceled due to concerns about the ongoing pandemic.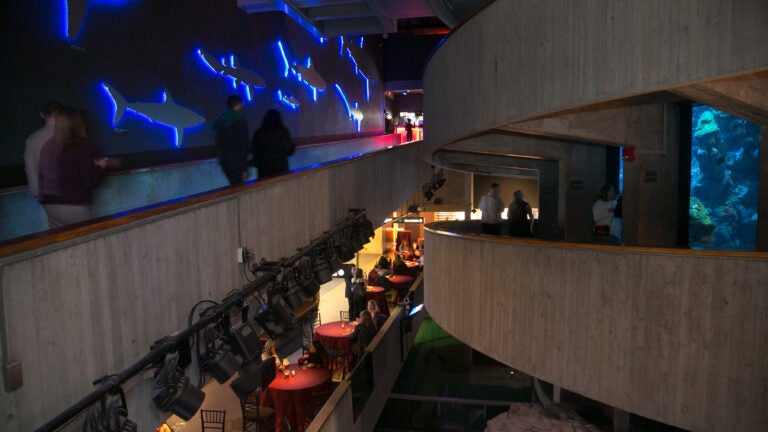 As another COVID-plagued holiday season gets underway, companies are facing the dilemma of how to handle a core element of the festive season — the office holiday party.
Unlike last year, when cases were high and vaccines weren't available, the decision on whether to hold a gathering isn't as easy or clear-cut now.
Some are comfortable socializing in groups again. People have gotten their vaccines and boosters. Mask-wearing is widely recognized as an effective tool to help gather safely. Still, as cases surge and new variants emerge, others are hesitant to gather in large groups — particularly indoors as the weather gets colder.
So businesses are left to make a choice. Do they hold a company-wide celebration? Should departments hold their own small gatherings? Is there another alternative?
Some, like Boston University, have opted to cancel their campus-wide party for the second year.
In a letter to faculty and staff, BU President Robert A. Brown said it was a difficult decision to keep the university-wide holiday party "on pause" for another year.
"While we have made great progress returning to in-person operations, we are not confident that we can hold this large-scale event in a way that provides the safeguards we believe are still necessary," he wrote.
The university hopes to be able to hold a community-wide celebration in the spring, he added.
At Emerson College, the annual holiday party is also canceled. Interim President William P. Gilligan and VP for Finance and Administration Paul S. Dworkis told employees they feel the decision is in the best interest of the College and "the health and wellbeing of our faculty and staff."
While some companies say they aren't comfortable holding a large in-person gathering, they also don't want to skip the celebration entirely.
At MIT where booster clinics are planned over the next few weeks, Sarah McDonnell, deputy director of media relations said the university is inviting employees to "a 'deconstructed' version of our typical WinterFest."
"The event — which is traditionally held at one indoor location — will take place outdoors simultaneously at five different locations across campus, which will allow guests to avoid large crowds while they enjoy the company of their colleagues and friends," she wrote in an email.
At Fidelity Investments, the holiday celebrations will be held in a manner that has become quite common — via Zoom.
"At the end of each year, we typically look for ways to come together, reflect and celebrate as one Fidelity. As we did in 2020 as a result of the pandemic, we're creating a virtual event for our associates in December," Michael Aalto, vice-president of external communications wrote in an email.
The virtual sessions are offered at multiple times and will feature family-friendly entertainment as well as a showcase of associates' talents, Aalto added. By offering it virtually, employees can enjoy the festivities with their families.
"That is a benefit of Zoom since it makes the virtual celebration more accessible," Aalto wrote.
While large companies and organizations are wary of holding company-wide in-person gatherings, other businesses are ready to mark the season together.
Boston-area restaurants and function facilities are seeing holiday party bookings return to pre-pandemic levels, managers say.
Della Grallert, manager of events sales and partnerships for the New England Aquarium said they entered the holiday season unsure of what they would see from corporate holiday party bookings.
The numbers, however, are about 70 percent of what they saw in 2019, she said.
"We had no idea what to expect," she said. "It's good; we're thrilled."
Grallert said the corporate gatherings range from 60-150 people, but they do have one party planned for 400. All attendees are required to wear a mask on the premises except while eating or drinking.
The biggest change, she said, is the shorter window she's seeing for the bookings as companies have waited until the last moment to decide whether to hold a function or not.
"Usually we have a little more leeway," she said.
At Boston Bowl, another popular spot for holiday gatherings, director of marketing Colleen Fleming said their holiday party sales are also on par with 2019 numbers.
"What we have really seen change is that larger companies that typically in the past have done a buy out of the center, or brought in a relatively large group are now breaking the groups up into smaller, more manageable groups or teams to celebrate separately," she said. "We are emphasizing our safety measures, increased cleaning protocols, and mask-wearing as well, so our guests are comfortable and excited to join us for holiday celebrations, even if smaller and more intimate than years past."
Steve DiFillippo, chef/owner of Davio's Northern Italian Steakhouse, said his six Massachusetts locations are all seeing a "return to normal" holiday season.
"It's definitely back to what it was," he said. "There's no question that people are just moving on."
Holiday parties are running a gamut from 25 people to upwards of 200, he added.
As people become fully vaccinated and get their boosters, they are ready to socialize after missing out on last year, DiFillippo said. With vaccines, people feel safer getting together knowing even breakthrough cases are shown to be milder.
His locations started seeing holiday function bookings come in over the summer, DiFillippo added.
"People are happy to be out again."
Newsletter Signup
Stay up to date on all the latest news from Boston.com