Business
When Amazon Fresh comes to Boston, it will bring a new way to shop — and some possible glitches
The retail giant is said to be eyeing locations in Saugus and Braintree for its cashier-less supermarkets.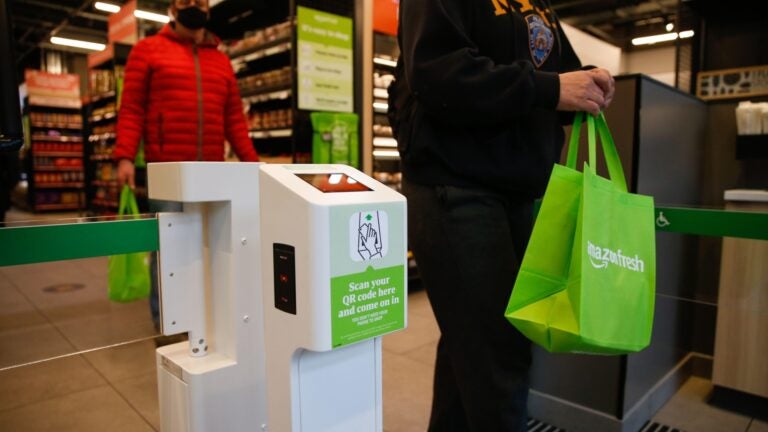 Amazon has been typically tight-lipped about its plans to roll out its Amazon Fresh grocery stores in Greater Boston. But reports indicate that several are in the works for 2022, by all accounts offering a very different supermarket experience than what we've been used to.
Amazon Fresh stores are reportedly in the works at the Saugus Plaza Shopping Center and in Braintree on Grossman Drive, at the location of a former Saks Off 5th, WCVB has reported. These two locations in the Greater Boston area would be the first Amazon grocery stores of their kind in all of New England.
At both sites, construction is currently in progress. When reached in regard to the potential opening of these stores, Amazon representatives declined to comment. Although reports have not been confirmed by the company, building on these sites is consistent with other Amazon Fresh locations.
There are currently Amazon Fresh stores in the U.S. in California, Illinois, Maryland, Pennsylvania, Virginia, Washington state and Washington D.C. The first location opened in September 2020 in Woodland Hills, California.
Although Amazon Fresh currently delivers groceries in metro Boston, these would be the first brick and mortar locations in the area.
Automated checkout, with caveats
These Amazon Fresh grocery stores are a new concept by Amazon. It has something that other supermarkets don't: an automated checkout process. Although other stores have a self-checkout area, Amazon Fresh stores automatically check shoppers out as they leave.
This is made possible by shopping carts that scan items as a customer places them in their cart, and charge the customer's Amazon account once their shopping trip is complete. This system is called Amazon Dash Cart, and according to the company it is designed to optimize shoppers' trips for groceries.
According to the Amazon Fresh website, "The new Amazon Dash Cart is a smart shopping cart that makes a quick grocery trip even quicker by allowing you to skip the checkout line. Sign in to the cart using a QR code on your Amazon app, place your bags in the cart, shop, and when you're done, exit through the store's Dash Cart lane."
If a customer removes an item from their cart, they will not be charged for it. If a customer wants a traditional checkout experience, they will not be forced to use the automated checkout area; there will still be an option to check out with a real person.
David Bishop, a partner at the digital grocery retail publication Brick Meets Click, gave further insight into how the Amazon Dash Cart lane system works at the store.
"If you were walking in the store and using the cart, you would just simply put the items into the cart [and] it would record and show you on the digital screen," Bishop said. "It uses image recognition and various sensors, including weight sensors, to identify those items."
In addition, Amazon Fresh stores will accept SNAP benefits linked to a customer's Amazon account. Other services offered include a place for customers to receive and return Amazon packages, which can also be done at various other local stores.
But, according to Bishop, there are still some shortfalls in Amazon's new system. Limitations in capacity to the shopping carts is one of the largest.
"This cart has limitations, one limitation is capacity — it generally can be used to fill up two traditional brown grocery bags, but not much more," Bishop said.
Bishop also spoke about some of the unintended consequences that Amazon's "seamless" system could cause in the new Amazon Fresh stores, especially if any issues arise when a customer walks out of the store.
"You walk into the toll lane and the system will blink green, all is good and then you can go — or it may blink orange," he explained. "There's an assistant there from Amazon Fresh who then goes to the dash cart and tries to reconcile.
"That friction wouldn't be there if you didn't use the carts — you'd just be in the checkout line," Bishop said.
An Alexa connection
Amazon is counting on the additional features being attractive enough to overcome any possible downsides. For example, another feature touted by Amazon is the connectivity that these stores have with the company's virtual personal assistant, Alexa.
According to the Amazon Fresh website, "When you need help finding an item or have a quick grocery-related question, such as food facts or wine-cheese pairings, simply ask Alexa at any of the blue Alexa kiosks located throughout the store."
The new locations would not be the first physical Amazon stores in the Boston area. With an expanding list of stores, Amazon is seeking to expand their in-person footprint. The company already has Amazon Books stores in Dedham and Lynnfield, as well as an Amazon 4-Star store in Natick, where popular items from its website are sold.
The company also owns Whole Foods Market, which has dozens of locations in and around Boston.
Newsletter Signup
Stay up to date on all the latest news from Boston.com