Business
January has been a nightmare for investors. Here's what Wall Street is watching.
The stock market's fear gauge has soared nearly 100 percent this year as inflation, rate hikes, and other worries spark dizzying swings.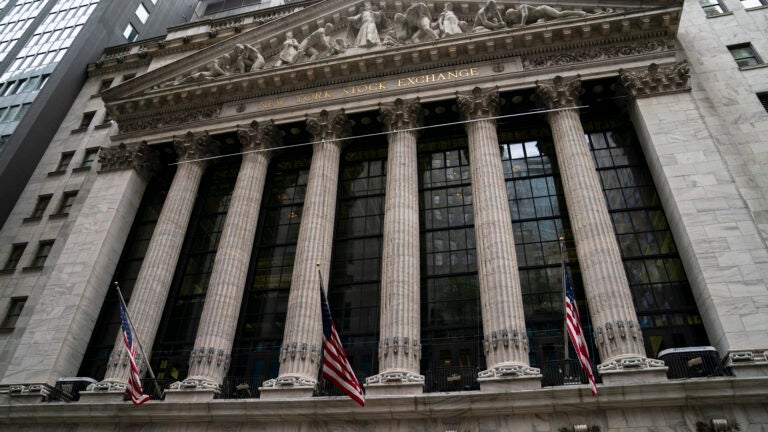 Wall Street has been thrown headfirst into a sea of turbulence in 2022.
U.S. stocks have recorded three consecutive weekly declines to kick off the year, as spooked investors worry the Federal Reserve may tighten monetary policy more aggressively than originally planned to combat surging inflation. That uncertainty has sent the market's fear gauge, Cboe's volatility index, up nearly 100% year-to-date, and played out in stunning fashion Monday as the Dow Jones industrial average cratered then clawed out of a more than 1,000-point deficit – a first – to end the session in the green.
The swings can be dizzying, but experts are quick to note that volatility is a healthy part of the market because it presents opportunities in the form of bargain prices.
"Investors must now decide whether this is a chance to buy on the dips or the first sign that there is trouble ahead," Mould said Tuesday in comments emailed to The Post.
Here's what investors are monitoring – and what can send them into a tailspin.
Uncertainty
Wall Street gets squirmy around any sort of unresolved tension, and the more vast the possible implications are – whether it's the fallout from the latest coronavirus variant or from a pending policy decision – the wilder trading tends to get.
"Markets hate uncertainty," Wayne Wicker, chief investment officer at MissionSquare Retirement, told The Post in an email. "And the confluence of higher interest rates, higher inflation and moderating earnings growth are resulting in elevated volatility at the moment."
Anxiety can play out in the form of massive swings, like the ones seen in the early days of the coronavirus crisis as investors tried to adjust to a new reality. Although the pandemic has continued to hurl complications at traders, from supply chain snarls to the endless march of variants, spasms of panic have become less severe as the once-unusual became routine and companies delivered a steady march of healthy earnings reports.
"Investors have grown accustomed to steady, consistent gains over the past couple of years which makes the current bumpy ride feel more uncomfortable," Jeff Buchbinder, an equity strategist with LPL Financial, said Monday in comments emailed to The Post.
He noted that volatility is still well within historical ranges: the S&P 500 averages three pullbacks of 5% or more and one correction – defined as a 10% drop from the most recent high – each year.
"After no more than a 5% pullback in 2021 and the S&P 500 having more than doubled off the March 2020 lows, we have been anticipating more volatility in 2022," Buchbinder said.
Shifts in monetary policy
Much of the markets' recent machinations have been tied to fears about Federal Reserve policy as the central bank tries to tackle inflation. Americans are confronting higher prices from the gas pump to the grocery store, and higher interest rates could ease some of that pain. But rate hikes are a double-edged sword that can also limit economic activity, which often hit stocks, particularly highflying companies, hard.
"The Fed is walking a delicate tightrope between the Omicron-driven slowing economic momentum and ever-higher consumer price and wage inflation," Lauren Goodwin, senior director at New York Life Investments, said Tuesday in comments emailed to The Post.
The Fed's shift to less supportive policy comes after more than a decade of central bank policy aimed at keeping prices from tumbling into an economically damaging cycle of deflation. It has forced investors to reassess the assets they hold, as central bank officials prepare to lift rates from near zero – and the outlines of a reshaped economy begin to emerge from the fog of the pandemic.
Van Hesser, chief strategist at KBRA, a bond rating agency, calls the economic shift "the Great Deceleration." He expects the economy to continue growing this year above its long-run potential around 2%, but notes that 10 of the last 15 Fed rate-raising cycles have resulted in recessions.
"The 'R word' is back on people's radars," he said.
But Julian Koski, chief investment officer at New Age Alpha, said that investors shouldn't assume that higher interest rates will have an overwhelmingly negative affect on future share prices.
"Investors should not assume a direct correlation, since stock price movements are far more complicated and are never dependent on one cause," Koski said Tuesday in comments emailed to The Post. "Our advice to investors is to focus less on what the Federal Reserve may or may not do and instead focus more on the individual stocks they own and whether these stocks can deliver on the growth expectations that are baked into their valuations."
Economic data
Traders breathlessly monitor economic data for insights into the health of the global economy (because that, in turn, will impact company's bottom lines.) Figures regarding employment – such as the weekly jobless claims or monthly jobs reports from the Bureau of Labor Statistics – business productivity, consumer confidence and economic growth – like GDP or retail sales – can influence the markets on any given day as investors parse data and factor it into their long-term outlooks.
So far in 2022, the most pivotal story lines have been inflation's relentless march to the highest levels since the 1980s and the vexing tightness in the labor market, where workers are leaving jobs at record rates and more than 10.5 million positions remain unfilled nationwide. Coronavirus rates, including infections, deaths, and hospitalizations, have also influenced investors as they try to gauge the pandemic's impact on business activity, in the form of business restrictions, declining foot traffic and lower productivity.
Michael Farr, chief executive of Farr, Miller & Washington, said that the economy, despite the maelstrom of imbalances and uncertainties, is "fundamentally sound."
"The consumer is healthy, the economy is expanding and unemployment is low," Farr said Monday in comments emailed to The Post. "Yet I am concerned about inflation, the unevenness of the labor market, supply chain issues, and the fact that we are still very much in a pandemic."
He cautioned investors to keep a level head amid the storm of supply chain slowdowns and omicron infections and take the long view.
"To keep those possible futures in mind and examine the risk/reward across one's investment time horizon leaves no mental bandwidth for panic," Farr said.
Earnings reports
Corporate earnings are among the most powerful drivers of stock prices. Strong quarterly results can spur positive interest in a company and drive shares up, while the opposite can undermine investor confidence that, in turn, can lop millions off their market capitalizations.
After stocks cratered in the early phases of the pandemic, it was strong corporate earnings that restored investor's confidence and helped to fuel the market's record-breaking run in 2021. For the past six quarters, actual earnings by S&P 500 companies have exceeded estimated earnings by a whopping 17.5%, according to analysis from FactSet.
The S&P 500 index is expected to report year-over-year growth of more than 21% in Q4, FactSet estimates, but sustaining growth going forward could get tougher as companies try to wrangle gains in a less accommodative environment. Investors are hungry for good news amid the volatile atmosphere, and they'll be looking to earnings from giants like Apple, Tesla, Microsoft to provide some steadying force to the markets. General Electric's shares slumped more than 7% Tuesday despite an earnings beat, because investors blanched at the $3.8 billion loss it reported last quarter due to supply chain headaches.
"Only stellar results will make any real impact in the current climate," Danni Hewson, financial analyst with AJ Bell, said in commentary Monday. "And the fear is any hint of disappointment could knock markets even further."
Geopolitical tensions
Conflicts with global implications are a major source of risk to investors, as they can cascade through the economy in diffuse and unexpected ways. Omicron's ravages have continued to complicate the picture for international travel and the overall health of the economic recovery, as companies around the world grapple with the fallout of surging infections in the form of business and travel restrictions and staffing shortages.
In recent weeks, investors have also been rattled by Russia's military encroachment on Ukraine and a series of missile attacks in the Middle East, both of which could spark potential disruptions to energy markets.
On Tuesday, the Biden administration confirmed that it was trying to secure energy for European allies in case Russia cuts off oil and gas exports in response to sanctions imposed for an invasion of Ukraine, according to reporting from CNBC.
Cboe's crude oil volatility index rose to its highest level yet seen in 2022 in response to the tangle of tensions. And oil markets – which have been bucking the negative trends of the year as supply concerns and inflation pressures jacked up prices – continued to rise, with brent crude and West Texas intermediate crude were both trading more than 1.6% higher on Tuesday.