Business
Could a 4-day workweek be coming to an office near you?
"The pandemic turned it from something that seemed nice but unrealistic into something that felt not just realistic, but also really necessary."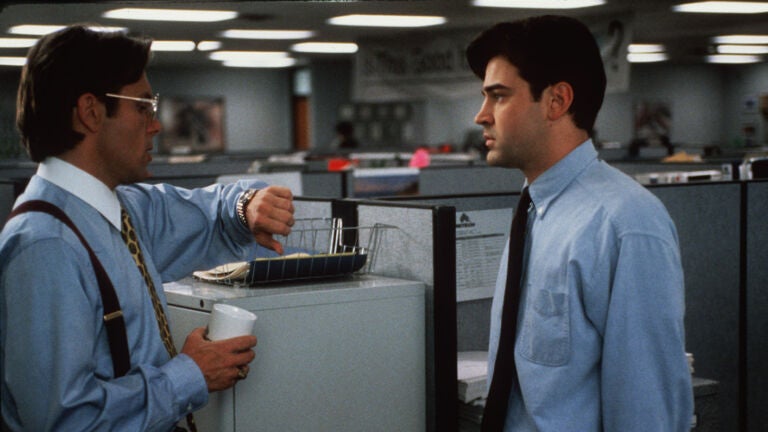 For most workers, Mondays are difficult. Tuesdays are perhaps even tougher. Wednesdays are all about getting over the hump and transitioning into Thursdays, Fridays, and a well-earned two-day break. This is a familiar cycle, one that originated in the early 20th century and gradually became the standard rhythm to which employees march around the world.
But what if the five-day workweek is no longer — or has never been — the best way to structure society?
It is a question that largely existed in a theoretical sense for decades. A pipe dream for workers hoping to spend more time with family, acquire new skills, or simply rest and recharge.
But now, the idea of four days of work could be inching closer to widespread acceptance and, just maybe, global implementation.
In fact, a four-day workweek has already become the reality for almost a thousand workers, as they participate in pilot trials organized by the nonprofit 4 Day Week Global.
The benefits of a schedule like this, according to the organization and data it shares with the public, are impressive. A four-day workweek can lead to increased productivity, happier employees, and fewer carbon emissions, according to researchers.
Misconceptions abound regarding the specifics of a four-day workweek. In the trials being conducted by 4 Day Week Global, workers do not have their pay decreased, and do not work extra hours to make up for the lost day. Instead, the focus is on reorganizing work to make it more efficient.
The notion of four days of work has been popular for a long time, but the COVID-19 pandemic added new urgency to the conversation, said Juliet Schor, a Boston College economist and sociologist who has been studying the American workforce for decades.
"The pandemic turned it from something that seemed nice but unrealistic into something that felt not just realistic, but also really necessary," Schor said. "The pandemic intensified the need for a four-day week because it led to a lot more stress and burnout, as well as to people reassessing what matters to them in life. People saw others die around them, and some are feeling much more eager to live in the present in a way that recognizes that your future is not unlimited."
The largely-successful switch to remote work necessitated by the pandemic also appears to be opening the eyes of employers. Seeing workers successfully navigate this transition could allow companies to try a variety of workplace innovations, including implementing a four-day workweek, Schor said.
Global trials
Schor is working with 4 Day Week Global to facilitate its U.S. trials and research their findings. No research into the topic has been done on this scale before, she said.
Since 2021, five trials have been completed, with a sixth scheduled to kick off in February. Schor and her fellow researchers are currently working through data from the third trial, and they released a report last year summarizing their findings from the first two trials.
Those findings are striking. Overall revenue rose 8.14% during the trial and, on average, company revenues increased more than a percentage point a month during the trial period. Compared with the same six-month period in 2021, companies saw revenue increases of 37.55% during the trial period in 2022.
Workers who participated said that they felt they were more productive and were producing higher-quality work after the shift. Employees did not report an increase in job insecurity, and said they were not more likely to leave their jobs. A total of 96.9% of surveyed employees said that they definitely wanted to continue the schedule.
Working smarter
Crucially, the initial trials found that a four-day week did not lead to a general increase in the intensity or pace of work. Slightly more than a third of employees did register an increase in intensity, but nearly as many noted a decline in intensity, and the remainder had no change in their work intensity.
This suggests, researchers wrote, that the strategy of reorganizing work and reducing wasted time was mostly successful.
"This means that productivity and performance were not achieved via speedup, which is not generally a sustainable or desirable strategy," researchers wrote in the report.
The idea of work reorganization is at the core of this concept, Schor said. This requires shifts in work culture and practices, and companies that opted into the trials participated in a two-month onboarding process designed to help them make these changes.
One key area of focus is the prevalence of meetings in modern work environments. The participating companies tended to reduce the length and frequency of meetings. They also often reduced the amount of people in these meetings.
"Meeting culture is the biggest thing that changes. There's really a lot of wasted time in meetings," Schor said.
Workplace distractions were another problem area. One participating company, Schor said, implemented an innovative "traffic light" system in the office. Each employee's desk was outfitted with a light that could be switched from red, to yellow, to green. A green light invited idle conversation with coworkers, a yellow told others to only interrupt if the matter was important, and a red light meant "stay away, I'm busy here."
Other companies made simpler changes, such as emphasizing direct messaging services like Slack instead of phone calls.
A lot of the participating workers were privileged enough to be able to take time off during the work day to go to doctor's appointments or address other things that could only be done during working hours, Schor said. She was surprised to find that, after switching to a four-day schedule, these employees rearranged their appointments to their day off, freeing up more hours during their time at work to focus on their jobs.
Opting in
Of course, the results gleaned by 4 Day Week Global's research must be taken with a grain of salt: all of these companies chose to participate in the program, leading to selection bias, Schor said.
While some may argue that this invalidates the findings, Schor believes that's the wrong way of thinking about it. From this research, she said, the takeaway should be that this model can — and does — work for some companies.
What types of companies? The largest group of participants in the first two trials were from the administrative, IT, and telecoms sector, while the second largest subset was professional services, and nonprofits were the third. A range of industries make up the rest of the initial participants, and Schor said research is underway with a wider array of companies now.
The companies that opted into the first trials were generally small, and most of them were located in the U.S. and Ireland. The third trial focused on companies in the United Kingdom, and later trials included a swathe of companies based in Europe, Australia, New Zealand, and South Africa.
Some of the companies chose to try out a four-day week in an attempt to fight stress and burnout. Others simply were looking to increase productivity. One large participant sought out the program after being hit with a wave of resignations. It has since been able to retain almost all of its workforce, Schor said.
Among the 27 companies that filled out a final survey in the first two trials, 18 said they were definitely continuing with the schedule, seven were planning to continue but had not made a final decision yet, one was leaning toward continuing and one was not yet sure. None said that they were leaning against or not planning on continuing with the four-day model.
The paradox of work intensity
While the findings are positive so far, a four-day workweek is simply not feasible for every profession. But it could still be beneficial for some surprising fields such as healthcare. As opposed to many office jobs, where superfluous meetings and wasted time can be eliminated, healthcare workers rarely have time to spare during their shifts.
Schor refers to these as high-intensity workplaces, and switching to a four-day schedule would mainly benefit them by decreasing burnout.
Companies would have to hire more workers to cover the extra days taken off by their existing employees, which would admittedly add costs. But, Schor said, lower turnover could offset this. Society itself could benefit as well, since it would not be losing highly trained professionals like doctors and nurses to burnout.
"I call it the paradox of work intensity. The highest intensity and the lowest intensity workplaces are the ones who would most benefit from the four-day week," Schor said.
Then, if momentum builds and companies on these two ends of the spectrum largely switch to a four-day workweek, competitive pressures mount. More and more companies would be forced to adopt the model to keep up with the demands of workers, Schor said.
While this massive shift may not be imminent, people around the world are taking the idea of a four-day workweek seriously. For the employees who have gotten a taste of this themselves, rave reviews are common.
"Absolutely loving the 4 day work week," one unidentified participant wrote when surveyed, according to the report. "It took time to adjust, but months later, I am more productive and more satisfied with my job while working significantly less than I was prior to the trial."
Newsletter Signup
Stay up to date on all the latest news from Boston.com