Business
Is the Dunkin' app costing you extra dough? A Boston man's lawsuit claims it is
A Dunkin' regular is suing the chain over allegedly undisclosed charges for add-ons like cream cheese and butter.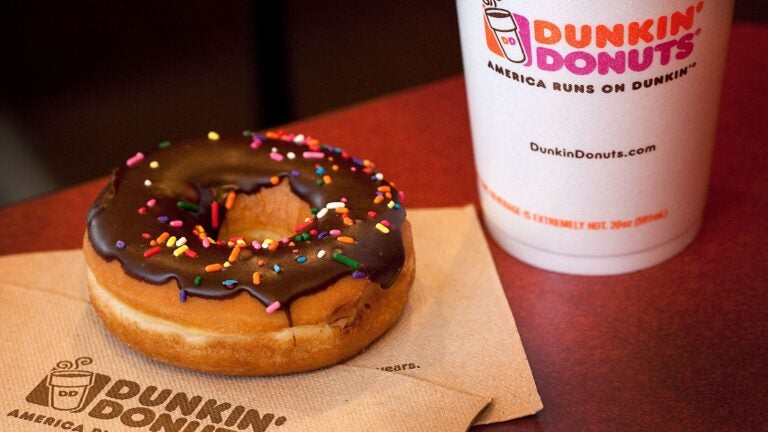 A Boston man is suing local coffee giant Dunkin' in a battle over add-ons, and not of the sugar and cream variety.
Dorchester resident and Dunks regular Martin Kelledy filed a class action lawsuit against the chain in federal court last week, alleging that Dunkin' mobile app users regularly face undisclosed add-on charges for items like cream cheese and butter.
Kelledy gave one example where he said he purchased a large iced coffee for $3.69 and an everything bagel with plain cream cheese for $3.09 in April 2022, but the app calculated a pre-tax subtotal of $8.03 — $1.25 more than it should have been, according to the complaint.
The lawsuit notes that the prices for add-on ingredients vary between Dunkin' locations, with some forgoing the extra charges. That policy is consistent with the Dunkin' app's terms of service, which state that "menu items and prices may vary by location and franchisee."
However, Kelledy asserts that "the Dunkin' Mobile Application should not render, or allow franchisee operators or individual stores to render, charges that are not itemized, such as the $1.25 Undisclosed Charge."
Those add-on charges "should not simply be inserted, without notice, into the Sub-Total Charge," he continued, arguing that Dunkin' is breaking the law by doing so.
Dunkin' did not respond to a request for comment.
Kelledy is seeking damages and asks that Dunkin' modify its app to uniformly categorize and display add-on charges. In his complaint, he said he continues to use the company's app, as he will be inconvenienced and unable or less likely to earn Dunkin' rewards without it.
Newsletter Signup
Stay up to date on all the latest news from Boston.com