Business
Bed Bath & Beyond shoppers rush to use all those coupons
Shoppers have until Wednesday to use their coupons.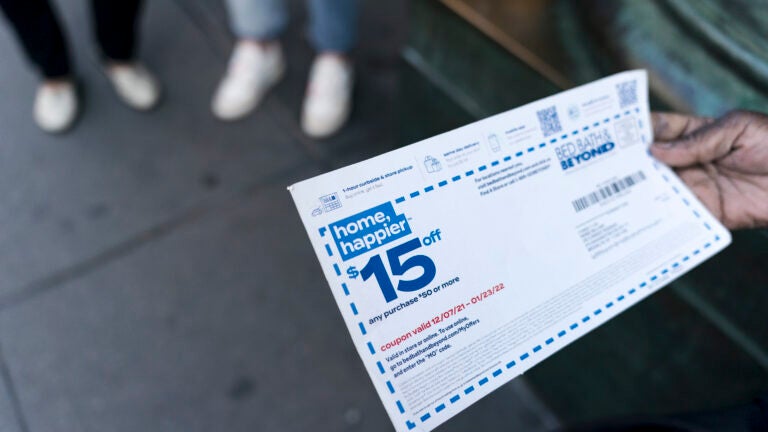 NEW YORK — For many shoppers, Bed Bath & Beyond's bankruptcy filing Sunday was a call to action.
Customers — both loyal and lapsed — received an email from the home-goods retailer around 8 a.m. telling them that the company had decided to file for Chapter 11 bankruptcy. Its 360 Bed Bath & Beyond stores would soon be closing, as would its 120 Buy Buy Baby locations.
Shoppers have until Wednesday to use their coupons. Around the country, they rounded up the ubiquitous blue slips of paper offering 20% off, stuffed them in pouches and plastic bags, and made their way to the nearest Bed Bath & Beyond.
At a store in Manhattan's Chelsea neighborhood on Monday, Sylvia Ward, a self-described Bed Bath & Beyond aficionado from the Bronx, said news of the closings had "absolutely devastated" her. Then she learned she had only a few days to use coupons.
"I had to run down here today!" she said.
Ward said she had brought about seven coupons to use toward items including two Simplehuman soap dispensers, kitchen timers and about 14 packets of Clorox wipes, estimating that she saved $30.
Bed Bath & Beyond, which opened in 1971, held unique cultural cachet among big-box retailers. It served as a recurring storyline on Comedy Central's "Broad City"; a plot device for Adam Sandler's 2006 movie, "Click"; and a talking point for celebrities showcasing their relatability on late-night shows. Facebook groups were formed for people to trade the retailer's coupons.
Over the decades, those coupons reliably showed up in millions of mailboxes — and, more recently, email inboxes — offering a discount on home goods such as kitchen gadgets, fluffy pillows and wooden hangers. People gave them as gifts to new homeowners and college students, kept them in kitchen junk drawers and car glove compartments. At least one customer used them as a calling card, writing their phone number on the back of the coupons and handing them to fellow patrons deemed attractive.
A steady flow of customers moved through the Bed Bath & Beyond store in Chelsea on Sunday. People milled around looking at towel heaters and large pillows. While some asked employees in blue aprons where they could find certain products, they also took the time to ask how the workers were feeling about the location's closing.
Bobbi Kimberly was one of those customers. The chain's bankruptcy news was the motivation she needed to finally use a coupon she had been holding on to and to see the store again before it shut down.
"It's like you're losing a buddy, because it's something that's dependable," said Kimberly, a yoga instructor. She said she would miss roaming the stores, which kept her active and social.
After hearing about the bankruptcy, loyal Bed Bath & Beyond customers took to social media. The company's name became a trending topic on Twitter. People shared odes to the retailer, posted TikTok videos of themselves walking into stores, and alerted their friends and families to the chain's closing through their Facebook statuses. Reddit threads about Bed Bath & Beyond, which became a "meme stock" favorite during the pandemic, lit up with chatter about its downfall.
Some shoppers handed unused coupons to other customers in stores and texted friends and family, encouraging them to use theirs before it was too late.
The outpouring of support came too late for Bed Bath & Beyond. Despite a boost early in the pandemic, when quarantined Americans bought items to spruce up their homes, sales soon started to fall precipitously. The retailer's supply chain was strained, operational costs rose and vendors held back on shipping inventory when they grew nervous about being paid on time.
In recent months, Bed Bath & Beyond store shoppers were met with sparsely stocked shelves. The chain had been slashing hundreds of jobs and closing stores to try to survive. In its bankruptcy filing, it said the "past 12 months have undoubtedly been the most difficult and turbulent in Bed Bath & Beyond's storied history."
Jean Massaro was in a Bed Bath & Beyond store in Yonkers on Monday morning with her coupons in tow. She said she didn't shop online and had ignored the discounts the retailer emailed to her in favor of the tangible ones she had, some collected from People magazine.
"I really, really love this store," Massaro said. "I'm upset, and so are a lot of other people."
But it has been years since Bed Bath & Beyond was at its peak. In 2020, it said it would pull back on sending shoppers coupons after investors questioned if they hurt the company's margins. Shoppers recoiled, with the decision seeming like one in a growing list of ways that the chain was taking away the things that customers loved most about their shopping experience.
"I used to come here a lot," said David Salidor, who swung by a location in Manhattan with some coupons Monday. "It's because they have stuff that a lot of stores don't have."
He added: "I'm sorry to see it go. But it's strange times, strange times."
Some store visitors Monday were disappointed that they didn't see eye-popping sales. The deep discounts characteristic of liquidation sales won't start until Wednesday — once Bed Bath & Beyond stops accepting coupons. The company said it expected that customers would be able to use gift cards until May 8.
For shoppers who have baby and wedding registries, the company said it would work with an alternative platform to transfer their data. Some Bed Bath & Beyond customers said they were likely to go to retailers such as T.J. Maxx, Kohl's and Amazon to fill the void.
Thea Derecola, a hairstylist and an educator in Chelsea, took a pouch of coupons to the store and used them to buy two pillows for 20% off. Without the coupons, she said, she thought the pillows would have cost less on Amazon.
Her door attendant used to save Bed Bath & Beyond coupons for her, said Derecola, a longtime shopper who used to work across the street and visit the store weekly.
Daniel Duque, a retired teacher in Brooklyn Heights, said he hoped this wasn't really the end of Bed Bath & Beyond, which expects all of its locations to be closed by June 30.
"I'm still waiting for a miracle," he said. For years, he had shopped in the store, but stopped going as much after moving to Brooklyn.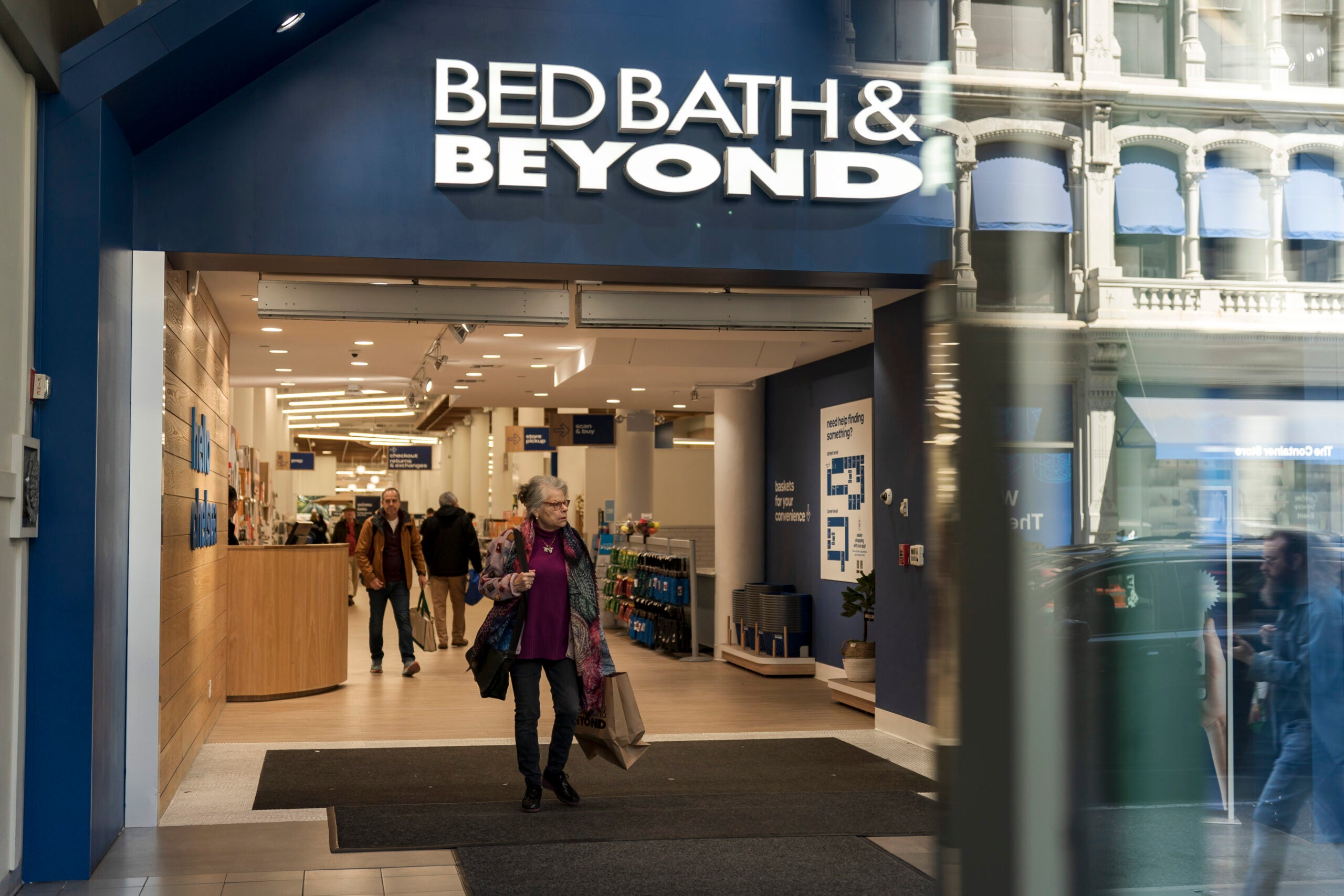 A feeling of nostalgia is common when a retailer goes out of business. It's similar to the response that shoppers had when Toys R Us filed for bankruptcy, said Joanie Demer, co-founder of Krazy Coupon Lady, an online community that shares discounting tips and deals.
"There's all this altruism for the brand all of a sudden," Demer said. "It's like, OK, but you weren't shopping there. You've been shopping on Amazon like the rest of us."
Chelsea Gordon, an Atlanta entrepreneur who owns the Cooking Code, didn't learn about Bed Bath & Beyond's bankruptcy until Sunday evening. She had been spending the day prepping meals with kitchen gadgets, such as her juicer, that she had bought from the retailer.
She's a frequent shopper. Last year, she used Bed Bath & Beyond for her house registry and Buy Buy Baby to register gifts for her baby shower.
When learning she had only a few days to use her coupons, Gordon made a plan to head to her nearby store Monday morning right after her Pilates class. She said she also wanted to make sure her mother had heard the news since they often texted about Bed Bath & Beyond coupons.
"That coupon, it's going to be one less thing to talk about," Gordon said with a sigh.
This article originally appeared in The New York Times.