Business
Roche Bros. agrees to pay $40K, review security policies after complaints of racial profiling
Attorney General Andrea Campbell alleged that third-party security guards at the Roche Bros. in Downtown Crossing stopped Black customers disproportionately.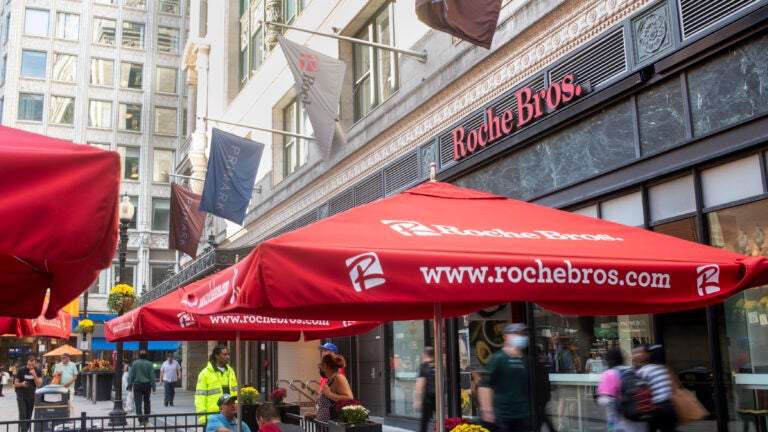 Supermarket chain Roche Bros. will pay the state $40,000 and adopt an anti-discrimination policy and training as part of an agreement to resolve allegations of racial profiling at its Downtown Crossing store, court records show.
In a 12-page document filed in Suffolk Superior Court Monday, Attorney General Andrea Campbell alleged that Black Roche Bros. customers were "disproportionately subjected to stops" by a third-party security company enlisted to curb theft at the Downtown Crossing store.
Campbell also alleged that some Black customers who were stopped were also banned from the store "at rates that were disproportionate to their percentage of the population, and disproportionate to their share of stops generally." The state further faulted Roche Bros. for allegedly failing to exercise sufficient oversight over the security officers.
In its response to the allegations, the Mansfield-based grocer disputed Campbell's claims and said it relied on its security company — Westwood's Northeast Security — to "carry out its work in a non-discriminatory fashion."
Roche Bros. CEO Kevin Barner said in a statement that the company, which has more than 3,400 employees across 20 locations, is "an inclusive, diverse, and community-oriented organization that stands strongly against racial profiling."
"We do not take the Attorney General's allegations lightly and we've worked hard to create solutions that will improve our in-store security measures for our employees, customers and vendors," Barner said. "We are working closely with the Commonwealth's office and independent consultants to proactively implement new policies, trainings, and procedures relative to our in-store experience."
In Monday's filing, Roche Bros. said it engaged Northeast Security largely because its Downtown Crossing store — which opened on Summer Street in 2015 — has "a significant amount of theft."
The grocer alleged that Northeast Security, referred to as NESI in court records, was responsible for its guards' day-to-day work.
"If Roche Bros. had any reason to believe that NESI was targeting any specific groups based on their skin color or other protected characteristics — instead of based on reasonable suspicion of theft — it would have ended its relationship with the company immediately," the company wrote.
Boston.com has reached out to Northeast Security for comment.
Under the agreement, Roche Bros. will work with an outside consultant to review its security policies and practices; adopt a policy prohibiting racial profiling and distribute it to Downtown Crossing employees and third-party security personnel; implement a policy for documenting each time a customer is stopped for suspected theft; and pay $40,000 to the state, among other stipulations.
Newsletter Signup
Stay up to date on all the latest news from Boston.com