Business
Barnes & Noble sets itself free
As the bookstore chain mounts a comeback, it's breaking a cardinal rule of corporate branding and store design: consistency.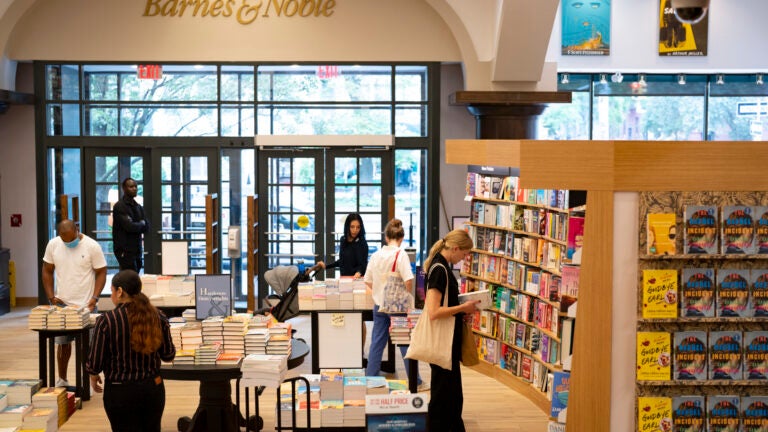 The green carpet is gone. Dark wood shelves are no longer in favor.
At many Barnes & Noble stores, the green-striped wallpaper and hunter-green walls have been scraped away and painted over in sandy shades of white and pink as the nation's biggest brick-and-mortar bookseller pursues, in fits and starts, a back-to-basics, books-first strategy.
Other stores will have a different look. The design of a new location in the New York City borough of Brooklyn reveals the polished concrete floors from its past life as a Barneys New York. A Barnes & Noble recently opened in California with cerulean walls, and an experiment in robin's egg blue is in the works for some East Coast locations.
"Any design agency would have a heart attack if they could see what we're doing," said James Daunt, the Barnes & Noble CEO. "We don't have any architect doing our design at any stage. There's no interior designer."
"And certainly the identity people would have a complete crisis," Daunt continued, referring to branding consultants. "It's breaking all the rules."
Barnes & Noble has introduced the new look at several dozen of its nearly 600 locations, including the Upper West Side of Manhattan and the Grove shopping mall in Los Angeles, and at the 20 new stores that have opened in 2023.
The result has been an idiosyncratic approach to mass retail. Daunt, who describes himself as "an independent bookseller in background and ethos," is pushing the chain to act more like the indie stores it was once notorious for displacing — and to embrace lighter, brighter interiors with modular shelves designed for maximum flexibility.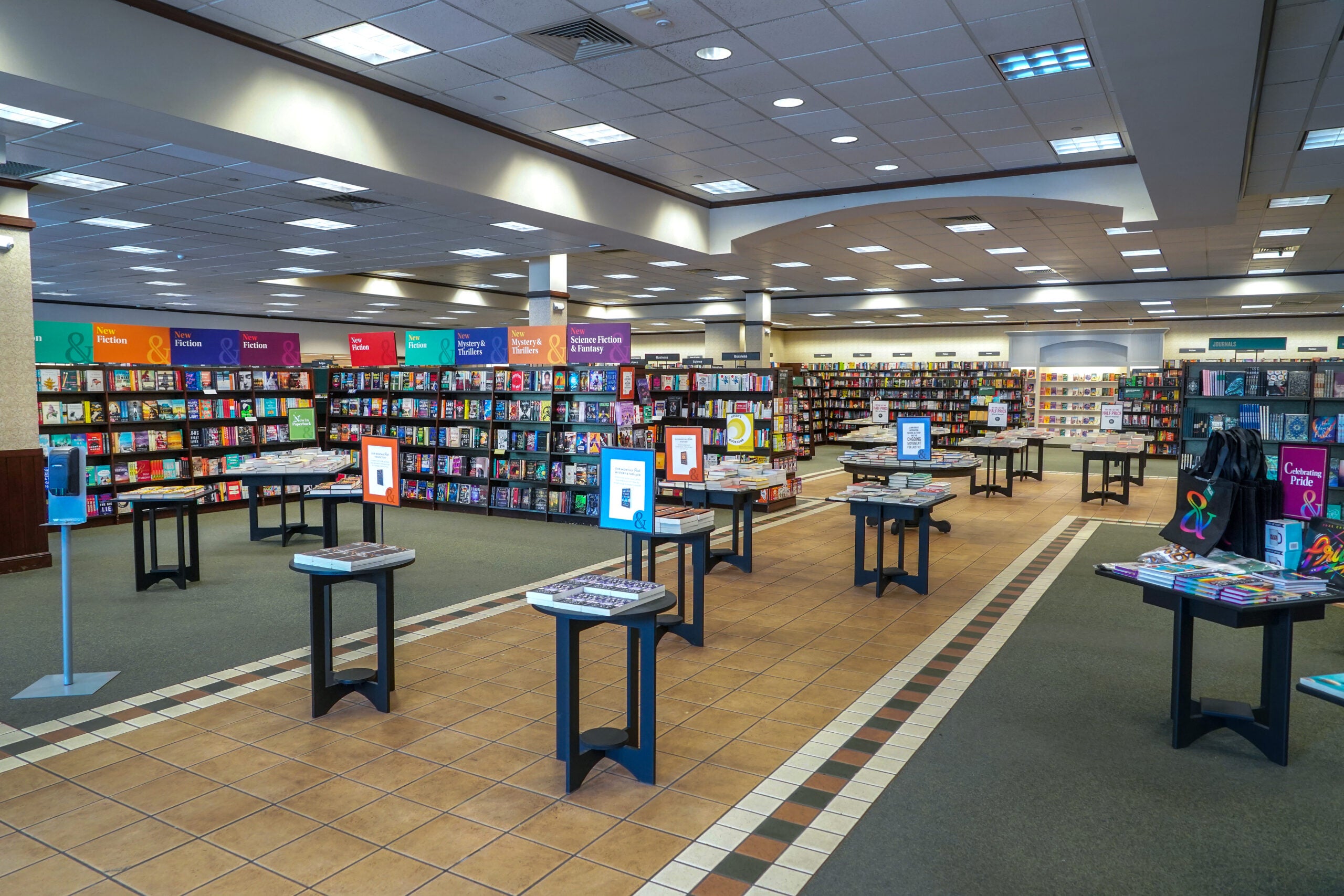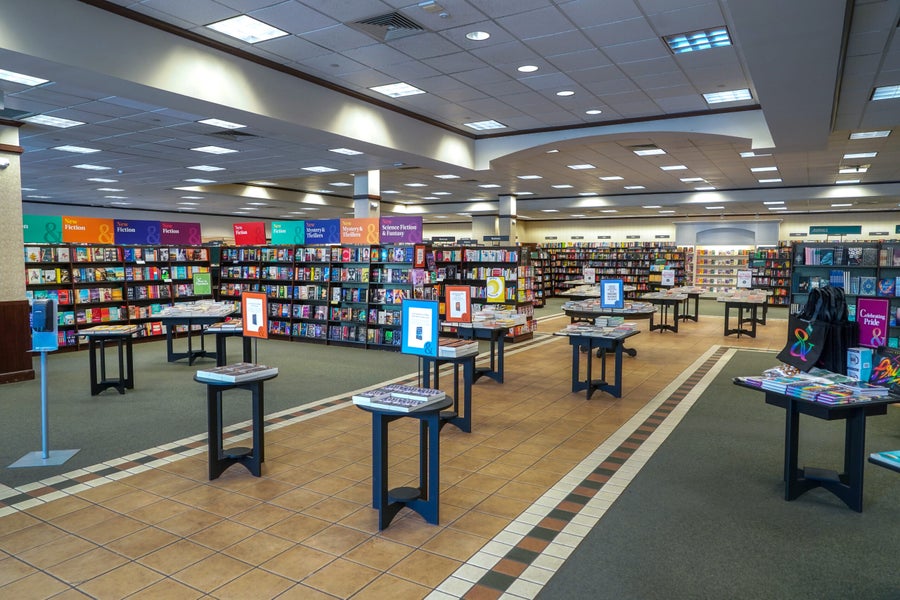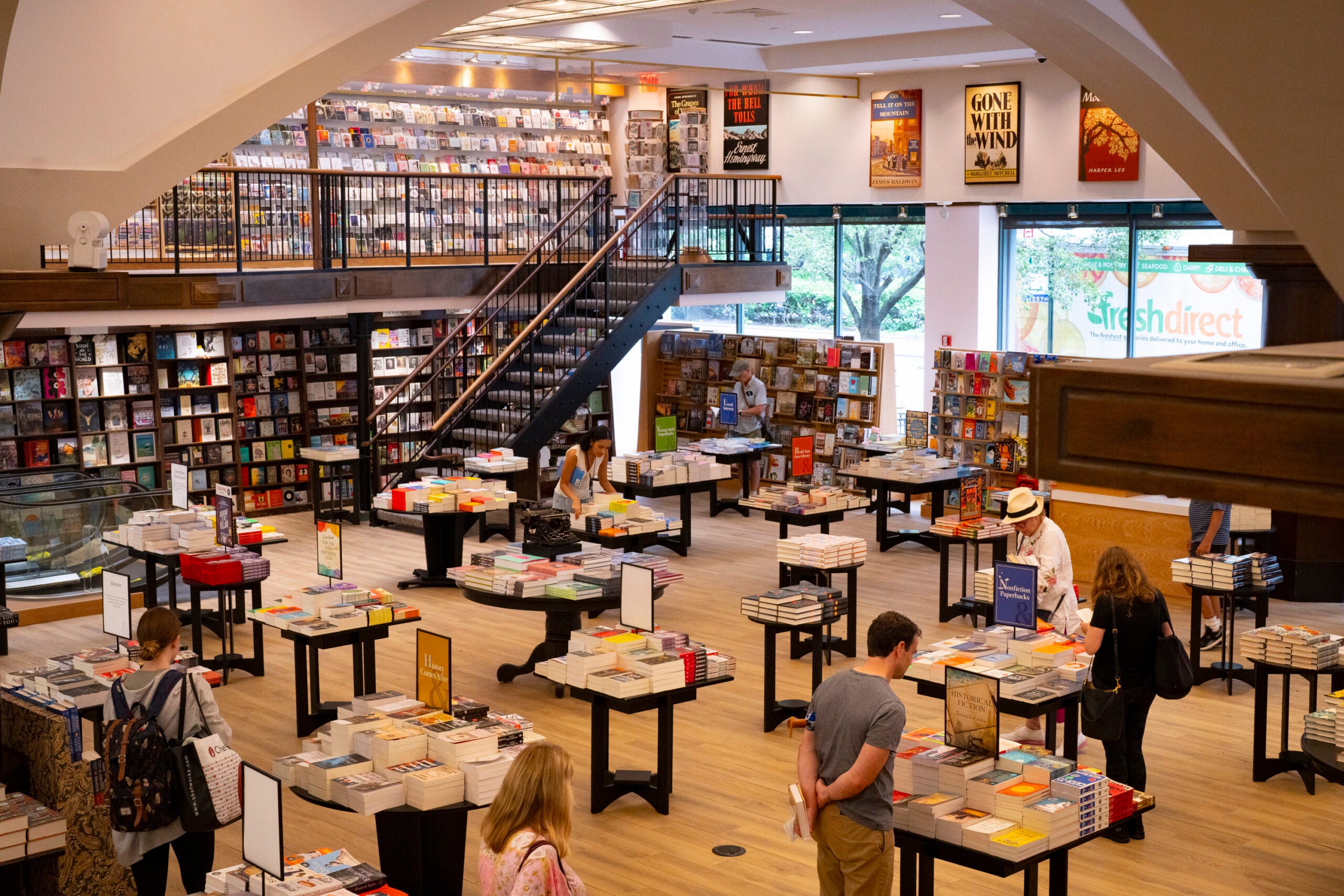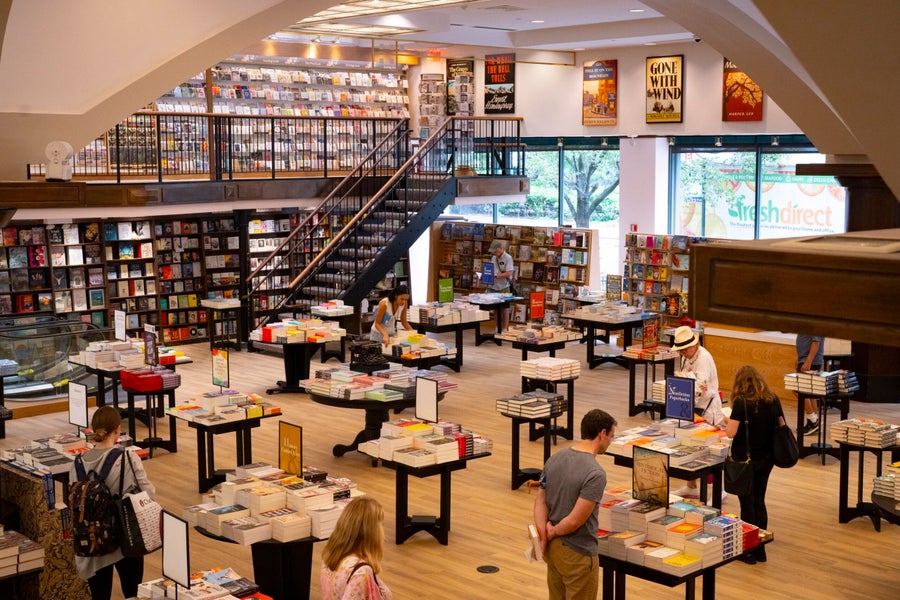 Daunt proved his book-selling bona fides as the founder of Daunt Books in London and, more recently, as the executive who rescued Waterstones, Britain's largest bookstore chain. The hedge fund Elliott Advisors took a majority stake in Waterstones in 2018; the next year it bought Barnes & Noble for $683 million and installed Daunt, a Cambridge-educated Brit, as its leader. (He is still the managing director of Waterstones; the two chains operate separately.)
Since he embarked on the Barnes & Noble redesign in 2020, Daunt has demonstrated that consistency doesn't rank very high on his priority list. New York City has nine Barnes & Noble stores featuring four different logos above the front doors. Two stores are new; one has been fully renovated; and the others have had some updates but are mostly frozen in time, the still-functioning remains of bygone retail strategies in a company — and industry — that has undergone an upheaval.
Janine Flanigan, Barnes & Noble's cheerfully fast-talking director of store planning, noted that the store beneath its New York City headquarters in Union Square in Manhattan has remained largely unchanged since it opened in 1998. In a style reminiscent of Ivy League libraries, the interior has forest-green carpeting and heavy wood shelves lined with ladders. "Union Square is still what our traditional bookstores were 20 or 30 years ago," she said, referring to the company's heyday, a time before Amazon dominated book selling.
The Union Square store is not scheduled for renovation because, as Daunt put it, "it does perfectly well." Not only that, but change would be costly: The shelves are built into the walls.
The revamped Upper West Side location is another story. Leading a tour on a recent morning, Flanigan demonstrated how the new shelves clip into a modular system, allowing managers to arrange their displays in a number of different ways. The shelves also have variable depths so that books of any size can line up neatly.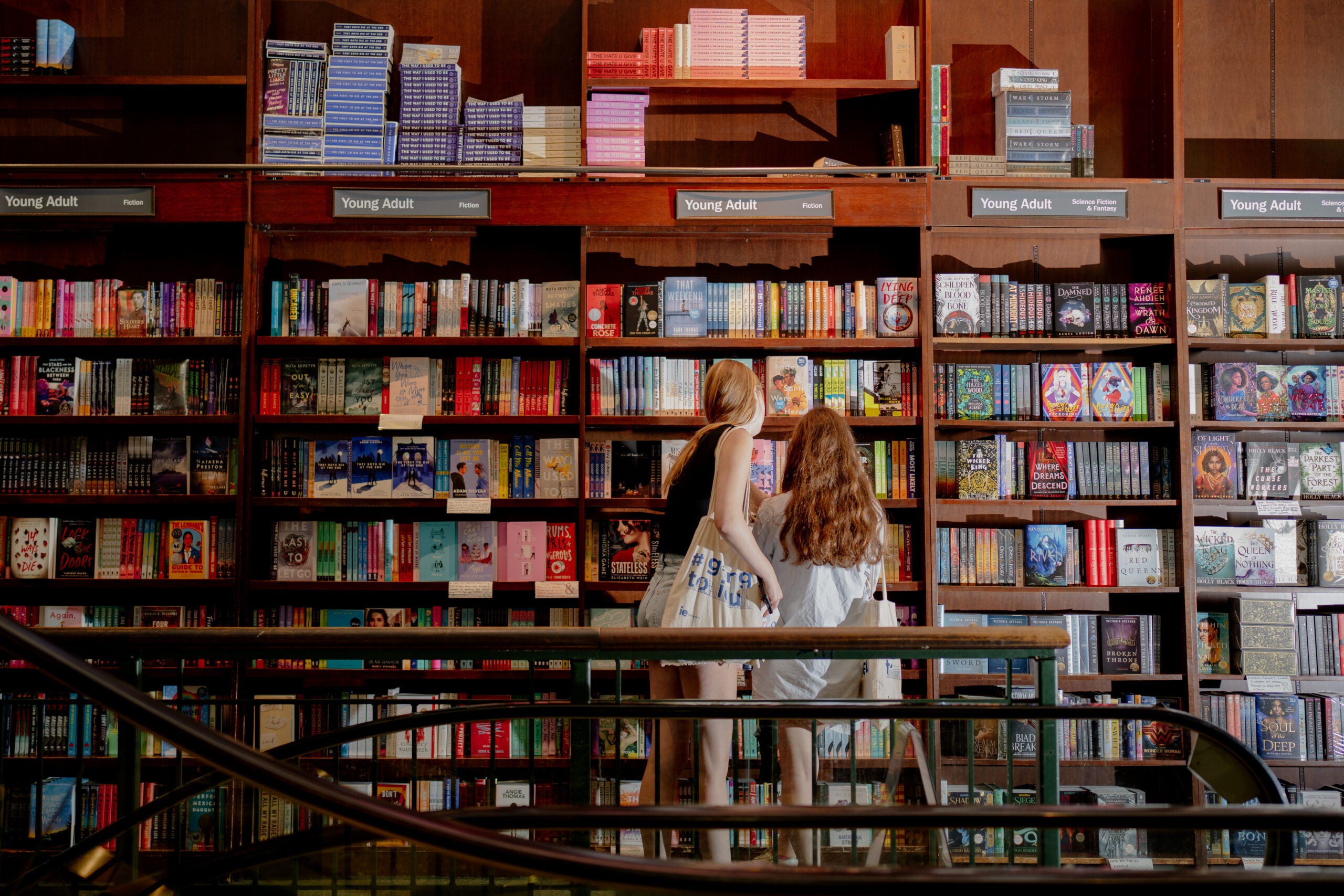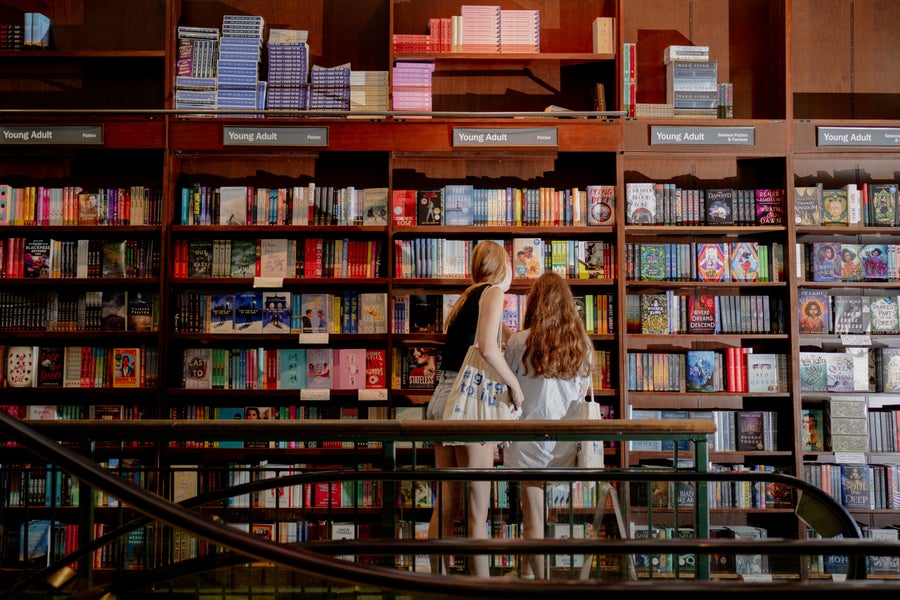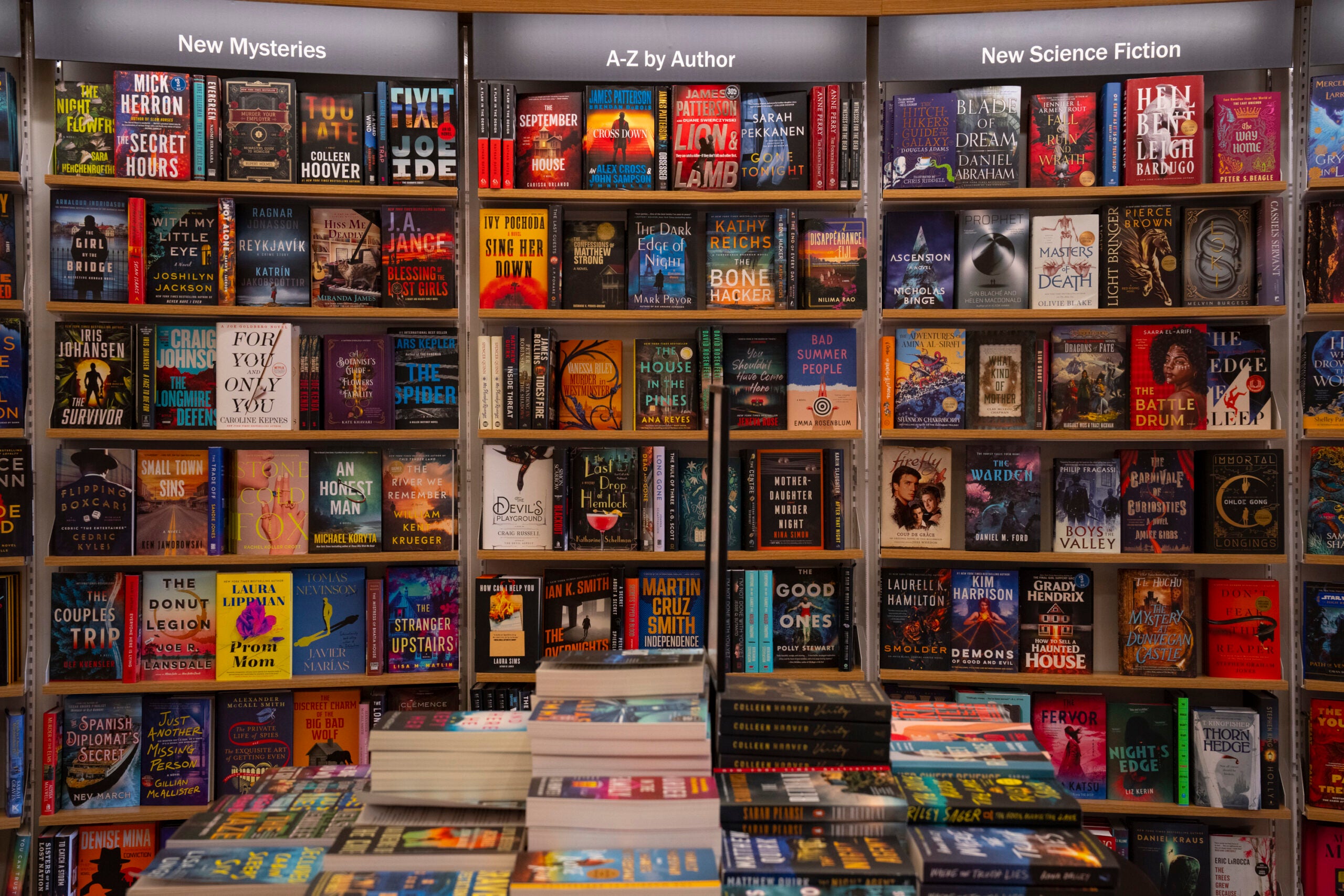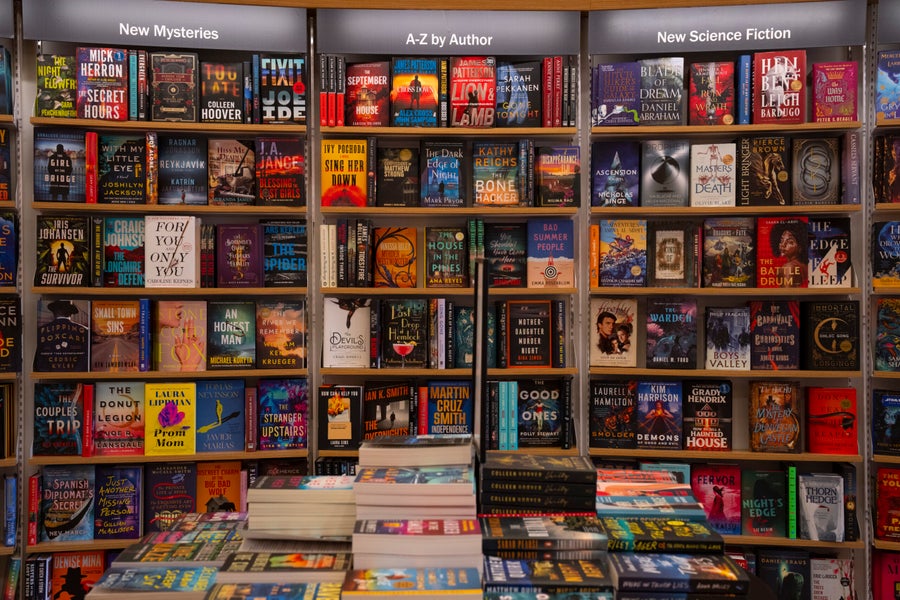 "Hangover just doesn't look good," Flanigan said, gesturing toward an oversize book that jutted beyond a shelf's outer edge. "It's not comfortable."
Some fixtures can be snapped out of the wall and combined into free-standing store displays; others have lips for vinyl records, hooks for tote bags and rods for sheets of wrapping paper that would be at home at an Anthropologie store. (Barnes & Noble recently acquired the greeting-card retailer Paper Source, whose staff helped update the look of the gift section.)
The modular shelving system, which is similar to the one at Waterstones, owes a debt to Feltrinelli, an Italian bookstore chain designed by late architect Miguel Sal, whom Daunt considered a friend. "We'd get on airplanes and go visit stores," he said. The trips — to the Taiwanese book retailer Eslite and a number of Japanese book and stationery stores — influenced his approach to layout and lighting, he added.
The old Barnes & Noble had what Daunt called "quite a masculine aesthetic," a style influenced by the "small little band that happened to own the company."
"But I think we're much better off with something that's bright, that welcomes the world," he said.
The Upper West Side renovation cost $4 million and is on track to pay for itself in a couple of years, according to Daunt. "I'd be surprised if we don't end up doubling its sales," he said. (Barnes & Noble, formerly a public company, does not disclose its financials; it has been privately held since Elliott Advisors acquired it.) Next month the chain plans to open its largest new-format store: a 35,000-square-foot location in Paramus, New Jersey.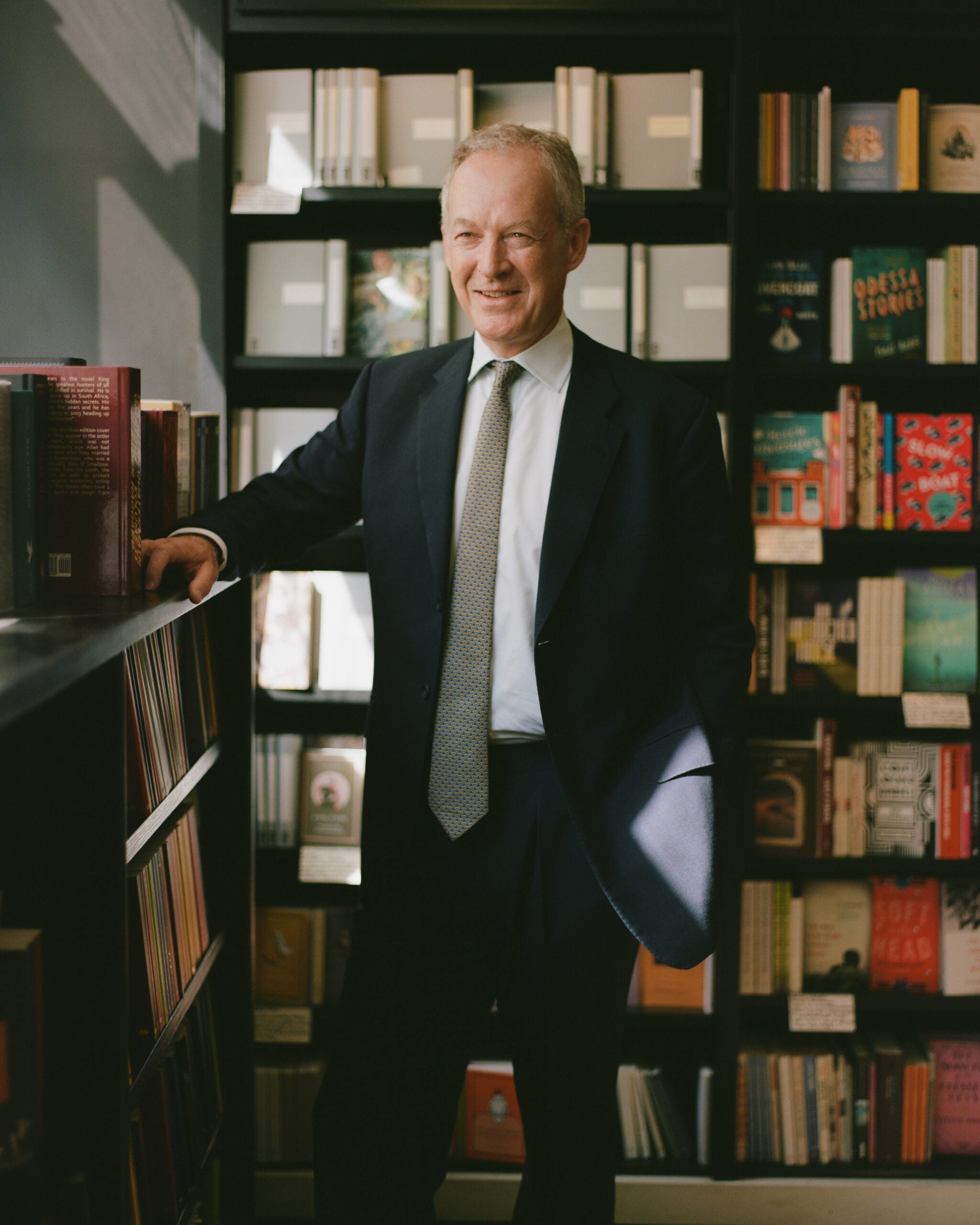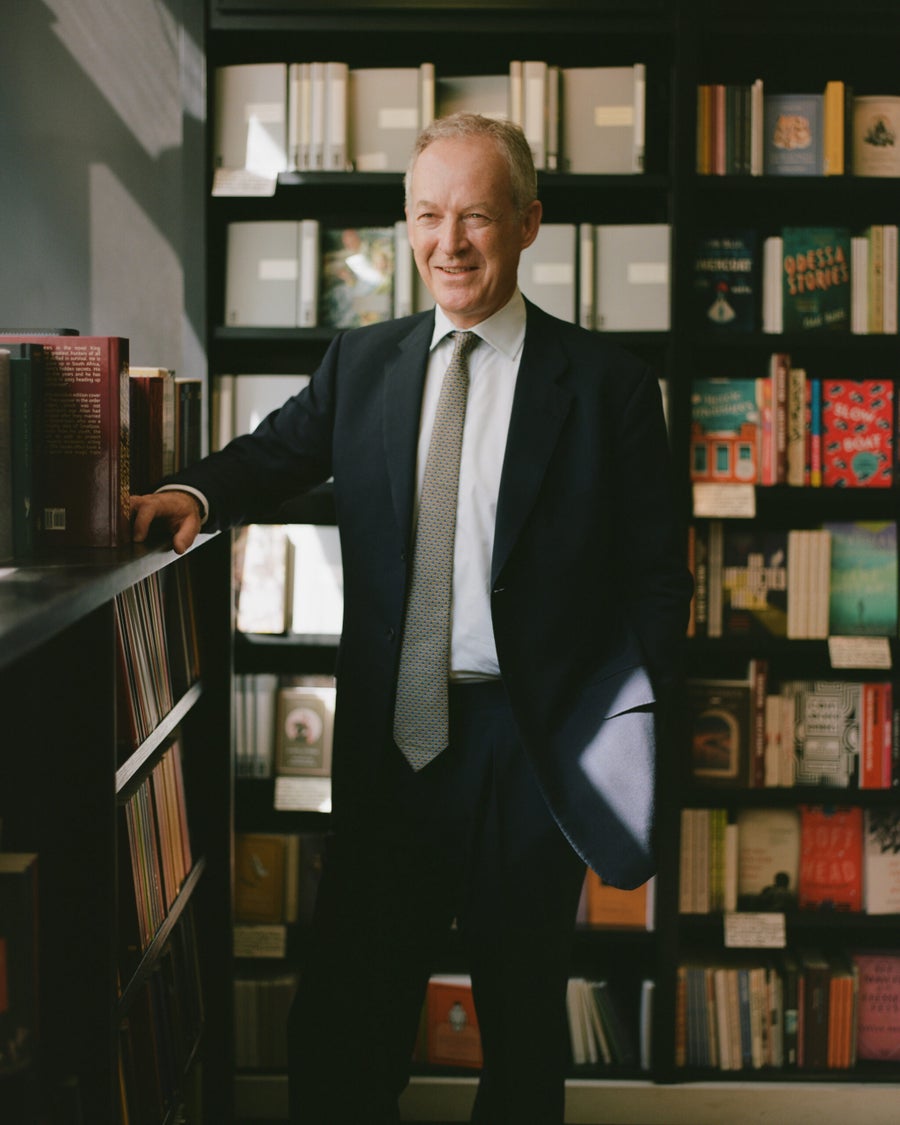 At the time of the ownership change, Barnes & Noble was in a state of tumult. To fend off Amazon, it had closed more than 150 stores amid a series of leadership changes. It also tried out a few Hail Mary retail strategies, all of which were witnessed by Flanigan, who has worked for the company since 1985, starting as a cashier when she was in high school.
In its darkest hours, the stores began to resemble the discount aisle at Spencer's. A layout known as "the racetrack prototype" — which Flanigan identified as "my least favorite design" — borrowed from big-box stores like Target, with cash registers by the door and impulse-purchase temptations around the perimeter. Only after wading through a sea of tchotchkes would customers encounter books.
The racetrack's designers did not understand books, in Flanigan's estimation. "You need to love books, and you need to know how our customers shop for books," she said.
The new look aims to encourage browsing, which Daunt believes improves customer satisfaction. "If you just want to buy a book, the guys in Seattle will sell you a book," Daunt said. "The enjoyment and the social experience of that engagement with books in a bookstore? That's our game."
The revamped locations have separate alcoves for a variety of subjects and shoppers. Offering an example of two imaginary Barnes & Noble customers, Daunt described a history buff who is looking to pick up Simon Schama's "Citizens" and a chatty teenager nerding out on speculative young adult fiction. The revised layout allows them to shop together without being on top of each other, he said.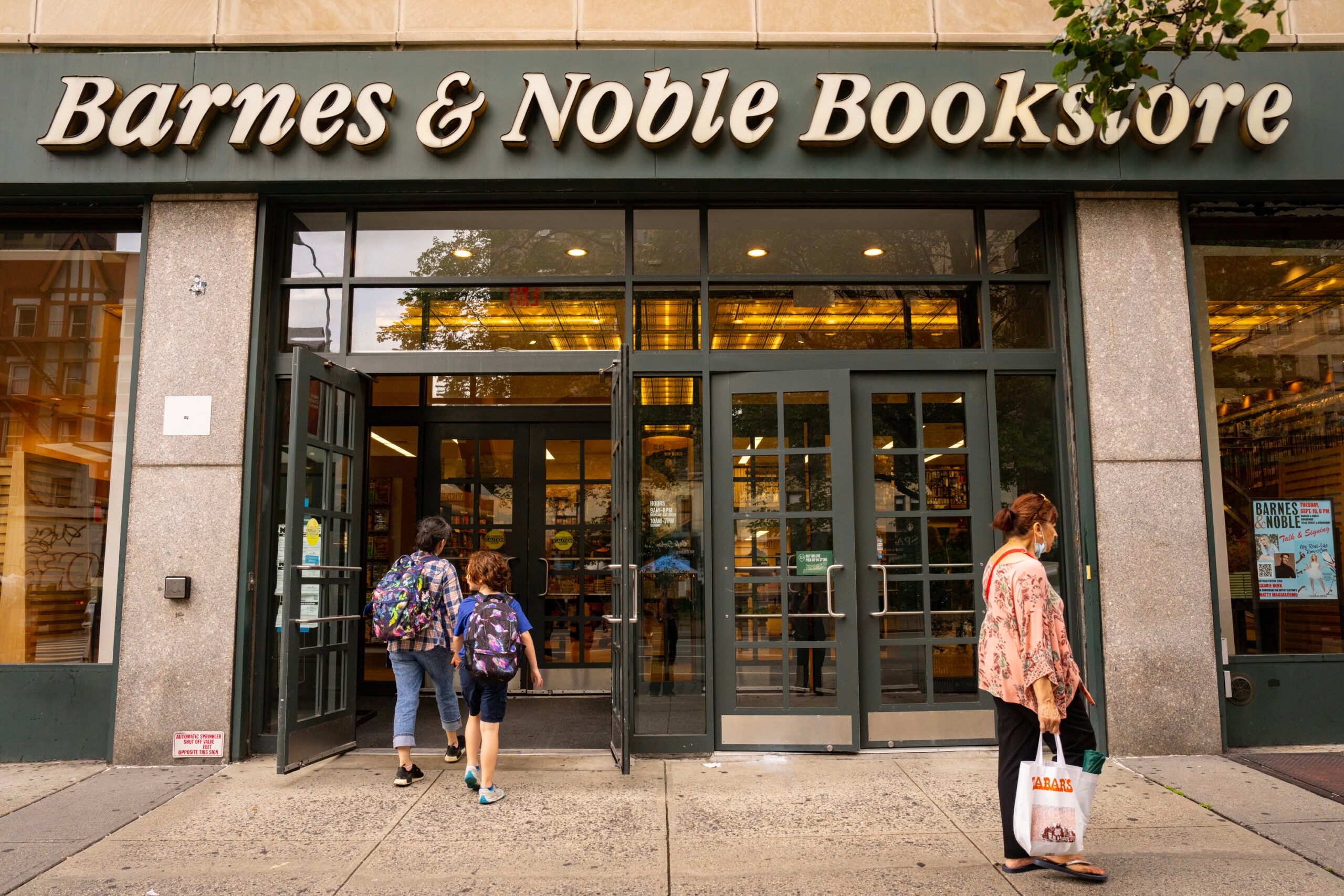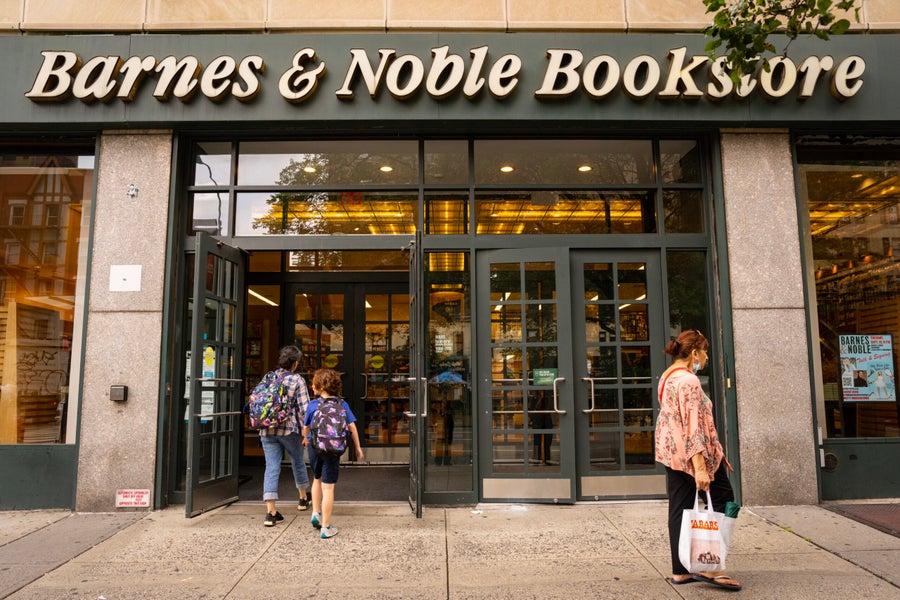 Writer Glynnis MacNicol, who lives on the Upper West Side, described herself as "surprisingly thrilled" by the refreshed look of the neighborhood store. "This feels very books," she said, noting that, in recent years, her interest in Barnes & Noble had rarely gone beyond "Are the bathrooms working?"
Bookstores, in Daunt's view, are fundamentally different from other retail businesses, partly because of the range and variability of the products. Under his leadership, local managers are given a free hand, meaning that the Upper West Side store may offer a shopping experience quite different from the one in Spanish Fort, Alabama.
"The curious trick has been that if you actually let the local book-selling teams do what they think is best, you suddenly get much better bookstores," Daunt said. Then he quickly added a caveat: "About a quarter of them become dramatically better, and a quarter become dramatically worse — but it is much easier to focus on that quarter and improve them."
Daunt believes in local experimentation to such an extreme degree that last year he allowed a Barnes & Noble in Oviedo, Florida, to change its name. The Oviedo Mall is now the site of the nation's one and only B. Dalton Bookseller store, named after a chain that Barnes & Noble acquired in 1987 and liquidated in 2010. In a demonstration of the company's commitment to inconsistency, the location now has a blue and red B. Dalton Bookseller sign above the entrance — and Barnes & Noble-branded materials within.
"You turn what had been a very uniform but dying business into something that's much more unpredictable and dynamic," Daunt said, "and it begins to work."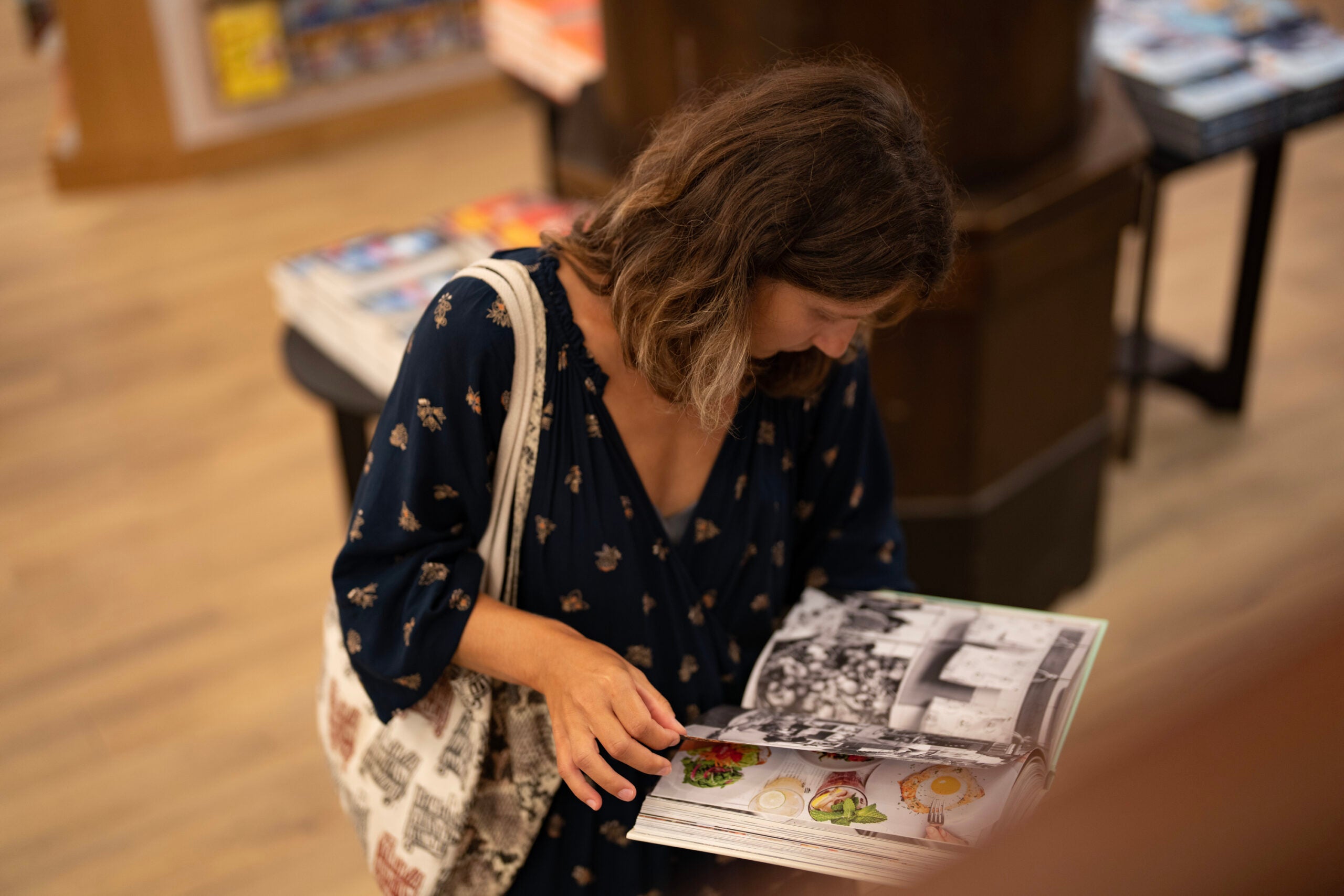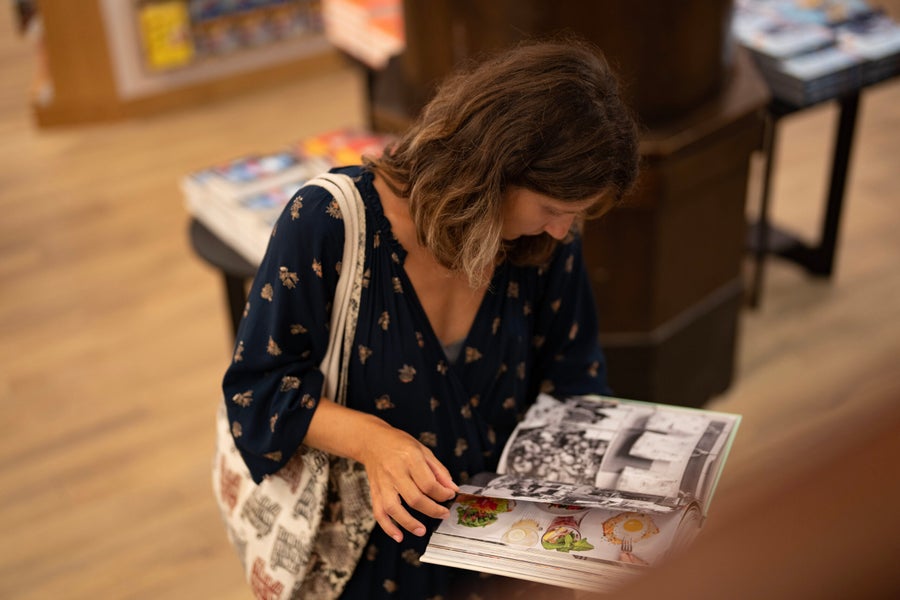 That's the part that would have brand-identity experts clutching their pearls. Reviewing images of Barnes & Noble's hodgepodge of logos, brand designer Sagi Haviv of Chermayeff & Geismar & Haviv expressed both a fondness for the company and some dismay with its inconsistent approach.
"What they did is a disas—" he said, his voice trailing off suddenly. After a pause, he concluded, "It leaves a lot to be desired."
Joanne Chan, the CEO of the branding agency Turner Duckworth, which in 1998 designed the logo that Amazon uses to this day, was similarly baffled. But when told of Daunt's embrace of local idiosyncrasies, her interest was piqued.
The eyeglasses company Warby Parker customizes stores with locally inspired murals, she noted, adding that hospitality chains such as Ace Hotel contain considerable variations within a single brand identity. For Barnes & Noble to pull off that approach, she said, "they have to walk the walk," ideally by encouraging stores to engage with their communities.
One of Daunt's first acts as CEO was to strip all stores of the footfall counters that many mass retailers use to tally the number of customers and calculate sales rates. That move has cut costs (tracking customers is expensive) and "liberated the bookstore managers, and everybody else, so they could just concentrate on being nice," he said.
The change goes along with his strategy of embracing the mindset of his typical employee. "Booksellers are about as uncommercial a breed of people as it's possible to come across," Daunt said. "The irony is that the less concerned we are with the commercial, the better it works commercially."
This article originally appeared in The New York Times.