Business
Procter & Gamble to move Gillette razor production from South Boston to Andover, explore site redevelopment and sale
It is unclear what exactly the Fort Point property, which is home to the light-up, roadside "Gillette World Shaving Headquarters" sign, will look like in a few years.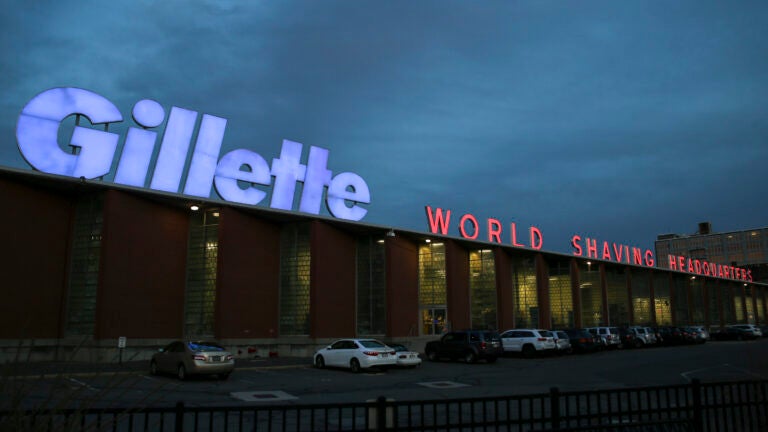 In what will be an era-ending change for South Boston, toiletries giant Procter & Gamble announced Tuesday that it plans to move razor manufacturing from its Gillette property overlooking the Fort Point Channel to its Andover campus.
The plan is for Gillette, which has used the South Boston site for product manufacturing for over 100 years, to keep its headquarters on or near its current property, P&G said. The facility will be home base for 750 employees in leadership, research and development, and engineering roles.
But it is unclear what exactly P&G's current 31-acre property, home to the light-up, roadside "Gillette World Shaving Headquarters" sign, will look like in a few years. P&G, which acquired Gillette in 2005, indicated that it is looking into redevelopment and/or selling of part or all of the site.
"It's too early to say what property or how much land we may sell; our top priority is ensuring we have sufficient space for our current and future needs," a P&G spokesperson said. "We will also participate in a community process which will help inform a longer-term development plan for the site."
The relocation process will take place over a few years as P&G invests further in its 150-acre Andover campus, P&G said. The plan is for the first slate of employees to move locations in two to three years.
All current South Boston manufacturing employees will be offered a job in Andover, P&G said. The company will also "provide support" to employees who need help navigating the change.
"This new Andover Manufacturing Center will serve as a critical U.S. manufacturing hub," the company wrote in the release. " … The enhanced site is also expected to be an attractive option for other P&G businesses in the future."
P&G previously confirmed plans to double bar soap production at the Andover campus in the next two years. The company said Tuesday that it has begun assessing how else it might expand operations there.
These changes come as a result of the completion of an assessment of P&G's Massachusetts facilities — a process which began in 2019, the company said. The Boston Globe reported that the changes are part of a $1 billion plan by P&G to modernize operations at both properties.
Out of a total of about 1,200 P&G employees currently working in South Boston, approximately 450 of them work in manufacturing, the Globe reported. P&G only employs about 200 people in Andover right now, the newspaper reported, calling its facility there "underused."
According to Boston Business Journal, P&G has been selling off parts of its South Boston property for years.
Newsletter Signup
Stay up to date on all the latest news from Boston.com