Local
'Someone took action and went beyond words': Cambridge City Council condemns escalating debate over bike lane 
"People have very strong feelings, both for and against."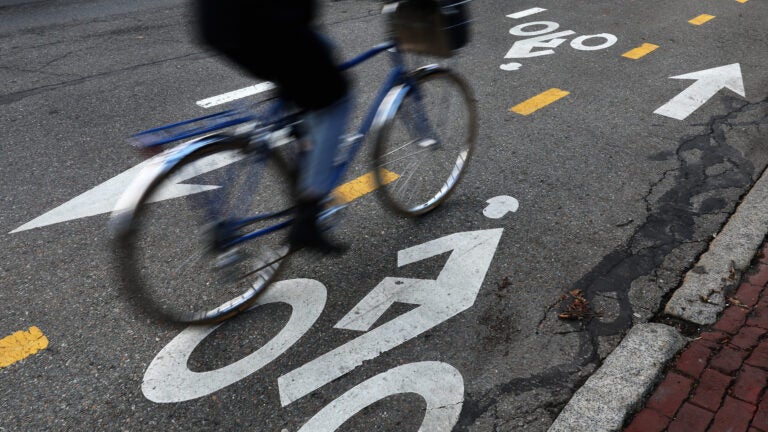 New bike lanes being installed on Massachusetts Avenue have Cambridge residents so divided that someone allegedly put tacks and bricks in one of the lanes.
The alleged incident was brought up during a City Council meeting Monday night while lawmakers discussed an order to condemn any activity that could result in someone getting hurt while the new bike lanes are being installed.
The order, which passed, comes after a bicyclist blew two tires on Nov. 18 when someone put thumbtacks and bricks in the bike lane.
"We know that this conversation around the implementation of the bike lanes north on Mass Ave. has been challenging," Councilor Marc McGovern said during the meeting. "And people have very strong feelings, both for and against."
But the conversation has to be toned down, he said.
"I was really dismayed to hear that someone took action and went beyond words by placing bricks and thumbtacks in the bike lane that caused a cyclist to crash," McGovern said. "Although there was significant damage to his bicycle, he was not seriously hurt. That could have turned out very badly if that person had fallen into traffic."
McGovern noted that he wants the discussion about the bike lanes to stay in the public setting, adding that he thinks it's important for councilors to condemn the recent unwanted activity.
During the meeting, Councilor Patricia Nolan raised concerns about a post on Twitter — a GIF image of a blow torch and burning buildings — that had been shared online as part of the debate over the bike lane.
Nolan later told Boston.com that she was responding to several upset city residents, who thought the image meant someone was threatening violence. The councilor said she now understands the GIF wasn't meant to promote setting fire to buildings.
The City Council unanimously approved the order, which calls on the public to "not engage in any actions that could lead to devastating consequences" over the bike lanes.
"We call on those on both sides of this issue to publicly condemn such actions," the order reads.
The bicyclist who ended up with tacks in his tires told WHDH that he first struck a couple of bricks only to then find the tacks.
"The rear went flat immediately," Paul Shaskan told the news station. "The front went flat immediately."
The incident cost him about $700 in repairs to his bicycle, he said.
Cambridge Bicycle Safety, a group of residents focused on promoting bike safety, said it supports the action taken by City Council.
"We view this as an isolated incident and know that it is not reflective of the broader community," the organization said on Twitter.
Editor's note: This story has been updated to clarify Nolan's previously reported remarks at the City Council meeting regarding the GIF shared on Twitter.
Newsletter Signup
Stay up to date on all the latest news from Boston.com