Politics
Charlie Baker chides state Republican Party for condemning Ilhan Omar and Rashida Tlaib
The Massachusetts governor said the resolution passed by fellow Bay State Republicans "does exactly the wrong thing" when it comes to public discourse.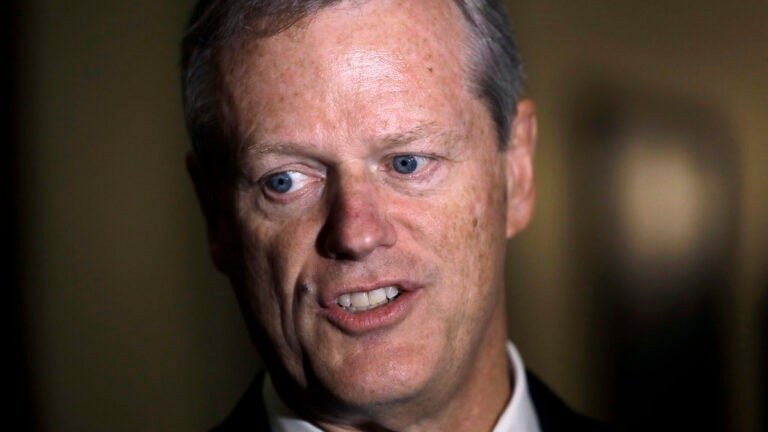 Is Republican Gov. Charlie Baker sticking up for the Squad?
Baker admonished the Massachusetts Republican Party on Thursday for a recent resolution formally condemning Minnesota Rep. Ilhan Omar and Michigan Rep. Rashida Tlaib for their criticism of Israel. Asked about the resolution in his monthly appearance on WGBH's "Boston Public Radio," the Bay State governor said he has tried hard to stay out of "the name-calling business."
"I don't think it accomplishes very much, and I think it degrades public discourse," he said. "While I certainly probably don't agree a lot with either of those congresswomen, they were duly elected by the people of their districts, and that's who they're accountable to."
Baker also said it was his understanding that the resolution contained a number on inaccuracies.
The resolution, which was "overwhelmingly" approved Tuesday by the Republican State Committee, denounced Omar and Tlaib, the first two Muslim women ever elected to Congress, as "anti-Semitic" and claimed that the two freshman Democrats had aligned themselves with "terrorist" organizations and Holocaust deniers.
Omar and Tlaib — along with New York Rep. Alexandria Ocasio-Cortez and Massachusetts Rep. Ayanna Pressley — have become political lightning rods on the national stage for their unapologetic progressivism, as well as their criticism of Israel's occupation of the Palestinian territories. Omar and Tlaib also support a movement to boycott Israel over its treatment of the Palestinian people. And Omar's criticism of the Israeli government and its influence on American politics has at times been accused of playing into anti-Semitic tropes.
However, as Commonwealth magazine reported Wednesday, the suggestions that Omar and Tlaib have expressed support for extremist organizations have been repeatedly debunked.
The MassGOP resolution — reportedly modeled after a resolution passed by the Alabama Republican Party last month calling for Omar's expulsion from Congress — was introduced by Republican State Committee members Tom Mountain and Marty Lamb. Mountain told Commonwealth that an earlier draft of their resolution called for Omar and Tlaib's expulsion, but they decided it would be a pointless ask of the state's entirely Democratic congressional delegation. He also suggested openness to a future resolution condemning Ocasio-Cortez and Pressley as well, for which some committee members had apparently requested Tuesday.
"Maybe at some later date we can," Mountain told Commonwealth. "While from our perspective they're bad, they're not the worst of the worst. We dealt with the worst of the worst, which is Rashida Tlaib and Ilhan Omar."
Baker said Thursday that what the party had already done was regrettable, adding that the resolution condemning Omar and Tlaib "does exactly the wrong thing with respect to what we should be trying to do with public dialogue."
"I think too many times in public life people stop treating other people as human beings and start to treat them as caricatures," he told WGBH.
Co-host Jim Braude replied that President Donald Trump has made the practice an "art form." Baker, who didn't vote for Trump and has repeatedly criticized the president, agreed.
"I have a terrible problem with all this stuff," he said. "So yeah, I have a problem with that, too."
Baker, a moderate Republican, has increasingly clashed with the state Republican Party since it elected Jim Lyons, a conservative former state representative, as its chair. And his interview Thursday wasn't the first time the governor found himself at odds with members of his own party over attacks on the four Democratic congresswomen known as the Squad. In July, he called a series of tweets from Trump attacking the four women of color "shameful and racist."
"Tweets like that send a horrid, debilitating, hateful message that there's just no place for in public discourse," he told reporters at the time.