Local
Charlie Baker isn't issuing any coronavirus 'mandates' for Halloween in Massachusetts. But he does have some advice.
"I had a whole bunch of people say to me, 'Why don't you just cancel Halloween?'"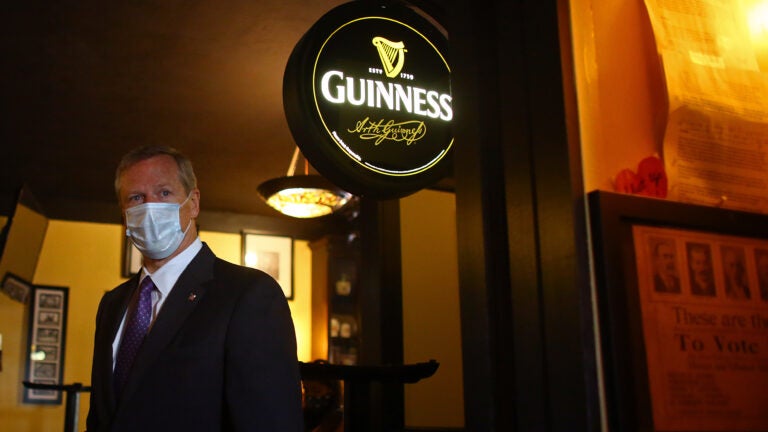 Gov. Charlie Baker is leaving trick-or-treating rules to local cities and towns in Massachusetts this Halloween, amid the all-too-real fears about the spread of COVID-19.
He does however have some very strong advice.
"Indoor Halloween parties are a really bad idea," Baker said during a press conference Tuesday afternoon in Salem.
Given the evidence that transmission of the coronavirus is most likely in crowded indoor settings where there is less airflow and more close contact between individuals, Baker said traditional Halloween parties with friends and neighbors were "simply the wrong way to safely celebrate this particular holiday."
"I've had a number of people tell me they've been invited to those kinds of gatherings," he said. "Most years at Halloween, I understand why, and it makes sense. This is not one of those years."
Baker's comments come after several cities in Massachusetts with higher rates of COVID-19 infections, including Worcester and Springfield, banned door-to-door trick-or-treating this season (Boston has not yet announced a Halloween plan). Rhode Island also recently released statewide guidelines for trick-or-treating.
According to Baker, his administration has no plans to issue any Halloween "rules or mandates" but will put up some similar tips and advice for the holiday — much of which is consistent with the state's existing gatherings restrictions and face covering rules. With appropriate precautions, Baker said "the overwhelmingly sense" among public health experts is that outdoor trick-or-treating might even be the "best way" to celebrate the holiday this year.
"Small groups," he said. "Don't go out in big groups. You can go out with just your kids. That would be the best of all. Wear a mask. And not just a mask of Superman or Wonder Woman, like a real mask. And for those homes that are along the routes that many people trick-or-treat, [the] best thing would be to lay something out on a cookie sheet, either some sort of little candy bag or wrapped candy itself. Or if you're planning to hand candy out, wear a mask — very short engagement with the people who show up on your front porch — and gloves. And of course, moms and dads, take a good look at everything that's inside the bag when their kids come home."
Last month, the state's Department of Public Health published a "Halloween during COVID-19" tips webpage that also encourages trick-or-treaters to carry hand sanitizer, refrain from touching their face, and stay home if they feel sick.
Baker said Tuesday he hoped local officials would communicate the state's guidance to their residents, but that it was "up to them" if they wanted to enact stricter Halloween rules.
While the Centers for Disease Control and Prevention lists traditional trick-or-treating among its higher-risk Halloween activities, "one-way trick-or-treating where individually wrapped goodie bags are lined up for families to grab and go while continuing to social distance" is classified as "moderate risk."
Salem, which typically sees 500,000 people visit in the weeks leading up to Halloween, has canceled most of its Haunted Happening events, instituted a downtown mask mandate, limited the size of tours, and required overnight visitors from out-of-state to fill out a travel form. City officials are even employing a Massachusetts State Police airplane to monitor potential overcrowding.
"While we normally welcome visitors from around the globe to our city each Fall, this is not a normal October," Salem Mayor Kim Driscoll said in a statement Tuesday. "We want to support our many businesses, but our first priority is keeping residents, employees, and visitors healthy and safe."
Baker said he didn't blame Driscoll for her recent decision to postpone Salem's move to the the next step in the state's coronavirus reopening plan, given the expected influx of visitors.
"She's going to have hundreds of thousands of people," he said.
Asked why the state wasn't imposing any more stricter limits on public celebrations, Baker cited concerns that it would encourage the exact type of private gatherings the administration has consistently cited for recent COVID-19 clusters.
"I had a whole bunch of people say to me, 'Why don't you just cancel Halloween?'" he said. "And the reason we're not canceling Halloween is because that would have turned into thousands of indoor Halloween parties, which would have been a heck of a lot worse for public safety and for the spread of the virus than outdoor, organized, and supervised trick-or-treating."