COVID
Here's how it went for Boston.com readers who tried to get a vaccine appointment Thursday
"I won't be voting for this administration next time – if I live."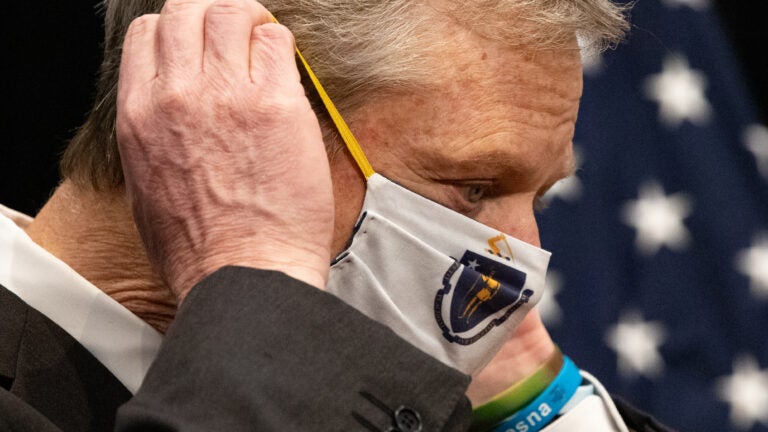 It's a pretty safe bet that someone got an earful from Gov. Charlie Baker this week — namely, whoever had told him that the state's vaccination websites were ready to go for the next phase of the rollout Thursday morning, when appointments opened for more than a million additional state residents who are over 65 or have two or more comorbidities.
The disastrous showing — which has prompted an array of apologies and explanations — is already legendary, prompting online fury and provoking Baker himself, during an appearance on GBH radio Thursday afternoon, to say, "My hair's on fire about the whole thing," adding, "I can't even begin to tell you how pissed off I am."
Judging from responses from Boston.com readers, he's not the only one. More than 500 people responded to our survey question on our website and social media accounts, and they were almost uniformly negative — and not in a constructive, better-luck-next-time kind of way.
"The incompetence is impressive," said Mike from Boston, with Tom from Dracut declaring, "This state literally could NOT operate a lemonade stand." And more than one respondent channeled Chandler Bing in expressing their disdain, like Mike from Dighton who asked, "Could the people in charge of this rollout be any more incompetent?"
There were far too many responses to include them all here, but if you want to see the full array of opinions from Boston.com readers, you can check out the spreadsheet.
Meanwhile, here's a sampling of observations, opinions, suggestions, and horror stories from Thursday's rollout.
Responses have been edited for length and clarity.
"Disappointed that Massachusetts couldn't let go of the reigns to allow individual places of business to handle their own scheduling. I'm no longer wondering why Massachusetts is so far behind other states."
"Website was horrible. Too many different links rather than a centralized location to sign up. And when it didn't crash, you would waste 5 to 10 minutes trying to book the appointment by answering questions — by the time you are done answering these questions, the site would then tell you there is no longer any available slot. What a joke!"
"I was on the phone for one hour trying to make an appointment with no success. Kept putting me on hold. My wife is 87 and I am 86. Real bad experience!"
"The incompetence is impressive. To know that you're already doing a terrible job and then have the nerve to think that the million-plus people who are now able to sign up won't use the website at the same time." — Mike, Boston
"My family is very frustrated with this experience. I brought my mother to her first appointment, however it was prior to the companion announcement. We were waiting to schedule my companion appointment once the date became available, however the timing of this has coincided with Gov. Baker's announcement yesterday. Now scheduling my companion appointment is virtually impossible as no slots are available." — Kathleen, Georgetown
"And the site crashing SURPRISES YOU!?! It's the commonwealth, give me a break."
"Really bad, I feel like driving to New York City where my son lives to get a vaccine. This is crazy. And then my own computer locked me out because of 'unusual traffic,' sigh." — Sarah, Somerville
"As expected, the site crashed even before the schedule was posted. Could the people in charge of this rollout be any more incompetent?" — Mike, Dighton
"Eventually, after lots of refreshing, I was able to get a spot at the Danvers site — though you must put your details in FAST after they send you the booking email, otherwise the 'slot' gets taken up by someone else … Eventually I got booked in! Don't give up!" — Apryl, Sherborn
"ANGER!! OUTRAGE!! TOTAL INEFFICIENCY for the Massachusetts vaccine rollout."
"I've been a supporter of Gov. Baker through the years, even though I am a Democrat. But his mishandling of the vaccine rollout has diminished his reputation in my mind. Very disappointed in him."
"The fact they included smokers, obese and type 2 diabetes, with no need to show medical proof of these medical issues, doomed those of us 65 and over. Great move Gov. Baker!" –– Maggie, Boston
"This was a totally predictable problem — no excuse for this pitiful crash … There are also many residents who will take advantage of not providing proof that they actually have comorbidities. Really inexcusable — should need medical documentation from a primary care doctor to prevent widespread lying. I am personally aware of many people who have jumped the line by lying about being healthcare workers, or working doing only research for Mass. General or Brigham & Women's — working remotely and never seeing patients." — KC, MetroWest
"The various systems for booking are clearly poorly designed. Availabilities are displayed for a location, but then by the time all the qualifying questions are answered and personal information is entered, the slot is no longer available. This has happened to me at least 20 times over the last two hours. Ideally, a user should be able to block out an appointment slot long enough to enter all the required information. That's how most ticketing systems work — you choose your seat and then have five minutes to enter info and credit card. Why can't the vaccine site work the same way?" — Michael, Lincoln
"How could the state not be prepared for a massive rush of residents trying to use the website this morning? Absolutely shameful, for a state with such (alleged) brain power and such (supposed) competent executive leadership." — Tom, Sudbury
"Awful — wasted two hours trying and finally gave up. An 18-year-old morbidly obese smoker can sign up to be vaccinated yet people with serious conditions are still not eligible — thanks Baker and CDC."
"Nine years with Parkinson's disease. 72 years old. Massachusetts has been a disaster! I tried over 40 different direct booking links all over the state. All of them either crashed or had no slots. Still nothing to show for two hours of trying." — Eric, Sudbury
"Curative has one answer 15 yes/no questions so that by the time one clicks through, the original chosen time slot is filled. Why do this to people? Isn't logistics an actual field of study? Who hires such incompetent contractors, who decides to have a million people sign up on one day? I won't be voting for this administration next time — if I live. Shame on all of you." — Mary, Mattapoisett
"This state literally could NOT operate a lemonade stand. I've had it with this state's ineptness, obstructions, graft and cronyism. Seriously considering moving to New Hampshire and be done with the mess that is called 'the commonwealth!'" — Tom, Dracut
"Predictably crashed but not sure Baker or anyone could have prevented this result." — Jim, Cohasset
"My 6-year-old grandson could have guessed this site would crash. Let's see, we'll point 1 million people to a website with 70,000 appointments available … Don't we have a high-tech community with programmers to make this simpler? How about we select 65+ whose last names begin with X, Y, Z make appointments, confirming with last 4 digits of their SSN, and when they've all been scheduled, move to the next group. Did anyone think this through?" — Paul, Concord 
"Pretty much what I expected — finally eligible for vaccine, and staring at an octopus. Get your act together Mass."
"My husband and I both managed to book appointments, but it was a real tooth-pulling exercise. Be persistent!"
"My wife and I also found ourselves repeatedly looking at the critter we nicknamed 'the quadapuss.' I understand there are people out there who specialize in designing and implementing efficient, user-friendly, large-volume web sites. Perhaps Massachusetts should consult someone of that ilk." — Richard, Belmont
"Maybe Baker should consult with West Virginia. They used a Massachusetts tech company!" — Robert, Sterling
"Seniors in our Cape Cod communities are not being provided anywhere near enough vaccine to make any progress here … Governor Baker is not listening, but his administration will sure as heck want us to snap to and serve them their lobstah rolls in tourist season."
"Did anyone [get an appointment]?! Wild."
"In fairness, my friends in other states have had similar booking experiences. Mass. does seem to be lagging behind, though. Friends my age (65-75) have been eligible for awhile. Many are fully vaccinated." — Barbara, South Yarmouth
"The problem is we have a former private health insurance executive overseeing the rollout, they're only good at denying coverage." — Marc, Buzzards Bay
"… All they had to do was stagger the dates. A-D register today and tomorrow, E-L the next two days, etc. To just say, 'Hey, it's open tomorrow at 8' and have a million people trying at once! What did they think would happen?!"
"Maybe outsource the whole process to firms that are accustomed to large volumes like Ticketmaster? They aren't booking concerts right now."
"Took hours to book my parents' appointments. NASA has landed a rover on Mars. Hard to believe Massachusetts cannot maintain a functioning vaccine website."
"What happened today is incompetence of the highest level! I'm quite familiar with computers, more than 50 years, day in, day out, I designed/developed medical apps. The Mass. vaccine sign-up site didn't have the infrastructure necessary to attend the expected traffic … The vaxfinder.mass.gov is an outrage, it qualifies as ABUSE of SENIORS." — G., Boston
"For the first 10 months of the pandemic, Gov Baker deserved an A. For the last two months? F-. What an embarrassment for a technology-rich state. Sadly, people will get sick and some will die." — Cliff, Salem, MA
"Someone needs to be fired. We can start at the top — resign governor!" — Jim, Lexington
"Baker should be fired for this. And we expect the elderly to be able to navigate this? Disaster."
"Run for a political position if you think you can do better!" — Jessica, East Boston
Boston.com occasionally interacts with readers by conducting informal polls and surveys. These results should be read as an unscientific gauge of readers' opinion.
Get Boston.com's browser alerts:
Enable breaking news notifications straight to your internet browser.