COVID
Charlie Baker defends vaccine eligibility timeline as neighboring states move forward
"Eligibility is one thing. Actually executing on the ground and getting big portions of the populations that are eligible vaccinated is another."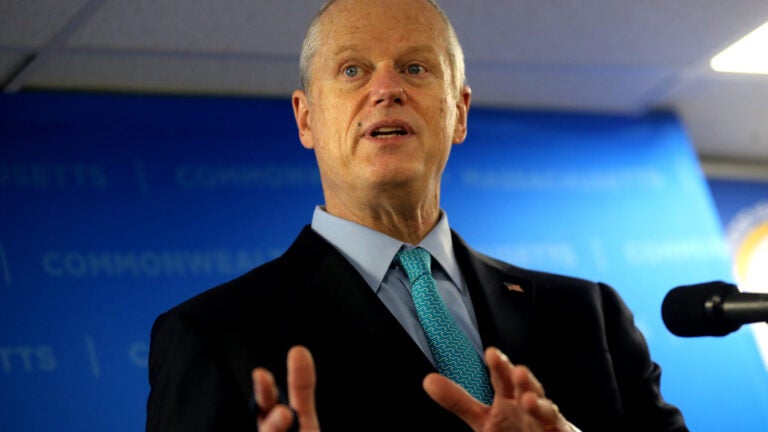 Massachusetts residents may be about to feel a bit of regional vaccine envy in the coming weeks, as neighboring states open up their eligibility rules.
Connecticut began allowing residents as young as 16 to begin signing up for vaccine appointments this Thursday. New Hampshire plans to do the same Friday. New York will follow on Tuesday. Maine just announced it will Wednesday.
But for Bay Staters under the age of 55 that do no meet any of the other eligibility criteria, the wait will go on just a bit longer until April 19.
Gov. Charlie Baker says it's worth it.
"Our focus from the beginning of this has been on those most vulnerable, and I think in many respects, that's where it should be," Baker reiterated during a press conference Thursday in Chelsea.
Even as residents under the age of 30 have grown to account for more than half of new COVID-19 cases in Massachusetts over the past two weeks, individuals over the age of 50 continue to make up nearly 80 percent of hospitalizations due to the disease, according to state data. They also make up nearly 97 percent of the 445 deaths due to COVID-19 in Massachusetts over the past two weeks.
Currently in Massachusetts, residents as young as 60, individuals with multiple qualifying health conditions, and certain essential workers can sign up for the vaccine. The state will expand eligibility Monday to residents as young as 55 and those with just a single health condition, before allowing everyone to sign up on April 19 (officials are asking residents not to book appointments before the day they're eligible). Vermont and Rhode Island also currently aren't scheduled to open eligibility to all residents over 16 until April 19.
Baker says that expanding eligibility in two-week increments gives prioritized groups time to find open appointments, with vaccine supply still limited. Officials have said that after the initial rush for appointments, demand usually eases after about two weeks.
"We've had tremendous success so far with this rollout and getting big chunks of the population associated with each of these categories vaccinated before we moved on to the next one," the governor said. "People tell me all the time that there are other states that have broader eligibility standards than we do. Every single one of those states that people have raised with me, that was a significantly sized state, has vaccinated fewer people as a percent of their population fully, fewer people in terms of their first dose, and typically in most cases have not put as much of the vaccine that's been made available to them to work as we have."
Baker said Thursday that more than 80 percent of Massachusetts residents over the age of 75 in Massachusetts have gotten at least one dose of a vaccine and more than 70 percent of those over 65 had gotten a shot. Despite early hiccups in the rollout, Baker says Massachusetts has become a national leader in the distribution of vaccines, leading the other 24 states in the country that have more than 5 million residents in vaccinating its population.
"Eligibility is one thing," Baker said. "Actually executing on the ground and getting big portions of the populations that are eligible vaccinated is another."
Get Boston.com's browser alerts:
Enable breaking news notifications straight to your internet browser.