Politics
Boston.com readers think MassGOP should follow Baker toward the middle
"Trying to be further right of a successful moderate in a state this blue is probably one of the dumbest things the Republican party leadership could do."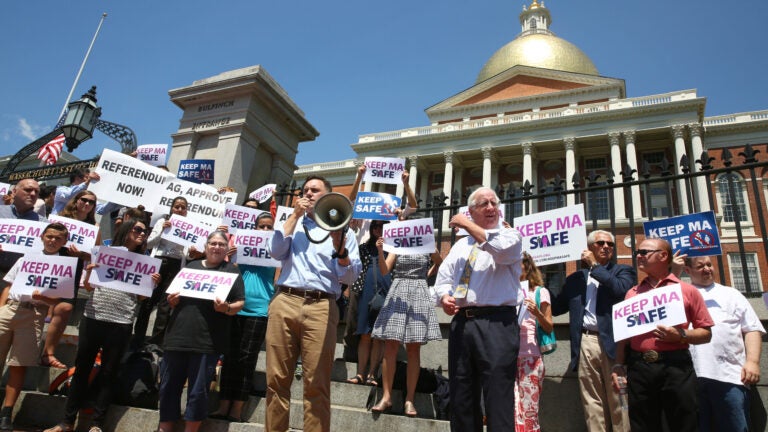 It's been an interesting few weeks for the minority party in Massachusetts.
After Republican State Committee member Deborah Martell made headlines for criticizing a Republican Congressional candidate's decision to adopt children with his husband — she said she was "sickened," The Boston Globe reported — divisions within the party immediately came to the fore.
Gov. Charlie Baker denounced her remarks, as did MassGOP Vice Chair Tom Mountain. But Chairman Jim Lyons, who's clashed with Baker in the past, was noticeably silent, and eventually 29 out of the 30 GOP members in the House said Lyons should seek Martell's resignation — or step aside himself.
Lyons's eventual response was to fall back on the religious liberty argument: "I acknowledge that she wrote in a manner that was offensive," he wrote in a statement. "However, Massachusetts Republican Party bylaws are clear: freedom of speech and religious liberty are values that are unbending and uncompromising."
The brouhaha could make for an interesting gathering when the Republican State Committee holds its next scheduled meeting Wednesday night. (At least being in the same room should help allay Mountain's complaint that Lyons never returns his calls.) Meanwhile, Politico is reporting that a group calling itself "A Better MassGOP" plans to rally ahead of the meeting to "support those marginalized by [Martell's] actions" and to hold her and Lyons accountable.
As for Boston.com readers, most are in agreement: 55% of the more than 300 who responded to our unscientific poll said Lyons should denounce the remarks and demand Martell's resignation, and another 23% said he should just get it over with and resign himself.
"I find Mr. Lyons' actions to be weak. To be able to use religion as a tool for bigotry is shameful," said LMD from Plymouth, while Ed from Boston declared that Lyons "is a dinosaur and needs to go."
Not all lined up against the GOP chairman, though: 19% said he did nothing wrong and doesn't need to take any action. "Lyons is absolutely correct," responded Julius of Boylston. "For any party to deny a member religious freedom or the freedom to speak is REAL bigotry."
But as for the GOP in Massachusetts, Boston.com readers seemed to have a clear preference that it follow the state's popular governor in a more centrist direction.
"With a more moderate MassGOP, the party would more easily recruit good candidates," noted Liz from Wrentham. "If they keep up with their current leadership, they're going to keep on being perceived as a bunch of wackadoodles."
About 60 people offered their thoughts on the situation and the future of the MassGOP; below is a sampling of their remarks.
Responses have been edited for length and clarity.
More on the recent incident, and Lyons's response
"One should never be allowed to use their beliefs against another. Mr. Lyons is hiding behind that ideal. He should call for the resignation, or he himself should step down." — LMD, Plymouth
"Respecting someone's 'deeply held' views on a matter even when ostensibly arising from a religious conviction should not excuse bigotry — especially from public officials or those seeking to become one. White southerners laid down their lives to defend the South and slavery during our Civil War. Does anyone doubt that their views were deeply held? German Nazis of the 1930s and 1940s — does anyone doubt the sincerity of their beliefs? Sincerity is not the standard by which to measure the worth of a position or opinion."
"What direction should the GOP be going? As far away from Ms. Martell as possible, and quickly."
"Jim Lyons hurls himself fearlessly into the past and insists we all go backwards with him." — John, Peabody
"I feel people need to stop using freedom of speech as an excuse for bad behavior. I truly believe that the Constitution writers never intended it to be interpreted in this way. And [Martell] is more than welcome to practice any religion she chooses, but once again needs to not be used as a 'weapon' against others who do not have the same views." — Susan, Little Mountain, S.C.
"I was a registered Republican for 50+ years until Trump came along. Jim Lyons is part and parcel of Trump's 'values.'" — Bill, Hamilton
"[Lyons] sounds like a Trump person; horrible position for a Republican in Mass." — George, Boston
"Everyone is entitled to their own opinions and to practice whatever faith they choose, but it should not come into the workplace. Also when you work in a public office to help and better the people, why condemn someone who helped and bettered a child's life?" — Jim, Ashburnham
"I think he did something wrong, but I also think he shouldn't do anything. Because this is the Republican platform — as recently as 2018 they came out against gay marriage. So why are we expecting differently?"
So in what direction should the MassGOP move?
"More to the center. [Karyn] Polito was extreme right and fought same-sex marriage before she became lieutenant governor. Not Massachusetts style."
"Looks like Mr. Lyons and Ms. Martell need to move to Mississippi or Alabama." — Mike, Medford
"I think the GOP needs to move away from the far right and the alleged Christian values they all seem to spout. I have no use for their hateful policies." — Mary-Kate, Braintree
"Baker has shown that centrist Republicans are more inclined to want to govern and work with the Dems; in the end, getting some of your ideas implemented is better than none. And none is what you're going to get if Republicans adopt the no-compromise, my-way-or-the-highway attitude."
"This is the problem with the GOP. They cannot leave religious beliefs aside (like witch trials). Many gays, etc., are conservative financially but the GOP insists in not giving them rights and out-and-out insulting them." — Kate, Scituate
"Straight to oblivion, where all traitors belong. If you are still calling yourself a Republican after 1/6, you deserve nothing but scorn." — Mark, Salem
"If the MassGOP members only took the time to have deeper conversations with their constituents, they'd realize that the majority of people in Massachusetts are moderates (Democrats and Republicans). The majority of Mass. residents are well-educated people and agree on most policies." — Liz, Wrentham
"I wish we would stop pretending the Baker/Romney Republicans are in the same party as Donald Trump and apparently Jim Lyons. I find Mr. Lyons's 'We as Republicans must not act as the far-left wants us to' statement just as offensive and concerning as Ms. Martell's. This is not some fringe 'far-left' imperative. This is America growing and recognizing the rights and status of all our people, regardless of race, ethnicity, sexual orientation, or gender identity. What person of compassion would deny a child a chance at a stable home, or people with love in their hearts an opportunity to raise a child?" — Norb, Ashland
"Cloaking discrimination under the guise of religious liberty is wrong. The party needs to move to a more centrist position." — Bill, Dennisport
"Lyons taking the MassGOP further to the right is only going to alienate the party in this state more than it already is and reduce their influence to almost nothing. They have their lowest membership in decades in the state under his leadership. Like many GOP leaders across the country, he's adopted the Trumpian tactics of always being crass and unapologetic. That may work in states like Alabama or South Dakota but here it's a political death sentence." — Chris, Boston
"Move in both directions. The Democrats do, so the GOP can do it as well. It is a big tent. There are gay Republicans and those who think being gay is sinful. Some Democrats support abortion and some do not at all. The issue is stop making it an issue. Celebrate differences of opinion." — John, Wayland
"Yankee Republicanism (i.e., like Baker) was and is an honorable, pragmatic, centrist tradition that provides a great working model for society, and which can work in tandem with centrist Democrats to effect good governance. The Trump/religious nut wing is more focused on fighting culture wars than in good governance. Same can be said for the leftist wing of the Democratic party. Neither extreme is helpful."
"This faction has always been part of the MassGOP and it's sad that the lunatics are now running the asylum. The MassGOP needs to attract more voters to win more seats in order to provide an alternative to the Dems. Baker is the most popular governor in the country — the MassGOP should follow his lead." — Lyndsay, Quincy
"Trying to be further right of a successful moderate in a state this blue is probably one of the dumbest things the Republican party leadership in the commonwealth could do. Enough of this tomfoolery." — Militia Man, Greenfield
"The Baker Republicans are more unifying. The other Republicans seek to be a more divisive group, not unlike the cancel-culture Democrats."
They should move in a direction "that reflects the constituents and not their dead relatives." — Dave, Hingham
In support of Chairman Lyons
"Freedom of thought and speech. Reject the mob and cancel culture. Hope Lyons sticks to his guns."
"Stop the Christian bashing! We are taught to love everyone, and Christians do! But sin is a sin. The Bible says so. And Jesus came for the sinners — which are ALL of us! NO ONE should be forced to renounce the teachings of the Bible or be forced to resign. Massachusetts has gotten WAY out of control with how far it has gotten away from the Word."
"People are allowed opinions in this country. Even if others disagree. That is why America is so great." — John, Westminster
"You communists are out of control … time to take back our families God and Religion … keep your bedroom agenda private…"
"Charlie Baker created the division, not Jim Lyons. Charlie is a RINO. The party is moving exactly where it should — less regulation, secure borders, less taxes." — Bill, Walpole
"Lyons is absolutely correct. For any party to deny a member religious freedom or the freedom to speak is REAL bigotry. If people of the commonwealth do not approve of a politician's sayings, then the people of the commonwealth can vote that person out of office as the best, most direct message of disapproval. The whole thing is a tempest in a teapot: There is already no effective Republican party in Massachusetts, anyhow. There has been no meaningful Republican presence in this state in decades. The likes of Romney, Baker, and Weld have been Republican in name only — the Republicans in this state are republicrats." — Julius, Boylston
"Baker is not a Republican! Lyons has acted 100% correctly. If we as Mass. residents don't like what someone says or thinks we will not vote them back into office come next election. In this country we have the freedom to say what we want regardless of whether it might hurt someone's feelings. You have NO right to force your beliefs on someone else! Here is a man who stood up." — Chris, Danvers
Boston.com occasionally interacts with readers by conducting informal polls and surveys. These results should be read as an unscientific gauge of readers' opinion.
Newsletter Signup
Stay up to date on all the latest news from Boston.com