COVID
Massachusetts looking to increase COVID-19 booster availability amid concerns about omicron variant
"We're gonna see if we can increase our capacity to do more."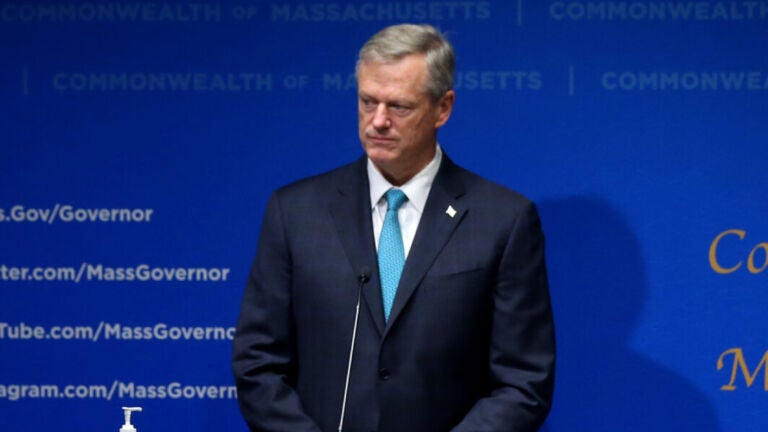 Gov. Charlie Baker says his administration is working to increase the availability of COVID-19 vaccine boosters in Massachusetts, as officials work to learn more about the new omicron variant that was identified late last week in South Africa.
"I understand the concern," Baker said Monday afternoon during his monthly appearance on GBH's "Boston Public Radio."
"But I think people need to recognize and understand that people are chasing this pretty hard," he said. "You got folks all over the globe who are chasing data and information, and it'll probably take a few days to figure out what we don't know."
For now, Baker said he believes the "best thing people can do to protect themselves from any of these variants is get vaccinated if you're not and get a booster if you're eligible."
His comments came as President Joe Biden characterized the omicron variant as a "cause for concern, not a cause for panic" during a speech Monday, as countries across the world tightened their travel rules. While many questions remain about the new strain, preliminary evidence suggests the omicron variant could pose "an increased risk of reinfection" in people who have already had COVID-19 due to its many mutations. And vaccine manufacturers are researching whether a specialized booster shot might be necessary to deal with the variant.
Baker tweeted Friday that Biden's move to restrict travel from eight southern African countries, including South Africa, was "the right move until the medical community can learn more about this new variant."
During his radio appearance Monday, the Republican governor noted that it remains unclear exactly how transmissible or dangerous the omicron variant is compared to previous strains. He compared the learning process to the one that played out after the emergence of the contagious delta variant that fueled COVID-19 spikes this summer and fall.
"There was a lot of concern about both transmissibility and virulence with delta," Baker said. "And I think the conclusion most people came to is, 'Yup, more transmissible, but not more virulent.' And the vaccines that are currently in place turned out to work quite well with respect to delta."
Baker told GBH on Sunday that the administration "may have to up our game a little" when it comes to current COVID-19 boosters, noting that the state has seen "a very significant increase" in demand since everyone over the age of 18 in Massachusetts became eligible for the additional shots on Nov. 18.
"We have about 800 sites that are currently available and we may need to do more," he said.
As of the end of last week, Massachusetts had administered 1,056,088 booster shots, accounting for almost 22 percent of the more than 4.8 million residents over the age of 5 in the state who have been fully vaccinated.
Interest in the shots had also been surging well before the omicron variant emerged as a concern.
Since early October, Massachusetts has seen the combined daily demand for initial vaccine shots and boosters roughly double, with the state sometimes administering more than 50,000 doses per day, the highest since its springtime peak of 80,000 daily shots.
Baker, who plans to get his booster shot later this week, said Monday that he's "happy to have increases." However, he acknowledged the strain on supply.
"When I go look at [vaxfinder.mass.gov], I can always find appointments," Baker said.
The administration has opened state-sponsored booster locations in Danvers, Lowell, Springfield and Brockton capable to administering up to 1,000 boosters a day. They've also partnered with local officials and health care organization to support walk in vaccine clinics, like at Tufts Medical Center in Boston.
"They may not be in the place somebody wants to go to get one," Baker said Monday. "And it may be a week or 10 days out, or two weeks out, before they can get one. But given the fact that we have far more demand than we had a couple of weeks ago, we're gonna see if we can increase our capacity to do more."
Newsletter Signup
Stay up to date on all the latest news from Boston.com