Politics
Gov. Charlie Baker gave his final State of the Commonwealth address. Here are 3 standout moments.
The governor had a few words for lawmakers about working together.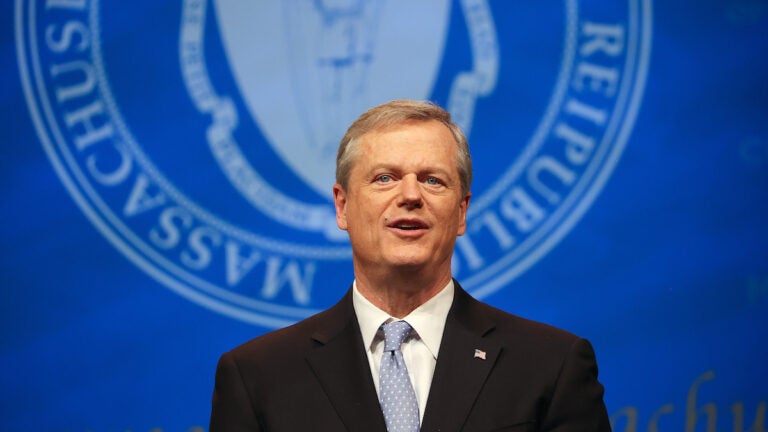 Gov. Charlie Baker delivered his final State of the Commonwealth address in Boston on Tuesday night, calling on lawmakers to vote on two of his long sought public safety bills and releasing plans for several tax breaks as inflation squeezes Massachusetts.
The Republican governor, entering his seventh and last year in office after announcing last month he will not seek a third term, also made a plea to his fellow elected officials to seek to build trust through collaboration -– to work together just as voters expect them to do.
"Honestly, when I think about what I'll miss most come this time next year, it will be that opportunity to continue to partner with so many of the great people in this room, and with the great people across this amazing state, who want nothing more than to leave it better than they found it for those who come after them," Baker said.
"But before that time comes, we have a responsibility to do just that for the next twelve months," he added. "Let's get to work."
On that agenda are two bills Baker has sought support from the Legislature to sign into law three times: One that provides new protections to domestic violence and sexual assault survivors and another that criminalizes the distribution of explicit images, commonly referred to as revenge porn.
More immediately, the governor also signaled a series of tax breaks his administration will include in its forthcoming budget proposal aimed at giving working residents and families more buying power as the national economy weathers its highest inflation in decades.
At times jovial and lighthearted, Baker told officials gathered in Boston's Hynes Convention Center that despite the hardships brought on by the COVID-19 pandemic, the State of the Commonwealth has remained strong.

Here are three key moments from the governor's remarks:
'We could feel their desperation:' Baker's public safety proposals and new tax breaks
With just under a year left in office, Baker took moments of his speech to shine a light on what he wants to get done before the next governor takes over, particularly around closing loopholes "that threaten public safety," he said.
Specifically, Baker called on lawmakers to put to a vote his bill that would change the state's "dangerousness" hearing process to allow judges to order defendants charged with certain crimes to be held without bail before trial.
The legislation would add statutory rape and indecent assault and battery on a child to the list of crimes prompting a hearing, and would allow a person's record of "serious criminal convictions" to be considered.
The proposal would also let prosecutors file a motion for a dangerousness hearing if a released person violates the terms of their bail.
Public defenders and racial justice advocates have voiced concerns over the years, however, that such changes would worsen racial disparities in the criminal justice system
Baker also highlighted his bill that would make it a felony to distribute a sexually explicit image of someone for the purposes of revenge or embarrassment, including in cases where the photo or video was given with consent.
Massachusetts is one of only two states that does not have such a law on the books, according to Baker.
"We filed bills to deal with these issues three times to no avail," Baker said. "The time to do something about this is long past."
The governor recalled an intense meeting last month with survivors of these incidents.
"These women described in graphic detail how they survived multiple physical and psychological assaults, how these loopholes actually protected the men who were terrorizing them. It was awful," Baker said. "Current law is clearly not working. These women were … bruised and beaten time and again by their abusers and nothing changed.
"We could feel their desperation," he continued. "It'd be impossible to listen to those stories and walk away believing that the Commonwealth is serious about protecting these women."
Additionally, Baker announced several tax breaks geared towards offsetting economic inflation and keeping Massachusetts a competitive option for families to call home in the era of remote work.
"The pandemic has proven that we now live in a new world where people have more flexibility about where they live and work," he said. "To encourage our citizens to continue to call Massachusetts home and to help those struggling to make ends meet because of rising inflation, we'll file several tax breaks in our budget later this week."
Baker said his budget will double the tax break for children and dependents, and he will also ask lawmakers to eliminate income taxes for the state's lowest-paid 230,000 taxpayers.
"Instead of paying income taxes, these people should be able to use their earnings to pay for necessities like food, housing, and transportation," the governor said.
Baker also teased tax breaks for renters, and proposals to give a property tax break for seniors and to make the state's estate tax "more competitive with the rest of the country."
"We've asked the people of Massachusetts a lot these last few years and it's time to invest in our families and to give them back some of the tax revenue that they created through their hard work," Baker said.
'Set the course for a comeback': Baker's reflections on the COVID-19 pandemic response
As Massachusetts heads down on the backside of the latest virus surge, over 80 percent of people eligible for a COVID vaccine have been vaccinated, Baker said.
"Thousands of people got this done and made it possible for Massachusetts to be a national leader in this critical effort," he said. "It's the most reliable and fastest path toward normal."
Baker also highlighted the state's other pandemic response measures, such as its small business grant program, eviction diversion program, and rollout of COVID testing sites as part of the effort, alongside numerous state partners, that has "set the course for a comeback."
"It's working," he said. "Our unemployment rate is below 4% for the first time since March of 2020, and we've gained back over half a million jobs. And because of all you've done, and all we've done together, I can stand here tonight and say the state of our Commonwealth remains strong."
'Collaboration is how difficult things get done': Baker on building trust and working together
Baker has never been a stranger to bipartisanship.
The two-term Republican has governed alongside a Legislature filled mostly with Democrats, and the tenor and productivity of his working relationship with them was on his mind Tuesday night.
"If we've tried to do anything over the past seven years, we've tried to build trust. Others can debate whether we've succeeded or not. I believe we have," Baker said. "And I believe it shows in the work we've done during good times and difficult ones over the past seven years.
"​​Today, it's clearly more difficult to build trust, to collaborate in public life than it once was," he added.
Social media and other new information distribution channels, with the ever-going churn of information "have made it almost impossible for anyone in public life who wants to collaborate to build trust," Baker said.
The governor offered that "the answer to the swirl and chaos of modern life is not more of the same poisonous brew.
"The answer is to stand up and accept the responsibility that comes with the work — to understand that trust is earned and collaboration is how difficult things get done," he said.
Without trust, doing "big things and small ones" becomes more difficult, although officials in Massachusetts have managed to do both, Baker said.
Lawmakers should continue to focus on creating and maintaining positive and collaborative relationships with one another because "it's what most voters expect from us," he said.
"They want us to work hard and collaborate the same way they do. To listen to them as if they were our neighbors, because they are. To appreciate their life stories the same way we expect them to appreciate ours," Baker said.
"They want us to knock off the noise and focus on building better, stronger communities from one end of the Bay State to the other," he continued. "Me too."
Newsletter Signup
Stay up to date on all the latest news from Boston.com