College Sports
Tommy Heinsohn to those who want Holy Cross to change its mascot: 'Get a life'
"It's political correctness run amok."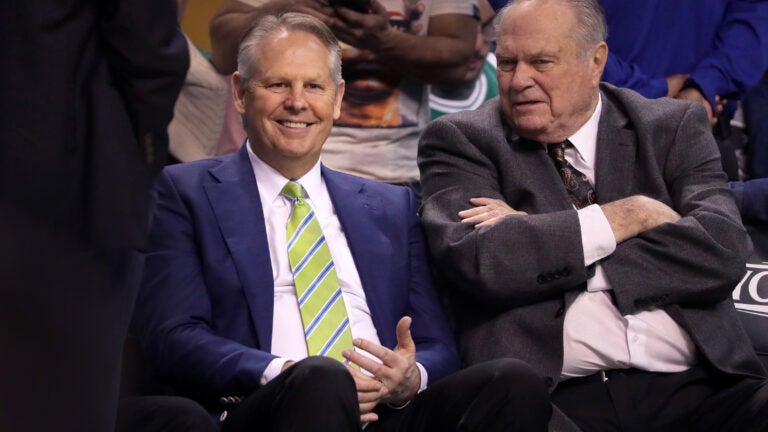 Tommy Heinsohn is not happy about the burgeoning movement to change his alma mater's mascot.
The College of the Holy Cross, where Heinsohn played basketball for four years in the 1950s, is in the process of reconsidering its "Crusader" nickname, amid concerns that the evocation of the actual Crusades, a series of medieval wars between Christians and Muslims, does not align with the Worcester university's 21st century values.
"It's political correctness run amok," Heinsohn told the Boston Herald in an article Monday.
"There'll be a hue and cry if they go through with this," said the 83-year-old former Celtics legend-turned-color commentator. "The necessity of this thing is beyond the pale. Get a life."
Heinsohn, who graduated from Holy Cross in 1956, said he is among a "significant number" of alumni who are unhappy about the prospect that the colleges may ditch the purple sword-wielding warrior it has used as a mascot since 1920.
The Jesuit liberal arts college closed an eight-week open comment period Sunday, asking the school community for input on whether the Crusader is an appropriate representation, given the "mission, values and identity" of Holy Cross.
A working group is set to present the comments to Holy Cross President Rev. Philip Boroughs and the school's Board of Trustees early next year. It's unclear if Heinsohn's input will be included.
"The Crusader name is an undeniable part of Holy Cross' history," the school says on its website, noting the mascot's historic legacy representing the community, as well as its "direct link to our religious identity."
"At the same time, we acknowledge our responsibility to thoughtfully examine the sensitivities and implications this name may bear in light of the Crusades," said the school, which has hosted campus lectures and discussions on the subject this year. In a self-reflective editorial in October, Holy Cross's student newspaper, The Crusader, posed that the name "has not lost its 'clash of civilizations' connotation."
According to the school website, the Board of Trustees will make a decision on the issue at its February 3 meeting.