College
The post-pandemic future of college? It's on campus and online.
"I've adjusted to it and maybe even prefer sometimes being on Zoom."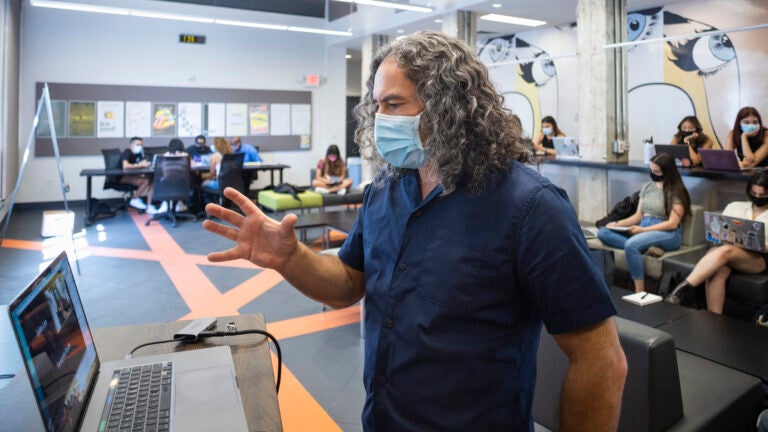 SAN JOSE, Calif. – Wearing a mask and Birkenstocks as he roved the classroom one afternoon, associate professor John Delacruz sought to rev up his students for an assignment in advertising design. They were each to create a poster defining an artist's brand through color, font and other elements of text.
"Do it," Delacruz urged them. "Make it. Get your hands dirty. Really want you to explore how to make your typography physical." He broke them up into small groups to talk it over. But some weren't physically there. They were tuning in from afar through Zoom.
That is the new reality at San José State University and elsewhere in higher education a year and a half after the coronavirus pandemic shuttered campuses across America. Students are back on campus and online at the same time. They like having the choice. For many, education is defined less by the mode of instruction than by how well it meets their needs.
"I've adjusted to it and maybe even prefer sometimes being on Zoom," said Natesa Vuong, 21, a senior in advertising from San Jose who was one of the remote students in Delacruz's class. On other days she would have been there in person. "I appreciate that we have the option."
Despite the hoopla this fall over the return to campus, what was considered a normal academic routine at many colleges and universities is gone. In its place is emerging a remarkable blend of teaching methods that are face-to-face, online or a hybrid of the two. This trend, born of necessity earlier in the pandemic, may outlast it.
Two years ago, 85% to 90% of San José State's undergraduate classes were predominantly in person. Now the share is less than half — 40%. The rest are hybrid or fully remote. The in-person share will rise to 60% in the spring, university Provost Vincent J. Del Casino Jr. said, and is likely to top out around 70% to 75% in the future.
Del Casino predicted students in the post-pandemic era will ask pointed questions: "Why am I coming to campus? You know, what value are you bringing in the teaching and learning experience that I want to travel to it?"
These questions resonate at a school just a few blocks away from the headquarters of Zoom Video Communications. Many students and faculty, steeped in the high-tech culture of Silicon Valley, appear at ease in virtual classrooms.
University officials stress that their campus, a downtown enclave of sun-splashed greens and palm trees in California's third-largest city, remains an essential gathering point. About 4,000 students live on campus and another 11,000 or so close by. In all, the university enrolls about 36,000.
"Community is important," Del Casino said. "That connection, the informality, the conversations you have in the hallway — these things matter. And if we forget those, we're going to be disappointed with ourselves down the road."
But the campus of the future might look different. Large lecture halls may be less necessary — fall classes here with more than 50 students are entirely remote — while rooms with flexible seating may be more useful for hands-on projects. "The old theater classroom does not serve you well," Del Casino said.
The California State University System, which includes this university and 22 others, put most classes online last school year because of the pandemic. Now its campuses are opening back up.
Vaccination against the coronavirus is widespread in California and mandatory in the 485,000-student system, easing worries about in-person learning. But demand for online classes remains surprisingly strong, officials say.
"As I listen to the students, many of them have said to me, 'I actually learned a lot through virtual education and I see the benefits because it gives me more flexibility,' " California State Chancellor Joseph I. Castro said. "Many are going to continue to want to take virtual courses. For us, it will be a new place we're headed to. Things have changed for everybody."
For many liberal arts colleges and prominent universities, undergraduate classes are expected to be in person. Their overriding quest is to return as close as possible to the operating rhythms of 2019. Other schools have long specialized in online programs targeting older students.
Whatever the model, schools must heed the bottom line: Losing dissatisfied students would mean losing tuition revenue.
The pandemic has prompted educators to rethink what works best. Sometimes it depends on how long students have been enrolled. Those who are new may need more face time.
At the University of Maryland Baltimore County, information systems department chair Vandana Janeja felt a buzz in the room on the first day of a data science course popular with freshmen. "They were so chatty, so happy to be back in class," the professor recalled. "I was enjoying it as well."
But seniors in an upper-level course – typically in person – pushed to take it online to accommodate work and other commitments. "Really, one model does not fit all," Janeja said. This fall about 70% of UMBC's undergrad courses in information systems and business technology administration are online or hybrid. Two years ago all were in person.
At Arizona State University, the pandemic has turbocharged experiments with online learning. Of 77,000 students on its campuses, university President Michael M. Crow estimated 40% take at least one class online. These students relish going to football games, studying in the library, hanging out with friends. But they also feel comfortable in virtual classrooms that might be synchronous, where they log in simultaneously, or asynchronous, where they log in on their own time.
Tens of thousands more attend ASU entirely remotely. These developments raise big questions. "How do we want the university to operate?" Crow asked. "Literally, does everybody have to be here all the time? Can it be more fluid?"
At San José State, Alexa Solomon's class schedule shows how hard it can be to pin down what "in person" really means. The 19-year-old junior from Ventura County, Calif., is majoring in public health. She zips around the campus on a kick scooter and is on the Spartans gymnastics squad. Of her seven classes this fall, only the kinesiology lab is face-to-face.
Online classes have improved, she said. "The professors have really gotten the hang of it." For her, it was a revelation to discover that she could re-watch a lecture on Zoom if she didn't understand something the first time. "That was really helpful for me," she said.
Shubhankar Sharma, 21, a senior in electrical engineering from nearby Sunnyvale, has two classes in person — one on semiconductor electronics, the other on quantum computing. For another class in physical electronics, he watches online lectures at home but takes exams in person. Two more classes in film and engineering are entirely online.
Crucially for Sharma, his logistics add up to less time in freeway traffic and parking garages — a point many adults in the working world appreciate after spending a pandemic year in home offices and skipping the morning and evening rush hours.
"Students can learn on their own time," Sharma said. "I'm fine with that." Sharma values campus activities that are not necessarily academic. Catching a football game, for instance, or kicking a soccer ball with friends. "It is definitely nice just walking around," he said. "Being able to interact with people face to face brings up your mood."
Arianna Ramos, 18, a freshman from Hayward, Calif., said she participates in half her classes online in the morning and goes to campus in the afternoon for the others. She likes not having to rush to a classroom at 9 a.m. "For some classes, online is OK," she said. "I'm not a morning person."
For new students who are unaccustomed to the fast pace and workload, online learning can pose unique challenges. Ramos, the first on her mother's side of the family to go to college, acknowledged the need to get oriented. "I'm still trying to get used to the college way of things," she said.
University President Mary A. Papazian said she is committed to ensuring the quality of online education. She wants to study carefully what works and what doesn't in all modes of teaching.
To educators, convenience is not the most critical factor. What matters is learning and staying on track to graduate. The stakes are high for a school where two out of every five undergraduates have enough financial need to qualify for federal Pell grants. In-state tuition and fees total about $7,900 per year. Federal data shows 66 percent of students who start at San José State full time earn a bachelor's degree within six years.
"You do have to listen to students," Papazian said. "But we also have an obligation to create the best environment that supports them to thrive, to succeed."
Some faculty find online education problematic. Stoyu I. Ivanov, a professor of accounting and finance, said he worries many average students will drift in virtual classes. "They don't have the discipline," he said. In his view, going to class motivates these students to work harder.
But small steps can make a difference online. Nidhi Mahendra, a professor of communicative disorders and sciences, began opening her Zoom classroom well ahead of the start time when she noticed students clicking in 20 minutes early. It gave them more time to bond through chitchat. "That's been kind of a kick, actually," Mahendra said. "Never happened before."
Delacruz, the advertising professor, said the pandemic led him to the messaging program Slack. He uses it for community building, to get students to meet with and help each other. He believes those juggling school and jobs should be able to toggle between online and in-person learning. "If their boss says, 'Can you work this shift?' it gives them reassurance they're not going to miss class," he said.
Above all, Delacruz said, the pandemic made him a better teacher by forcing him to innovate. "I'm not going to throw away everything I learned in the last year," he said. "I need to keep on using these things."
Newsletter Signup
Stay up to date on all the latest news from Boston.com