College
UMass-Amherst urges students to upgrade their masks
The university also announced changes to testing procedures for the spring semester.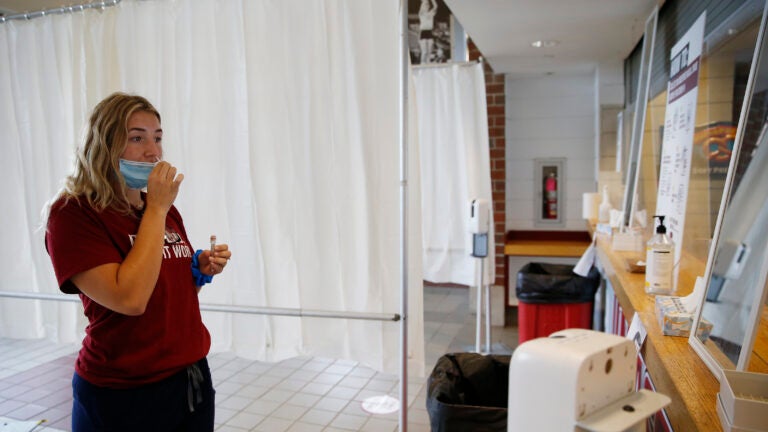 UMass-Amherst is encouraging higher-grade masks, such as KN95, KF94, N95, or double masks, on campus this semester. The announcement came last Thursday, following 377 new positive cases in the UMass-Amherst community from Jan. 5-11.
"Cloth masks are not effective in limiting the spread of Omicron and should only be used in double masking, with a close-fitting surgical mask underneath," wrote Ann Becker and Jeffery Hescock, co-directors of the Public Health Promotion Center (PHCP), in a Jan. 13 email to the university community.
Face coverings are required in all campus buildings regardless of vaccination status.
The email also covered changes to the university's testing procedures — now all tests at UMass-Amherst will be unobserved. The email promised results for tests dropped off Monday through Thursday within 24-48 hours, and results for tests dropped off on the weekend on Monday or Tuesday.
UMass-Amherst officials also announced in the email that, for the first time since the start of the pandemic, an active employee has died as a result of COVID-19. The email did not identify the employee.
Similar to some other colleges in the state, all eligible faculty and staff are required to receive a COVID-19 booster shot prior to classes starting Jan. 25. As of Jan. 18, more than 97% of all faculty, staff and students were vaccinated, according to Amherst's dashboard.
In another effort to limit spread on campus, UMass-Amherst students are required to test 10-14 days before returning to campus. Regardless of vaccination status, Amherst community members must isolate for a minimum of five days after being exposed to COVID-19. If after five days, they have no symptoms, people can leave isolation but continue to wear a mask around others for five more days.
The university's current positivity rate is 7.56%, down from 13.21 for Dec. 29, 2021 through Jan. 4. According to the school's FAQ page, only those with an approved medical or religious vaccination exemption are required to test weekly, although all students may test as needed.
"As we near the third year of the pandemic, it is clear that COVID-19 will be present for the foreseeable future," the email read. "Importantly, we have learned that vaccinations, boosters and wearing masks indoors help prevent spikes of severely ill people. The current scientific data shows that those who are vaccinated and boosted and become infected are often asymptomatic or experience mild symptoms."
Editor's note: This story has been updated to clarify that the university urges, but does not require, the use of a high grade mask.
Newsletter Signup
Stay up to date on all the latest news from Boston.com