Colleges
Striking writers may picket BU commencement after Hollywood CEO chosen as speaker
Warner Bros. Discovery head David Zaslav's hefty pay has become a rallying point in the ongoing writers' strike.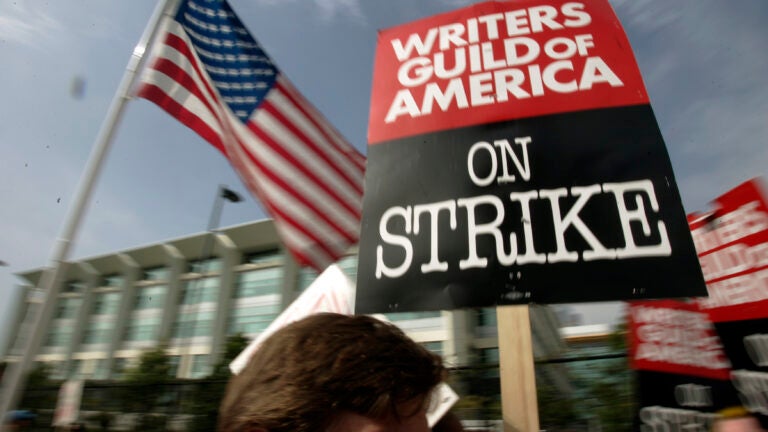 In addition to the usual "Pomp and Circumstance," graduating Boston University students may hear boos and picket line chants during their commencement ceremony later this month.
BU has faced backlash since announcing its choice of commencement speaker last week, tapping Warner Bros. Discovery President and CEO David Zaslav for the honor amid an ongoing Writers Guild of America strike.
As the dispute over working conditions and pay stretches into its second week, Zaslav's hefty compensation package — around $250 million total last year, including stock options — has become a rallying point.
More on the writers' strike:
The Writers Guild of America, East called inviting Zaslav, a Boston University School of Law alum, a "poor decision" in a statement provided to Boston.com.
"Boston University should not give voice to someone who wants to destroy their students' ability to build a career in the film and television industry," the union said. "The University should expect students, Writers Guild members, as well as other unions and community groups to picket Zaslav's commencement address."
A Boston University spokesperson did not respond to a request for comment.
Several Democratic Socialists of America groups — including BU Young Democratic Socialists, DSA-LA Hollywood Labor, and Boston DSA — have launched an online campaign against BU's choice of speaker, encouraging letters to university leadership and graduation caps decorated in support of the strike.
"By honoring Zaslav with an invitation to speak now, at this critical juncture for the entertainment industry, BU is directly suppressing the future income of its graduates," the groups' Action Network page reads. "This is a wholly inappropriate choice, and we will not stand for it!"
According to BU Today, the announcement that Zaslav would be commencement speaker received "tepid applause" last week from students attending an event for the Class of 2023.
The response on social media was far more spirited.
"I hope every single student graduating from Boston University this year stands in solidarity with the WGA," writer Neil McNeil wrote on Twitter. "Do not let this man speak. Boo him off the stage if you need to. I would love to see him heckled off stage."
In a comment on BU's Instagram page, writer Sean Buckley, a university alum, wrote, "I used to believe BU was a film and TV program that supported student success in Hollywood but it now appears to support the destruction of the industry more than the workers who keep it going."
Newsletter Signup
Stay up to date on all the latest news from Boston.com