Commentary
We Tried Out Those New Solar Benches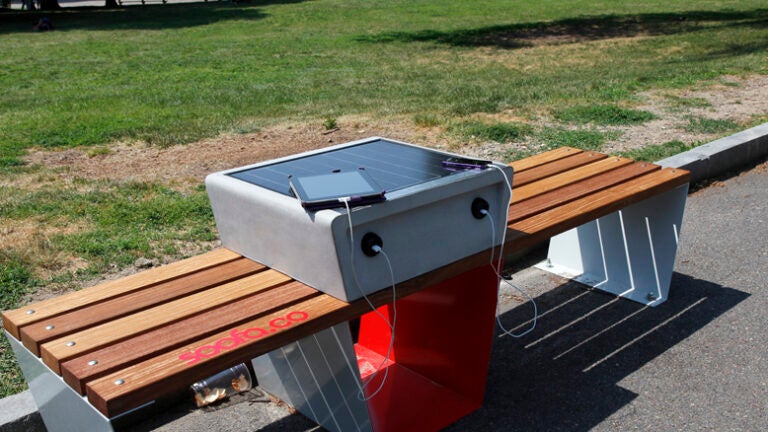 On a very sunny (and hot) summer morning, I set out for Boston Common to test out a few of those shiny new solar-powered benches. Soofas, developed by startup Changing Environments, are benches with a large solar panel on top that will charge users' phones. They're being installed in parks throughout the city (and Cambridge).
I was skeptical. I had a solar calculator back in the day and it was pretty wimpy. But the technology has improved since then and my iPhone could always use some extra juice. If these benches can provide it – and do so without hurting the environment – what's not to like?
DO THEY DO WHAT THEY'RE SUPPOSED TO DO?
Yes! Changing Environments co-founder Sandra Richter told me I could expect a charging time comparable to plugging it in "at home or Starbucks.'' My iPhone was at 55 percent power when I started charging. It was at 61 percent about 10 minutes later. Now, this was an entirely unscientific process – iPhone charge times can vary depending on the model, battery percentage and if you're using a wall charger or charging it through your computer – but I think waiting 10 minutes for an 11 percent boost is reasonable. I couldn't get my iPad to charge, but Richter says we'll see Soofas capable of handling them in their next iteration.
ARE THEY PRACTICAL?
Sitting on a Soofa wasn't a pleasant experience on a particularly hot and humid morning. The same sunbeams that gently caressed my iPhone battery back to life also cooked me. On a cooler day, I imagine it would be much more enjoyable. You just have to make sure you bring your own charging cord, as they are not provided. By contrast, those solar-powered charging stations at the Greenway do provide cords (though the cords provided don't work for iPhones, so I'd still have to bring my own).
I was also concerned that the Soofas might be subject to damage from environmental factors or jerks who don't want us to have nice things. Richter assured me that they are designed to be "as indestructible as possible.'' I asked if the presence of droppings left by a green-energy-hating bird I saw on the panel could affect its ability to draw energy from the sun. Richter explained that Changing Environments "optimized panels for max efficiency when there is a shadow or an arm covering the panel.'' She didn't specifically say bird poop, but I assume it's true for that as well.
IS ANYONE USING THEM? (ASIDE FROM ME)
Richter told Bloomberg Businessweek that the benches were averaging "between 12 and 20 people'' daily. When I was there, no one except me plugged in – although plenty of people stopped to check them out and take pictures of them with their own iPhones, thus reducing their batteries and creating more need for the benches in the first place.
But this was the middle of a weekday morning, which probably isn't the benches' peak usage time. A woman working at a nearby beverage cart told me she hadn't seen anyone using them yet, but she herself tried them out. She reported that "it took a bit of time'' to charge her phone.
I went back in the evening to see if the benches worked when it was overcast (they do, but seemed a bit slower to charge) and lo and behold, one of the benches was being used by a small group of friends. So yes, people are using them. If I happened to be walking by one of the benches and my phone needed a charge and I was carrying a power cord and I had time to sit on a bench and wait, I'd use it again.
ARE THEY COMFORTABLE?
I tested both the regular, old-fashioned single-use benches in the park and the Soofas and found them to be equally comfortable. But the non-solar benches have a back and the Soofas don't, so if you're the kind of person who likes to lean back when you take a load off, you might not be a fan.
DO WE REALLY NEED THESE THINGS?
The Soofas being installed at various locations around the city in the coming weeks won't cost the city anything (Cisco picked up the tab, and has its logo is engraved on the panels accordingly), and the technology has a lot of potential beyond charging our phones. Solar panels now create more energy than is used to manufacture them, and we're finding ways to make this process cheaper and easier all the time. And USB ports are getting more powerful (Gizmodo said they "could be the power outlets of the [very near] future''). Provided the Soofas can put out enough energy, you could conceivably run larger, more power-hungry devices off them someday.
If nothing else, Soofas are an effective awareness tool. "Clearly, an off-grid PV [photovoltaic, i.e. solar]-battery system is an expensive (both financially and energetically) means of charging electronic devices,'' Michael Dale, a research associate at Stanford's department of energy resources engineering told me. "However … This is not about re-working the energy system, it's about promoting solar energy and I think this is a great way to do that, especially somewhere like Boston, that people don't typically associate with PV.''
So while I may not have seen many people actually using a Soofa, a lot of passers-by stopped to check them out, and their reactions were largely positive. People were excited about these things. If no one uses a Soofa again, they'll still have served an important purpose. Do we need them? Probably not. But I'm glad they're here.
Correction: this article originally confused percent and percentage points.
Morrison can be reached at [email protected] or via Twitter @saramorrison.