Commentary
Making a Half-Christian, Half-Jewish, Half-Atheist Christmas Add Up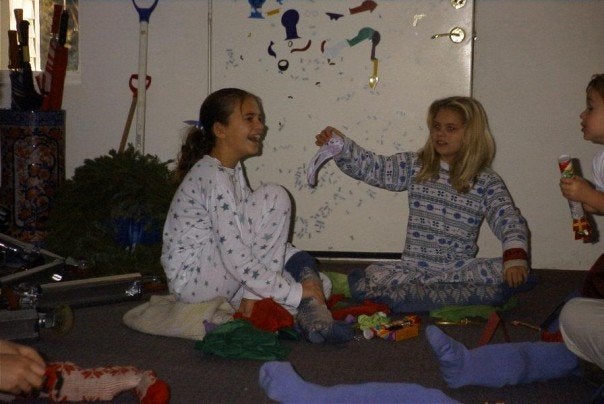 My cousins and I were allowed to help place the candles on the tree when we were children, but it was always my uncle who lit them. He'd usually move them after we hung them, too, as it was crucial they hang on branches that didn't have boughs nearby to keep the tree from going up in flames.
Real candles on Christmas trees is a Danish tradition my uncle brought to our family when he married my aunt. It was always my favorite part of Christmas; we'd turn off all the lights, including the strings of electric ones that also decorated the tree, and watch the flames lend movement to the ornaments, the same ones we've hung up since I can remember. We'd sing Christmas carols in the soft, warm light.
I liked the stockings, too. As the oldest cousin, I'd wrangle the younger ones to make name tags to place by our stockings on the floor; my aunt and uncle didn't have a fireplace, so Santa had to let himself in the front door. Being the first one who could read and write meant that I was also the one who wrote the letter to St. Nick explaining that the Pepperidge Farm Milano cookies were for him and the carrots were for the reindeer, lest there be any confusion (if chocolate was bad for dogs, it couldn't be good for reindeer). The milk was for him, too, though my uncle would often suggest we leave out a beer instead.
I was a true believer. Who else could have possibly eaten the cookies if not Santa? Who else could have stuffed our stockings? How else could there be half-eaten carrots in the snow if the reindeer hadn't dropped them there? Santa was very real, and while I didn't quite understand the logistics of how one man could make it to every single child's house in one night, perhaps I was just too young to understand.
But Christmas was complicated for me, and that joy and magic were mixed with confusion and guilt. Because I'm Jewish. My mother's father and his father before him were cantors in the synagogue, men who sang the holy prayers to searing melodies that floated up into the rafters and up under my ribcage. I was learning Hebrew, my mother read me the books that "Lamb Chop'' creator Shari Lewis wrote about Noah's Ark and Hanukkah, and I doodled Stars of David on my homework. I took school off for Rosh Hashanah, Yom Kippur, and Passover. I missed the Sunday school jokes that all my friends brought back to school on Monday.
My father's side of the family is nominally Christian, if "we came over on the Mayflower'' means they are Christian. When I was about six or seven I asked my aunt or uncle or grandmother—can't remember who it was, but I know they'd all have given this answer—what religion they were, and he or she said, "We're nothing.''
My own developing relationship with God was beginning to take the shape of a greater being up there in the trees, or in the air, or in the ocean I loved so much. I wasn't sure of the form, but like Santa and the Tooth Fairy, I couldn't imagine there wasn't someone responsible for occurrences I couldn't explain.
Despite the fact that they never went to church, my dad's side of the family threw a mean Christmas celebration and were entitled to it by their fully Christian ancestry. Christmas Eve was always our big feast; rack of lamb or turkey (we even had quail one year), Yorkshire pudding, 10 different types of potato and vegetable dishes, Vanillekipferl (Austrian cookies), and a heavenly whipped-cream-stuffed chocolate chiffon cake. In the morning, after we unwrapped the nail polish and Nerf guns Santa had stuffed into the ski socks that served as our stockings, my uncle would make scrambled eggs, bacon, biscuits, and sometimes even huevos rancheros if we'd listened to "Feliz Navidad'' enough times the night before.
I loved it all, but in the back of my head there was always a slight buzz, a nagging, a reminder that I was different, that I would eventually turn 13 and stand in a synagogue singing the melodies of my grandfathers at my Bat Mitzvah. I also felt guilty. None of my other cousins on my dad's side were Jewish; the only candles they'd light that night were on the tree, while I'd take a match to the Hanukkah candles at home with my parents before Christmas Eve dinner if the holidays overlapped. Was I betraying my faith—such a large part of my and my mother's family's story—by loving Christmas so much?
By the light of the tree, my parents and grandparents and aunts and uncles and cousins and I would harmonize with our lovely, if occasionally off-key, voices. We'd laugh at the missed notes and at the hand gestures we'd made up to "Rudolph the Red-Nosed Reindeer.'' When we got to "O Come, All Ye Faithful,'' however, I wouldn't sing the line "O come, let us adore him, Christ the Lord.'' I would close my mouth and look up at the ceiling, silently apologizing to whatever God or tree or ocean I believed in for singing a song that even contained those words.
Because despite being as much a member of my father's side of the family as my mother's, I was a Jew. Kids on the playground would say, "Well, technically you're half-Jewish, because your dad isn't.'' (Although, in his defense and his words: "I'm not a Jew, I'm Jew-ish.'') I'd explain that no, I was all Jewish—it was a religion, and I was all in. And that I didn't get twice the presents just because I celebrated both December holidays.
Christmas became less exciting as I got older and began to look behind the curtain. It dawned on me that there were other people who could've eaten the cookies, who could've taken a bite of the carrot and then thrown it into the snow on the front lawn.
"Is Santa real?'' I asked my mom one day, probably when I was in fourth grade. "Do you really want me to tell you?'' She replied (when asked about this, she said, "Well, I figured if you were asking, you already knew''). I felt relief, if also some sadness; the more the Christmas magic faded, the easier it was to separate myself from it, to feel more Jewish.
My cousins and I are now adults and have long-since stopped believing in Santa and caring about stockings, and Christmas has become less of a big deal in my family. These days, my cousins and aunts and uncles are all scattered, so this year it's just going to be six of us, down from the 20 we used to celebrate with when I was growing up. But regardless of the size of our party, we will still sing, we still joke, we will still eat chocolate cake. It will still be a party.
I no longer feel so conflicted or guilty about Christmas. I do, however, wish I could revisit the 1990s. I'd tell my younger self not to worry so much about what I was supposed to feel or not feel, and instead to celebrate how lucky I was, and am, to light so many different candles with so many people I love.