Commentary
What Happened to Boston Strong?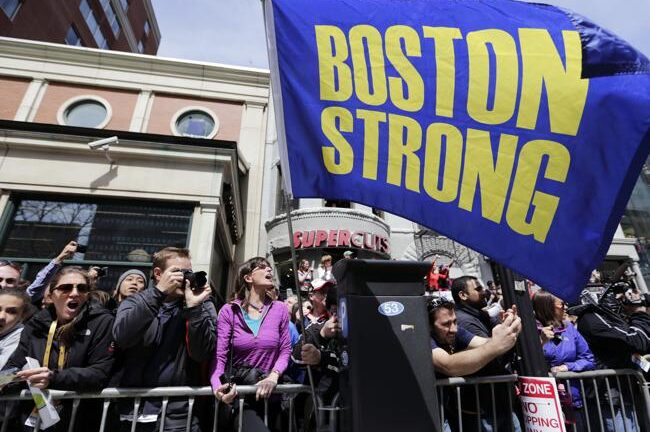 They were a rallying cry, a call to action. At least that's how they started out.
When the first Boston Strong T-shirts hit the streets and the first #bostonstrong hashtag launched into cyberspace, the words gave a shell-shocked city something to embrace. They gave us something to say when we were at a loss for words.
And Wednesday, on the two-year anniversary of the bombings, they were on shirts all over the city and accompanied thousands and thousands of photos.
The words also did measurable good. Nicholas Reynolds and Chris Dobens, the Emerson college students who made the iconic blue T-shirts with the yellow words emblazoned on them, donated the proceeds from each $20 shirt to the One Fund.
"We started working on it around four that day,'' Reynolds said.
But as time went on, the phrase "Boston strong'' began to feel a little bit weaker.
The ads came first. The best copywriters couldn't have come up with words capable of greater impact—commercial use became almost inevitable.
McDonald's included a photo of a marquee sign with "Boston Strong'' written on it in a montage of photos showing how caring the company was. Chevy took a lot of heat for a planning—and then cancelling—to give "Silverado Strong'' signs to fans at one of the 2013 World Series games at Busch stadium. A Chicago apparel company made t-shirts that said Chicago Stronger when the Blackhawks faced the Bruins in the Stanley cup in 2013.
Reynolds said he knew the words might someday get diluted. "There's an inevitability to it, for better or for worse,'' he said. "It doesn't make it feel any better. From my perspective, it makes sense to keep Boston Strong a little bit sacred in Boston.''
Especially given what the phrase really stands for.
"It also makes sense to keep it related to the bombings,'' he said. "Because after a while, people sort of forget, and unfortunately, the people who benefit from Boston Strong, the survivors and victims families, that doesn't go away.''
There was a sense, after the bombings, that some people who weren't directly affected by the tragedy were trying to make it about themselves. Some online posts accompanied by the #bostonstrong hashtag felt more voyeuristic than genuine. Some felt like people were searching for a deeper connection—a more compelling "I just barely avoided the blasts'' story—than they actually had.
And there was backlash to this use of the phrase, often in the form of mockery. I remember going to a barbecue a few weeks after the attacks, and as the sun began to set and the collection of empty beer cans grew, people began saying "hashtag Boston Strong'' after anyone said anything, a comment on how others were using it with no discretion.
This is a tricky argument to make, because there is no right way to deal with pain and sadness. Bostonians are famous for loving our city. We were all in pain in the aftermath of the attacks that targeted our home, and we were all deeply empathetic.
However, when people were killed and others severely injured, it felt selfish for those of us lucky enough to have been spared the physical pain of injury and the emotional pain of direct loss to call attention to ourselves. And some invoked Boston Strong to do just that. I remember feeling very strange looking at someone's selfie involving a Red Sox hat and a kissy face, marked with the #bostonstrong hashtag.
But for all the words have been through, they themselves are Boston Strong—too strong to lose their real meaning. Even after the One Fund stopped accepting donations, Reynolds and Dobens haven't been able to stop selling shirts.
"When there are still people willing to donate, it's hard to shut it down,'' he said.
When the One Fund stopped accepting donations, Reynolds and Dobens started giving the proceeds from the shirts to the One Fund Center at Mass General, a branch of the hospital that aims to cover the costs of survivors' ongoing medical procedures. Prosthetics, for example, have to be replaced every five to eight years, and they're very, very expensive.
Ultimately, funds raised from the sale of t-shirts bearing the phrase have done more good than a misguided ad or social media post could ever displace. Like the church bells that ended Wednesday's moment of silence, the words Boston Strong still ring true.
Read more coverage of the 2015 Boston Marathon.