Commentary
Patriots' Day Should Be a Federal Holiday. Here's Why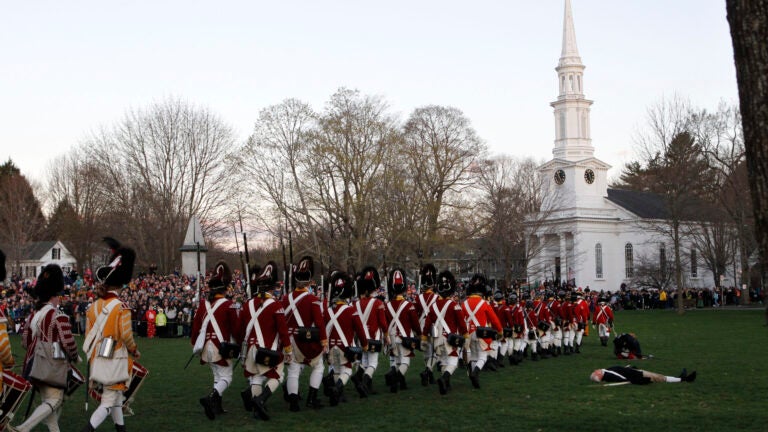 You should know who Samuel Whittemore is.
Two-hundred-and-forty years ago in what's now Arlington, Whittemore killed two British soldiers before taking a musket ball to the cheek, according to historian Arthur B. Tourtellot in his book Lexington and Concord. The Red Coats, beating a frantic retreat back from Lexington and Concord and enraged by the guerilla tactics of the Colonials, bayoneted Whittemore six or eight times and beat him to a pulp.
His fellow militiamen and neighbors found Whittemore, a bloody mess, four hours later, trying desperately to reload his musket to rejoin the fight. According to Tourtellot, they put him on an unhinged door and dragged him to a doctor, who said Whittemore would surely die but reluctantly patched him up at the insistence of his friends.
Samuel Whittemore was 78 years old. He faced down an entire British brigade alone as other men cowered, drinking, in a tavern nearby. He survived the day and lived until he was 96.
On the excellent history blog Boston 1775, historian J.L. Bell reprinted Whittemore's obituary from 1793, which read in part:
…after an animated exhortation to the collected militia, to the exercise of bravery and courage, he exclaimed; "If I can only be the instrument of killing one of my country's foes, I shall die in peace,''
Samuel Whittemore is why Patriots' Day should be a federal holiday. It's a day about individuals coming together as a community and doing something great.
Here in Massachusetts, Patriots' Day is a big deal. More than 30,000 people gather in tiny Hopkinton and run towards Boston, some 26 miles away. The Red Sox play their only morning game every year. If the Celtics or Bruins have their act together, they're just starting their playoff runs. Kids have the day off because Patriots' Day is the start of April vacation week.
It's a day of civic pride at the start of the spring. It's a day to come together and congratulate each other for surviving another winter. It's a day to drink. It's a day to flirt.
That's a great day by any measure. Rooted in the start of the American experiment, Patriots' Day has grown and flowered from a remembrance of our collective action against tyranny into a celebration of community that sprang forth from that effort.
Even the marathon bombings two years ago could not shake the character of the day. Boston was able to withstand and grow stronger in the days after the attack because of the meaning and spirit of Patriots' Day. The meaning we all gave that day. The meaning we derived from 1775.
Imagine a national holiday where, instead of just eating or shooting off fireworks, we celebrated our communities. Imagine citywide events commemorating each community's contribution to the nation. A day to celebrate what makes Miami, New York, Chicago, St. Louis, Austin, Montgomery, Boise, San Diego, Portland, and Fairbanks essential to the rest of us. We have that in Boston. It's amazing. You should have that, too.
We honor our dead on Memorial Day. We honor our soldiers on Veterans Day. We honor our nation on July 4. Let's honor our communities on Patriots' Day.