Commentary
A history of Donald Trump thinking he knows better than Boston
Including when he thought buying the Patriots was a bad financial investment.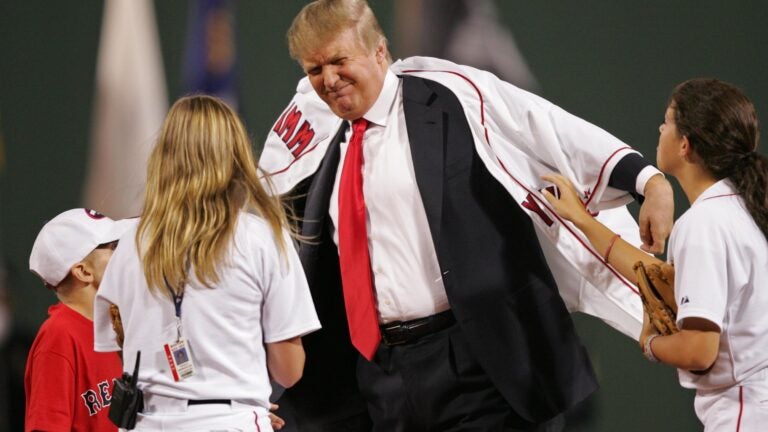 Donald Trump, the spawn of Big Business and narcissistic idiocy, picked a fight with Boston Mayor Marty Walsh — "whoever he may be'' — on Tuesday, demanding an apology for Walsh's criticism of Trump. And if Walsh doesn't apologize, "voters should vote him the hell out of office,'' he said.
A spokesperson for Walsh said he will "absolutely not'' apologize to Trump on Wednesday.
So goes another day in the life of the Donald, who has made a career out of thinking he's smarter than everyone and everything. That includes, of course, the people of Boston.
Here, for our amusement, are all the times Donald Trump thought he knew better than us, on matters ranging from our snow removal plans to our favorite athletes.
Trump thinks Mayor Walsh should apologize to him
Their feud began at Trump's presidential announcement speech, when he criticized immigrants who Mexico "sends'' to the U.S.
"They're sending people that have lots of problems and they're bringing those problems. They're bringing drugs, they're bringing crime. They're rapists and some, I assume, are good people,'' he said.
Despite losing business deals from Macy's, NASCAR, and NBC, Trump has continually defended that statement in the days since.
In response, Walsh criticized Trump in a comment to the Boston Herald.
"I just don't agree with him at all,'' Walsh said. "I think his comments are inappropriate. And if he wanted to build a hotel here, he'd have to make some apologies to people in this country.''
That didn't sit well with Trump, who said Walsh was the one who should apologize in an interview with conservative radio host Howie Carr.
"I think Walsh, whoever he may be, should absolutely apologize to Mr. Trump,'' he said, referring to himself in the third person. "I expect him to apologize to me, and if he doesn't, the voters should vote him the hell out of office.''
Walsh will "absoultely not'' apologize to Trump, a spokesperson said. And given that a recent WBUR poll found Walsh enjoys a 73 percent favorability rating in the city of Boston [PDF], he can probably rest easy.
Trump thinks we're stupid for using salt to remove snow
In the midst of our brutal winter, Trump told Boston.com he wasn't happy that cities like Boston were pouring salt on roads and sidewalks to help remove snow.
"It corrodes everything. One of the reasons our infrastructure is so bad is they use salt on the roads,'' he said. "I've forbidden salt at any of my properties. I have many long driveways. I won't let them use salt.''
His idea was to use sand-based material, which some other cities have used. Salt, though, is just wrong.
"It's like hiring Rosie O'Donnell on The View—short term pleasure but long term disaster,'' he said.
Trump thinks Johnny Damon could get as much money as he wants from Red Sox owner John Henry
In an episode of The Celebrity Apprentice, Trump ripped into the former Red Sox star for not raising enough money for a challenge.
Apparently unaware that Damon left the Red Sox because they offered him less money than the Yankees, Trump told Damon he could get "whatever you want'' from owner John Henry.
[fragment number=0]
Awkward! Here's a transcript of the conversation:
Trump: "I mean you have all those guys up in Boston that love you, they'd give you whatever money you wanted.''

Damon: "I'm not sure they love me that much–''

Trump: (Interrupting) "Including John Henry, who's a great guy…''

Damon: "I haven't talked to him since–''

Trump: "I think if you ever called John Henry, he'd give you whatever you want.''

Damon: "Um, he did not do that back in 2005, so–''

Trump: "Well that's different. No, but that's different.''
Trump just knew Damon could get the money from Boston's wealthy cadre, partly because he is a total expert on Boston sports. For example…
Trump thinks buying the Patriots would be a bad financial decision
Back in 1988, the Sullivan family, who owned the Patriots, approached Donald Trump about buying their NFL team. Trump had his money people look at the Patriots funding and decided against it.
"Donald had a real interest and he felt the Sullivan family was honorable in their dealings with him,'' a source close to Trump told The Boston Globe. "But his people told him between the team and the stadium there was $104 million in debt, and that was too much for him to handle.''
The Patriots were instead sold to Victor Kiam for $85 million. About 27 years later, Forbes estimated that the Patriots are worth $2.6 billion. Slightly missed opportunity for Trump.
Trump thinks Tom Brady should "sue the hell out of the NFL''
Like much of Boston, Trump was not happy with Brady's four-game suspension over Deflategate.
[fragment number=1]
"If I were Tom Brady, I'd sue the hell out of the NFL for defamation. $250 million. Sue 'em Tom, they'll settle so fast, your head will spin,'' he said in the Instagram post.
He also posted this bizarre comparison of Brady to Hillary Clinton.
[fragment number=2]
In a follow-up ESPN interview, Trump said the Wells Report was "like a witch hunt,'' and that "they don't have the evidence.''
Actually, you know what? In this case, Trump knows just as much as any Bostonian.
Congrats, Donald, you win one.
Gallery: The 2016 Presidential Candidates
[bdc-gallery id="140212″]