Commentary
A New Englander's guide to dealing with tagalong boyfriends and girlfriends on family vacations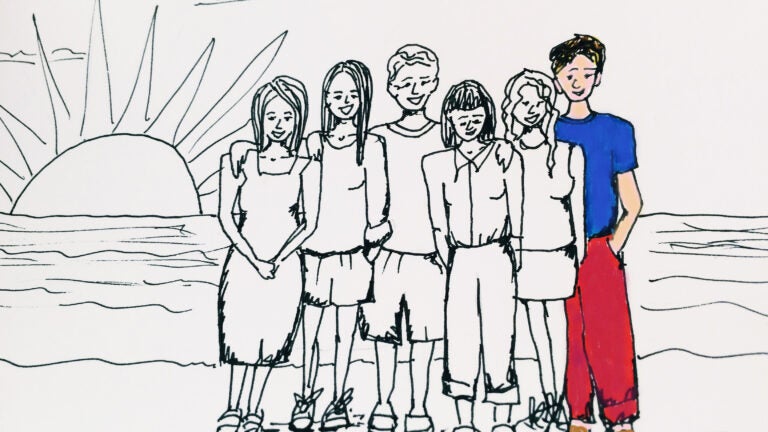 You and your family are by the shore, wearing your gauzy summer clothes, arms around each other. You're laughing, sun-kissed and a little tipsy from your pre-cookout drinks. As the sun sets behind you, some poor beach goer you've roped into taking your photo chirps, "Say cheese!''
And then, in your mind, you flash forward to the holidays, when your parents can't use that photo as your family Christmas card. Because even though you and Edward Johnson Thistwistle III broke up in October, there he is, right next to you, frozen in time in the only family photo where you've ever looked good enough that you don't mind other humans seeing.
So what do you do? Does Edward get to be in the photo? Or do you relegate him to making funny faces behind the stranger who's taking your picture?
This is but one of the myriad questions that arise when you, your siblings, or your cousins bring a significant other to those summer family get-togethers you know and love (and occasionally dread).
As New Englanders, we play by our own special set of rules. To make life easier, here are some solutions to the most common problems you'll encounter when you bring someone along on judgement day—sorry, I mean family vacation.
1. What if no one likes Edward?
Easy. Break up with him. Your family members—unless they're all insane, which they very well may be—are usually pretty good bellwethers. If he can win at least some of them over, you're good to go. If they've all given him a chance and still think he isn't good enough for you, ditch him. He probably isn't, and you'll have a much more pleasant vacation without your mom rolling her eyes behind his back every time he talks.
2. Once he passes initial approval, does Edward get to be in the family photo?
The obvious answer here is that you take one without Edward, and one with him (complete with the overly enthusiastic drag-in: "Get in here, you!''). That way, if it all goes to hell in a handbasket come the colder months, you've got a safety photo sans Edward where you all still look as summery as ever. However, if Edward is but the latest in a rotating cast of boyfriend characters, maybe leave him out.
2A. Okay, so what if you're still with Edward in December and things seem to be heading for marriage? Does Edward get to be in the holiday card?
If you're traditionalists (and send out a State of the Family newsletter with each card—"Ellery is loving law school and Justin just can't stop scoring goals on his indoor soccer team!''), don't include Edward . Not family? Not featured. But if your clan's more loosey-goosey, and everybody loves Edward, include him. If Edward is way better looking than everyone else in the family, include Edward no matter what. If Edward is wearing seersucker, don't include Edward under any circumstances. In fact, if that's his cloth of choice, you should probably consider ending the relationship.
3. Should you make Edward bring a gift?
Yes. Absolutely. Even if it's just a big tub of snack mix from the gas station, it's best to show up with something he can ceremoniously present to your mom. Booze is usually a safe choice, as are hand towels, as long as they're not hideous (and you should probably send him a link to the ones he should get, so he doesn't buy these). If you're going to be by the coast, lobster utensils are adorable and useful. Heading to the countryside? Opt for those cute little corn holders that keep you from having to touch the really hot cobs. Skip the scented candles, always. You never know who hates the smell of manufactured Crisp Morning Air.
4. What if your dad's a big sailor, and Edward doesn't sail?
First of all, make sure he's wearing a lifejacket. Secondly, tell him not to say anything. Seriously, make sure he doesn't talk for the entire boat ride and sits in one spot, out of the way. If he pretends to know his way around the Queen of the Whitecaps, he'll end up having to sail the whole damn thing. Boats have been totaled for less. So have relationships.
5. What do you do if Edward has dietary restrictions?
I feel for you. There's nothing more awkward than when your aunt's pulling the lobsters out of the pot and Edward chimes in to say he doesn't eat seafood. The best thing to do is warn your family well in advance, and then BYOB (bring your own burgers*). When your dad says, "But he went to Bowdoin, how can he not like lobster?'' just smile and shrug.
*Burgers do NOT count as the token gift described in No. 3.
6. How do you explain to your grandparents what Edward does if you don't even understand what Edward does?
Tech is confusing, finance makes no sense to anyone except other finance people, and business development sounds made up. Unless he spends his days doing something straightforward like teaching kids or fighting fires, no one over 80 is going to have any idea how he makes a living. Some great lines for Edward to use: "I work with computers,'' or "Have you seen Wolf of Wall Street?''
7. Does Edward get to sleep in the same room as you?
It doesn't matter how old you are, this one is up to your parents. You guys are probably going to sneak around regardless, so they might as well just let you have a bed. But if your parents still think you're waiting for marriage—or if you actually are—then it's probably best to have Edward sleep on the pull-out couch downstairs. If space is tight, he can always sleep outside.
8. What do you do when Edward inevitably puts his foot in his mouth?
This will happen. There is no way he won't accidentally offend somebody, even if it's just by beating your mom at a round of crouqet. The best thing to do is to tell Edward to go buy another—this time more expensive—bottle of whiskey. Or an even larger barrel of party mix.
9. Should Edward intentionally lose to your mom while playing croquet?
Yes.
10. Should Edward propose on this vacation?
If he's made it through all the above scenarios and still wants to sign up for this for forever, then sure. Go for it, Ed. The photo from the wedding will make a great holiday card.
Lobster rolls around New England:
[bdc-gallery id="317593″]