Commentary
Students have faced a huge jump in 'hostile behaviors,' a new report finds. Attacks with weapons doubled.
"Schools are microcosms of their communities."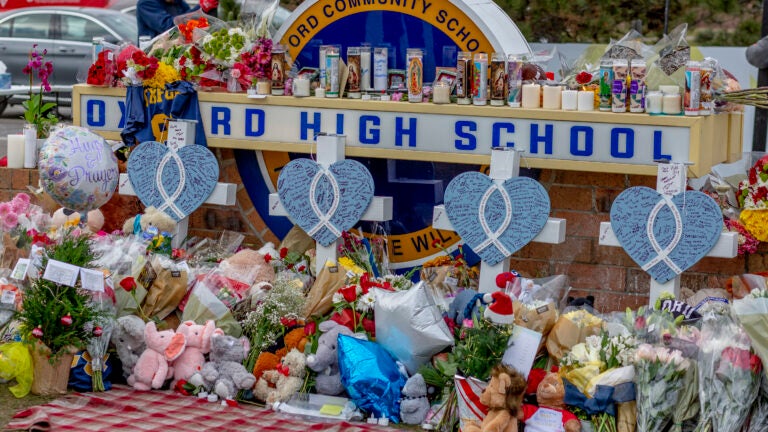 With the deadly Oxford, Mich., high school shooting that killed four students this week still raw, a new government study details how increasingly malicious American school environments can be.
Analyzing Education Department data, a Government Accountability Office (GAO) report found a huge jump in K-12 public school "hostile behaviors." The most alarming statistic – physical attacks with a weapon nearly doubled early in the Trump administration.
In a two-year period, from school years 2015-2016 to 2017-2018, attacks with weapons jumped 97 percent, according to the most recent data available. At the same time, hate crimes increased 81 percent and sexual assaults rose 17 percent.
The report offers no reason for the dramatic growth in attacks with weapons and hate crimes, but "schools are microcosms of their communities," Jacqueline M. Nowicki, GAO's director of education, workforce, and income security issues, said by phone.
For students and others, 2017 was a period of political upheaval and racial tension under President Donald Trump. That August, as students readied for a new school year, a white supremacist rally in Charlottesville led to the murder by car of Heather Heyer. In a defining moment of his presidency after the attack, Trump said "there's blame on both sides."
While schools reflect society, "federal data doesn't get at why" cases increased, Nowicki said. "We are unable to give a definitive answer there [the large 2017-2018 increase] because that's not the data the federal government collects."
Whatever the stats say, they probably fall short because "hostile behaviors . . . are generally underreported to authorities" by victims, the report said. Another problem – reporting by victim advocates also declined for political reasons.
Hostile-behavior complaints to the department dropped 9 percent in the 2018-2019 school year and 15 percent the next year. That sounds like a good thing, until the report explains: "Civil rights experts GAO interviewed said that in recent years they became reluctant to file complaints on students' behalf because they lost confidence in OCR's ability to address civil rights violations in schools."
OCR is the Department of Education's Office for Civil Rights, which enforces school-related civil rights laws, including those prohibiting a range of hostile behaviors. The loss of confidence stems from the Trump administration's decision to dump Obama administration school civil rights policies.
The Trump administration withdrew Obama policies to "avoid, and remedy discriminatory discipline" in schools, "ensure that transgender students enjoy a supportive and nondiscriminatory school environment" and fight "sexual harassment of students, including sexual violence." Trump officials claimed the discipline policies were "not required or contemplated" by law; the transgender policies were rescinded to "more completely consider the legal issues involved"; and the sexual harassment guidance "led to the deprivation of rights for many students."
At the time, the Leadership Conference on Civil and Human Rights, a broad coalition of organizations, strongly criticized the Trump administration moves, saying its policies demonstrated that it did "not care that schools are discriminating against children of color" through disproportionate punishments; sent transgender students "a clear message" that the law under Trump was not "on their side"; and demonstrated an "unwillingness to protect students" victimized by sexual harassment and violence.
An Education Department statement said that under President Joe Biden it is "fully committed to . . . vigorous enforcement of federal civil rights laws in our nation's schools" and will propose certain changes next year, after a review of current law and regulations.
The GAO report was requested by Rep. Robert C. "Bobby" Scott, D-Va., House Education and Labor Committee chairman. "Unfortunately," he said by email, the report "shows that the Trump Administration's education policies prevented students from seeking the help they needed as well as discouraged students, parents, and advocates from filing complaints with the Department of Education."
In its examination of hostile behaviors, GAO found that "bullying is widespread in schools nationwide," hurting 5.2 million students ages 12 to 18, about 20 percent of the school population, in the 2018-2019 school year. Middle school students were more likely to be bullied than those in high school, and students in schools with 300 or fewer learners were more likely to be victims than those in schools with a student body of more than 1,000.
One reason for the underreporting in some cases, GAO said, is that "allegations are reported but ignored for years." The report cited a big city school district where complaint oversight was "in a state of disarray," and officials "acknowledged systemic failures" in their response to student sexual harassment complaints.
As an example of racist harassment, the report quoted a Justice Department finding that in one western state, school district officials "had actual knowledge of at least 212 incidents in which Black students were called the n-word across 27 schools." Officials there, Justice said, "were deliberately indifferent to known racial harassment of students."
Experiences like these can have "lifelong consequences for students' overall well-being," GAO warned. Even students who only observed bullying, compared to those who had not, suffered "significantly more feelings of helplessness."
Liz King, director of education equity for the Leadership Conference, said while the "wheels of bureaucracy are always too slow," Biden administration officials offer a fundamentally different approach to school civil rights issues, considering them structural and systemic problems and not just incidents "at the individual interpersonal level."
That "attitudinal shift," she said, "will result in meaningful change in policy and a meaningful change in opportunity for students."