Community
Do you have questions for Boston's next mayor? Let us know, and we'll ask.
Boston.com will ask the mayoral candidates questions directly from the community.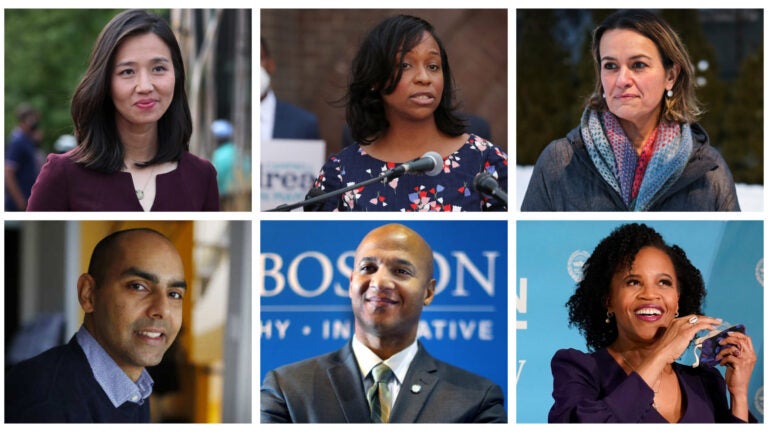 When you step into the voting booth to choose Boston's next mayor, it should be with confidence that your candidate is the right choice for you and for the city. With the mayoral race in full swing, now is the time for voters in the city to start parsing out exactly who they'll be voting for in September's primary and November's general election.
In the months leading up to the elections, Boston.com reporters will speak with the candidates for mayor and ask them about the issues that directly affect Bostonians. We want to hear from you about what you think those questions should be.
A recent poll found that among the top issues influencing voters were housing, race and equality, and education. There are currently six major candidates in the race — Michelle Wu, Andrea Campbell, Annissa Essaibi George, Jon Santiago, John Barros, and Kim Janey — each with their own plan to address those issues and more, including the opioid crisis at Mass. and Cass, policing in Boston, and the ever-controversial Long Island bridge debate.
You can keep track of the big news of the race by following along with our election live blog and other reporting on Boston.com, but we know some of the most important questions come from the neighborhoods these candidates are campaigning to serve. Whether you want to know what policies distinguish one candidate from the pack, or you're just curious about their favorite restaurant in the city, we want to hear your questions.
Do you have a question that you'd like to ask the candidates? Let us know what issues are of most importance to you by filling out the survey below or emailing us at [email protected]. Your questions, and the candidates' responses, will be featured in future articles.
Newsletter Signup
Stay up to date on all the latest news from Boston.com