Community
Many Boston.com readers use I-93 everyday. Here's how projected delays impact their commute.
"Localized headaches!"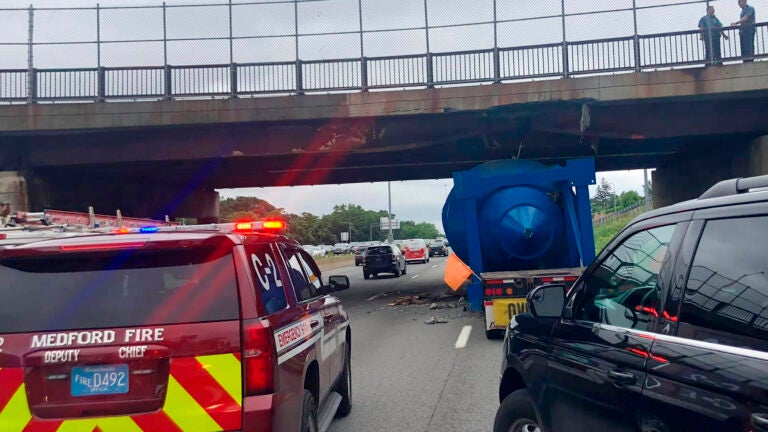 When an oversized truck struck the eastbound overpass at Roosevelt Circle on Monday drivers were initially told to avoid the area as crews made repairs.
By Thursday all lanes on Interstate 93 fully reopened for the evening commute, however the state's Highway Administrator said traffic delays and lane closures on local roads could last "for the next several months" until permanent repairs are finished.
I-93 is one of three primary interstate highways connecting Massachusetts, New Hampshire, and Vermont spanning approximately 190 miles. We asked Boston.com readers how the delays might disrupt their commutes and of the nearly 140 responses, the majority (50 percent) said they use I-93 everyday, while approximately 28 percent said they use it occasionally.
Despite Massachusetts being named one of the top states for remote work during the pandemic, many residents who utilize I-93 daily have a lot to say about their highway headaches.
"Both of my usual routes now have traffic issues. I don't have a regular commute, but this new construction situation will definitely add to my frustration with traffic!" Karen from Winchester wrote. She uses both the Roosevelt Circle and the Route 16 interchanges in her travels.
How much will the I-93 projected delays disrupt your daily life?
One reader works with a limousine service based in North Central Mass. and uses the Callahan tunnel from I-93 to Logan Airport multiple times a day. For this driver, alternative routes can add 10 to 15 minutes to each non-rush hour trip.
Another reader was not happy with the projected delays. "Localized headaches! MassDOT replaced 14 bridges along this route over a ten week period as part of the Fast 14 Project, but now they're saying this repair will last months? Puhlease!"
"93 is a major route for me to get to various locations nearby, in or near Boston, and south of Boston," said one reader who is retired and lives north of the affected area. "I know the back roads, and I use them often, too. I expect that I'll now need to to devise more devious 'way out back in the back of beyond' routes."
One reader uses 1-93 daily and takes exit 32 to Salem and Medford Square. "Now it will be all backed up and the traffic that takes Exit 33 will not be able to pass over the highway. Today I saw no one directing traffic, just cones. Not any helpful signs either. When I am on the way to Exit 32 everything will be backed up and people will be cutting down all the other side streets looking for relief. I use it for home and work and everyplace else in between."
Boston.com occasionally interacts with readers by conducting informal polls and surveys. These results should be read as an unscientific gauge of readers' opinion.
Newsletter Signup
Stay up to date on all the latest news from Boston.com