Community
We asked, you answered: Should Mass. decriminalize psychedelics?
"They should be equitably legalized. The evidence is overwhelmingly clear, despite what the corporations want us to think."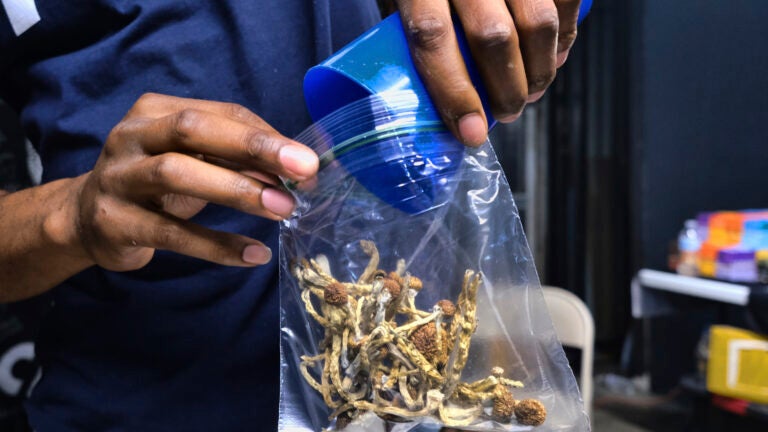 Just this year, three Massachusetts communities have passed resolutions decriminalizing an assortment of natural, psychedelic substances. With related bills already filed at the state level, this issue is something state residents may need to get hip to sooner rather than later.
This movement is not happening in a vacuum. In 2019, Oakland, California was the first to decriminalize entheogenic plants. Oregon voters passed a resolution in 2020 giving the state health authority two years to develop a program where adults can purchase and consume psilocybin products under supervision at a service center.
The action is ongoing in Massachusetts. Bay Staters for Natural Medicine — which wrote the resolutions passed in Somerville, Cambridge, and Northampton — continue to work with other communities on passing similar resolutions. Organizers have also partnered with legislators like Rep. Mike Connolly (D – 26th Middlesex) to file state bills, one that effectively decriminalizes possession of certain drugs, and another that establishes a task force to ensure equitable access to entheogenic plants once they are decriminalized.
"No matter where you are on the political spectrum, people can appreciate…we have such major issues with mental health and wellness in our country, we are pouring untold billions into different efforts to address it, and yet when you take a step back…it's not clear we've made much progress," Connolly told Boston.com. "[We're] hearing health experts say we need new tools…and even though it could be perceived as unconventional, at the end of the day, people looking at the data are saying this can't be ignored."
James Davis, a lead organizer with Bay Staters for Natural Medicine, told Boston.com his organization is advocating for accessible adult-use of these substances. He pointed to the connotations of the word "recreational" in regards to cannabis, that a recreational user can sometimes be thought of as someone who is partying or driving under the influence, when it's often a person using cannabis for stress relief. Similarly, Davis said, people can have fun with psychedelics, but the extreme happiness induced by their use can be a spiritual experience and a form of healing and healthcare.
"We really object to the idea that we should divide it into medical and recreational because that's what the corporations want, and that's the exact framing they want to go with," he said. "They want to promote the idea that there will be a ton of people on psychedelics driving around and running around, when the average experience is 'psychomedicinal;' it's people laying on their couch not wanting to do anything but be introspective."
Bay Staters for Natural Medicine wants to enhance and preserve the accessibility of these substances, which Davis said would be near impossible with traditional medical legalization. For example, a few grams of mushrooms cost about $30, Davis said, but medical therapies could cost thousands, and might only be available to people with certain diagnoses.
"We all experience traumas and grief and troubles in everyday life that these plant medicines can help people process," he said.
We asked Boston.com readers whether these substances should be decriminalized, and how to move forward if they are. Of the 199 respondents, 81% believe psychedelics should be decriminalized, while 18% are against decriminalization. Many responses we received emphasize that these substances have an incredible capacity to help people, while some believe there should be more research first.
Responses have been edited for length and clarity.
Would you support the decriminalization of psychedelics?
"Yes, they should be equitably legalized. The evidence is overwhelmingly clear, despite what the corporations want us to think." – Mackenson Jeran, Dorchester
"Medical use only. As a family with a sibling who experimented with bad consequences and another member an addict, we need to stop decriminalizing drugs that have been put on the class 1 list previously." – Jeanne, Danvers
"Yes, these drugs should be decriminalized and legalized for recreational use. The majority of drug users — yes, even those who use "hard drugs" like opiates and amphetamines — use them healthily and safely. …The whole debate is backwards — what possible reason could one seriously give to continue a failed drug war?" – Max, Brighton
"Ayahuasca, yes for both. Mushrooms, for medical use until there is further research. LSD, no except in highly restricted psychiatric settings. For ayahuasca, the entire meditative tradition (e.g., complex visual art) from its place of origin should be taught, encouraged, and developed, and not shut out as "cultural appropriation". – Carol Novitsky, Cambridge
"Recreational and medicinal. Just because you can't afford the expensive therapy sessions that will be offered as psychedelic treatments shouldn't limit an individual's access to medicinal plants. I have microdosed myself to relieve depression after taking Lexapro for a year and it's a night and day difference in effectiveness for me." Ryan, Mashpee
"I've taken psychedelics recreationally and I can tell you with confidence this is not a good idea to decriminalize. We don't have the infrastructure in place to respond appropriately to a person having a mental health issue, or to a person freaking out on psychedelics, we send cops with guns instead. You really must be in a controlled environment when taking psychedelics and by simply decriminalizing these drugs without an infrastructure in place to allow safe use, you create a recipe for danger to that person and to the people who are called to show up to help them when they have a breakdown." – Craig, East Bridgewater
Boston.com occasionally interacts with readers by conducting informal polls and surveys. These results should be read as an unscientific gauge of readers' opinion.
Newsletter Signup
Stay up to date on all the latest news from Boston.com