Community
Readers are skeptical of sending unarmed response teams in place of officers
Lynn, Cambridge, and now Boston plan to reassign certain functions currently handled by police.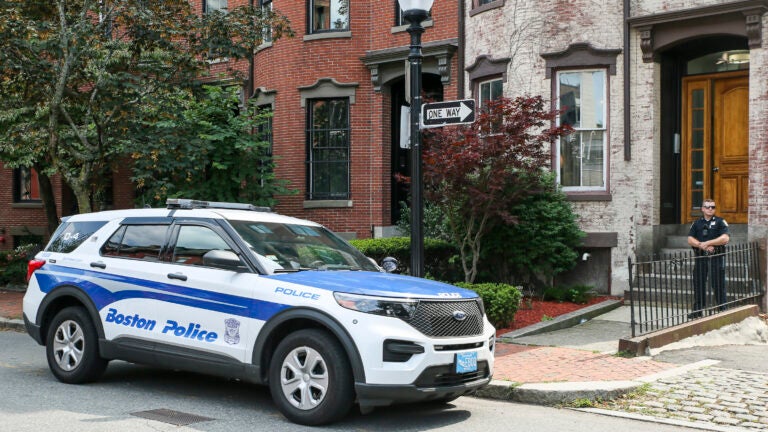 Last week, Acting Mayor Kim Janey announced a new pilot program that will have EMTs and mental health workers respond without police to 911 calls involving mental health crises that don't pose a threat to public safety.
The new initiative is one of several that have been launched in Massachusetts since the protests over racial injustice and police brutality spread across the country last summer. In Lynn and Cambridge, steps have been taken to implement unarmed response teams to handle such calls. Instead of having police officers show up for mental health-related crises, substance abuse, suicide threats, and more, trained professionals like social workers would respond instead.
"We must recognize that while issues of violence and public safety need a police response, mental health crises are a public health concern that need a public health response," Janey said.
We asked readers if they would support their town or community launching similar unarmed emergency response teams in place of police for non-violent calls. Of the 775 people who responded to the survey, 67% said they thought these teams would be a bad idea. Another 32% said they supported the idea.
"Replacing police produces no-go zones. Unarmed teams can be started by privately-funded non-government organizations and exist in addition to police. Let the caller decide who to call," said Tom from Brookline. "If this is a good idea, it will grow and police will step back. Improvement does not occur when mostly-working approaches are eliminated in favor of unproven ideas from gullible people without hands-on experience."
Of those who opposed the idea, the majority expressed concern that a seemingly non-violent call could quickly turn violent. On the other hand, readers in favor of unarmed emergency response teams said it would free up officers to focus on crime rather than public health issues.
"Most towns in this state treat the police like they're some kind of all-encompassing fix-it service for any situation that a private citizen is uncomfortable with," said Michael from Acton. "Let mental health crisis experts deal with mental health crises and let the police focus on crime."
City leaders in Lynn recently allocated $500,000 for the first phase of creating an unarmed force, called the All Lynn Emergency Response Team, or ALERT. Last month, a former Lynn officer admitted to beating Victor White, a Black man, while responding to a noise complaint at White's home. The Cambridge Holistic Emergency Alternative Response Team, or Cambridge HEART program, has been in the works since June of last year.
"Why not try it? Maybe it will work, maybe it won't," said David of Malden. "For a city the size of Lynn a half-million is not a huge bet on a program that may make a difference and save money."
More than 200 readers detailed their thoughts on why or why not they'd like to see unarmed emergency response teams responding to 911 calls in their community. Ahead, you'll find a sampling of their responses.
These responses have been edited for length and clarity.
Would you support your town or city creating unarmed emergency response teams to handle certain select duties currently assigned to police officers?
No, "I would trust police training more"
"As a first responder (paramedic) this is a horrible idea. Simple/easy calls are the ones that unexpectedly turn violent quickly. Having law enforcement on the scene is a safety issue." — Michael, Melrose
"I would trust police training more. The field of policing has had specialized training for a long time and the content of the training has the benefit of years of real-life feedback as to what methods are more effective. I think demonizing the police is very unrealistic. Having lived a major portion of my life in areas with very high levels of violent crime, I would feel less secure having unarmed, less fully trained people responding to problems." — Anonymous
"If the situation turns violent, these people are not equipped to deal with it. That is not safe for anyone." — Heather, Woburn
"No. Absolutely not. Simply because a non-violent situation can turn violent. In which case, by the time the true first responders were to arrive at the scene, one or more persons could be seriously injured, killed, or in a situation that could have otherwise been taken care of by a police officer." — Beth, South Shore
"My concern would be that they could get hurt. Some mental health calls can be scary, I know. I'm not against it, but why not throw a non-uniform officer on each team. These types of calls can go sideways quickly, and help could be far away." — Anonymous
"The police are doing a fine job. Perhaps fund additional training programs for police as opposed to creating worse situations which endanger more people." — Bill, Hopedale
Yes, "it seems like a good idea on so many fronts"
"In limited situations, this will likely work well. Hopefully, it will also provide more appreciation for how difficult a first responder's job actually is." — Laura, Lawrence
"We had a demented and scary neighbor living in front of us for many years. Many of the parents in the neighborhood were afraid she might run one of the kids down with her car. We had to call the cops on her several times for threatening kids with violence for playing in the street. She finally got a social worker assigned to her case and she has since moved into an elder care facility. All of us could've benefitted from this service as an alternative to involving the cops." — Caitlin, Newton
"It seems like a good idea on so many fronts. Mental health issues and substance abuse really seem like areas where a social worker/crisis responder and some sort of emergency medical specialist would be better trained than police officers to handle many situations. There is clearly a budgetary upside too, and the police can focus on more pressing issues involving crime/theft/violence in the community. Seems humane and efficient." — Amelia, Natick
"I think that breaking down police duties would allow for significantly more specialized and intense training that would make emergency responses more effective. While no system will be perfect, the ability to send specific units to address specific problems could allow everyone to be safer overall. It could even have the potential to address problems before they escalate to violence. In addition, the public might feel like they have the ability to reach out faster if they thought they could get the specific help they need instead of calling on one generic undertrained force." — Debra, Worcester
"I think non-police response teams give both sides a better chance of reaching a healthy resolution. It will give communities a chance to heal from the lack of trust in the police force. I think a lot of people will respond well to programs like this as they want assistance but if the police are the only options they would rather stay in their respective circumstances. I don't think all police are bad officers. It's that they have a reputation that will take time to change and programs that are supportive and helpful will help establish that again, especially as not every situation will get a positive outcome with police presence." — Alexis, Lowell
Boston.com occasionally interacts with readers by conducting informal polls and surveys. These results should be read as an unscientific gauge of readers' opinion.
Newsletter Signup
Stay up to date on all the latest news from Boston.com