Commute
Two Boston city councilors want to make the Route 28 Bus free. Here's why.
The route is along a key economic corridor where many commuters shuttle to jobs in the Longwood Medical area.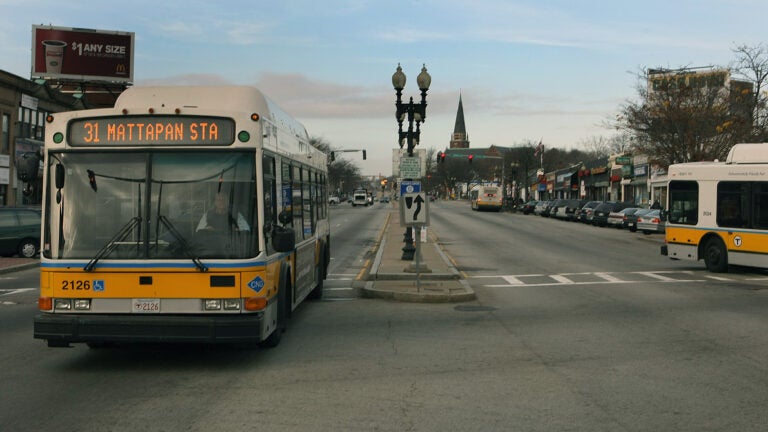 While the MBTA opted this week to raise fares by about 6 percent this summer, the system's bus riders were spared the increase after officials received public pushback.
Now, Boston City Councilor Michelle Wu, one of the outspoken advocates in the charge against the price hike, says it's time for the "next step:" a public discussion on how to ultimately make one of the busiest bus routes in the city, free of charge.
The Route 28 Bus, making stops between Mattapan and Ruggles Station, carries around 12,000 riders on weekdays. The majority of passengers are low-income residents without cars and almost half don't have a driver's license, Wu told her fellow councilors this week.
The route is also along a key economic corridor where many commuters shuttle to jobs in the Longwood Medical Area, she said.
As the MBTA moves closer to transitioning to a cashless fare system and speeding up bus service, Wu says the time is right to talk about a major change to the Route 28 Bus.
"This would be a measure that would also ensure people have no barriers to access that economic opportunity corridor," Wu said during a meeting Wednesday, where she and Councilor Kim Janey filed their request for a hearing on the proposal. "This is the route I think we need to have the conversation about."
The MBTA is currently gearing up for the rollout of its Automated Fare Collection, or AFC, 2.0 system, which will only allow passengers to pay by Charlie Card, credit card, or smartphone while aboard buses by 2021. The shift away from cash, the agency says, will improve service speed by cutting time otherwise spent having each passenger pay at the fare box.
Folks who still want to pay with paper cash will be able to load up their Charlie Cards at new pay stations the MBTA plans to spread out along bus routes, officials say.
Wu has concerns over where exactly the closest fare machines will be located as well as questions about how collecting fare payment would be enforced under the new system.
"There are extreme equity issues when it comes to that cashless transition and we know communities where people depend on cash will not be well served by just a [pay] station every quarter mile, half mile away to load up your card because they will need to be, often times, loading more frequently than not," she said. "Folks are not carrying large amounts of cash with them."
MBTA spokesman Joe Pesaturo told Boston.com in an email Thursday that decisions regarding where vending machines will be placed and how fare payments will be checked have not yet been made.
"Next month, the MBTA will start engaging riders and stakeholders for their input and suggestions regarding opportunities under AFC 2.0," he said. "Any proposals or changes will be subject to a robust public comment period before being implemented."
Asked for comment on the idea of eliminating the Route 28 Bus Fares, Pesaturo noted that the MBTA has the lowest bus fares in the country among major transit systems.
"This week, the MBTA Control Board made sure that doesn't change," he said in an email. "While subway, commuter rail, ferry, and RIDE customers will experience moderate fare increase, there will be no increase whatsoever for riders of the Route 28 or other local bus routes."
Janey, who rides the Route 28 Bus frequently, believes councilors must help ease the burden on riders, particularly impoverished communities and communities of color who often have disproportionally longer commutes, she said.
"A cashless fare would certainly be a step in the right direction and certainly [for] moving this bus more quickly, but we certainly have to follow and make sure it is implemented with the right intention around equity and that we are not adding a further burden for the people we are trying to help with this," Janey said.
The proposal, assigned to the council's Committee on Planning, Development, and Transportation, also argues that eliminating the fare would boost ridership and help decrease carbon emissions in the city.
"This is a way to keep the momentum going for folks who say it is not fair that fares are going up and it is not right that public transportation, which benefits everyone, is so hard to access," Wu said.