Commute
'Riders continue to pay more for less': Mayor Marty Walsh urges MBTA to expand Red Line, Commuter Rail service
"Red Line riders need better solutions today."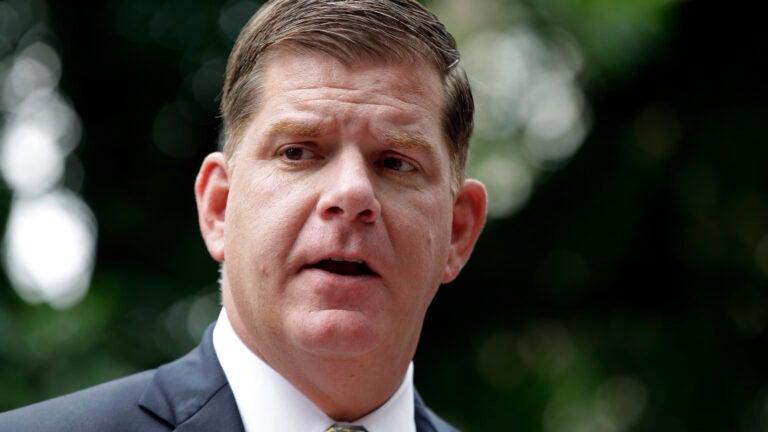 Mayor Marty Walsh urged the MBTA Wednesday to expand Red Line and Commuter Rail service as passengers continue to reel from the rippling effects of a derailment that snared the system last month.
"While I appreciate the progress and urgency expressed by the MBTA in recent weeks, I still firmly believe we need better service on a faster timeline," Walsh wrote in a letter penned to Stephanie Pollack, the state's transportation director. "As the MBTA works to fix the ongoing issues with its service, Red Line riders need better solutions today."
Walsh's proposal asks MBTA leaders to add additional off-peak and weekday trips to the Red Line and its nearby Commuter Rail lines, respectively — schedule changes that Walsh's staff estimate could cost, in total, between $8,730,000 and $9.4 million annually, according to the letter.
Wednesday's letter is Walsh's latest dispatch on the current state of the transit system.
Last month, he called on the MBTA to reinstate a seat for city and town governments on the agency's Fiscal and Management Control Board. He also urged officials to hold off on the nearly 6 percent fare hike that took hold this month until after the MBTA finished the extensive repairs needed after the June 11 Red Line derailment.
The MBTA has said the effort will take until Labor Day, when full, regular service is expected to be restored.
Walsh shared his letter in a tweet Wednesday afternoon, hours after a power problem on the Blue Line left passengers relying on shuttle buses to get through the morning commute.
In the letter, he offers three service suggestions:
On the Fairmount Commuter Rail line: Walsh said the MBTA should expand service by adding eight weekday trips and by allowing passengers to use CharlieCards. His office expects the change could cost between $830,000 and $1.5 million every year.
Regarding South Shore Limited rail service: Walsh suggested the agency should keep the South Shore Limited, the Commuter Rail service temporarily added for would-be Red Line riders after the derailment, by running eight additional weekday trips with the express service. "This will help improve riders' experiences on the South Shore, and relieve some pressure on the Read Line," Walsh wrote, adding that his office anticipates the price tag of the expansion to be $900,000 annually.
On the Red Line: The MBTA should have more trains running during off-peak times on the Red Line to reduce trip delays, Walsh wrote."This is already being run on the Orange Line to accommodate the Encore Casino," he wrote. "This increase would accommodate Red Line commuters and residents trying to reach their homes and jobs."Based off of the Orange Line costs, Walsh's staff expect such changes to cost around $7 million per year.
"Taken together, these service improvements would create a positive, immediate benefit for riders in Boston," Walsh wrote to Pollack. "We estimate that the total cost of these improvements is equivalent to a four month delay in fare increases and it's only fair that any additional revenue be invested directly back into improved service."
https://twitter.com/marty_walsh/status/1151528270959194114