Concerts
Review & setlist: Bruce Springsteen and the life-affirming promise of rock 'n' roll
At TD Garden, the Boss brings big hits and bigger lessons.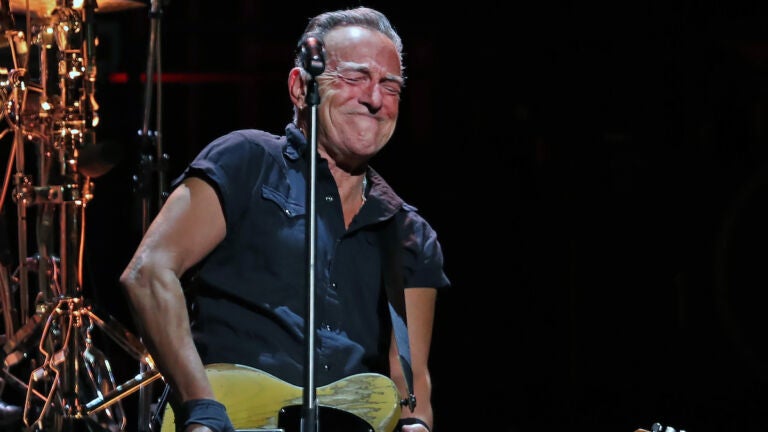 Is there anybody alive out there?
Bruce Springsteen did not say his live concert catchphrase at TD Garden on Monday night.
Absent, too, was the library of the Boss's signature stories that often fill the void between thundering solos, the twinkle of piano melodies, and lonesome harmonica breaks — those narratives he's long weaved into his setlist with musings about growing up, the inescapable ties that bind us together, and finding salvation in rock 'n' roll.
Except for one.
He spoke about George Theiss, the lead singer of his first band, The Castiles; about the summer afternoon in 1965 when Theiss came knocking at his door after hearing Springsteen played guitar and wanting him to audition for the high school group.
"It was there that I embarked on the greatest adventure of my young life," Springsteen, now 73, with an acoustic guitar at his waist and harmonica strapped to his neck, recalled to the crowd in Boston.
Then he spoke about the summer day, just a few years ago, when he sat at Theiss's bedside as the two closed in on the final moments of Theiss's chapter with lung cancer.
"It gives you pause to think, brings a clarity of thought and a clarity of purpose … At 15, it's all tomorrows and hellos. And then later on, a lot more goodbyes," he said.
It makes you realize how important every moment is, he said.
"So be good to those you love and to this world around you."
That loss blossomed into "Last Man Standing" — an emotional peak of 2020's "Letter to You" — and formed the core of the very-much-still-beating heart of Springsteen's setlist at TD Garden Monday night, where the Boss delivered a 27-song, 2-hour-and-50-minute performance with the E Street Band, his usual lineup enhanced by a horn section, an extra percussionist, and four backup singers.
Rarely did he stop long enough between tracks for applause, as he conducted the music with a flick of the wrist or a growl to charge ahead. Despite a forced rescheduling of several shows earlier this month due to illness, the band showed no signs of dust (not that the Boss would ever allow that).
If fans were still ruffled by the high prices that rocked this tour when tickets went on sale last year, those lucky enough to be in the packed house certainly didn't show it.
Monday's setlist jammed in fan favorites, from the relentless drum of desire in "Candy's Room" to a Nils Lofgren guitar-charged "Because the Night," and sing-along staples such as "She's the One," "Out in the Street," and "Badlands."
In-between was Springsteen's full array of the American persona in music, including a honky-tonk-heavy "Johnny 99" and the beach-town funk groove of "The E Street Shuffle."
On "Kitty's Back," Springsteen's Telecaster became a firecracker of feedback, as if the Boss himself were lighting ablaze fireworks hailing over Asbury Park on a warm 4th of July.
A 50-minute encore brought the expected marathon of hits, from "Born to Run" and "Glory Days," and featured a surprise cover of Boston's beloved garage rock classic, "Dirty Water" by The Standells.
There were the career highs and hit singles, of course, mixed in with the modern-era Springsteen songs like "The Rising" and "Wrecking Ball," though each of those are now also well-worn.
But for Springsteen, long a strict editor of his own material, it's clear much of this E Street expanse was carefully considered.
After meticulously cataloging his life's work in an autobiography and a successful pre-pandemic run of his one-man show, "Springsteen on Broadway," since his last string of dates with the band, this tour suggests Springsteen is now turning his intense contemplation to the next era of life's natural progression.
If not a coda, this setlist is an interlude — the reflections of a lifelong performer now watching his friends slowly exit the spotlight, and left wondering when, exactly, that darkness on the edge of town will envelop him, too.
After all, Monday coincidentally marked 15 years since original E Street band organist Danny Federici's final performance before his death later the following month.
Original saxophonist and Big Man Clarence Clemons has been gone from Springsteen's side for over a decade now as well, his lacking presence still palpable even in the continuing intensity of the band's live performance. (His nephew, Jake Clemons, however, can still hit those notes for him, offering a tender tribute each time he steps forward on a wailing solo.)
When the time came for the band's story-in-song on "Tenth Avenue Freeze Out," Springsteen snagged a leather jacket offered to him by a fan offstage. For a few minutes, as he walked around the arena floor, it was as if he was masquerading as his younger self, no longer the clean cut and graying rock behemoth, but instead the greasy, leather-clad beach-bum, returning to the cover of "Born to Run" again, but now left looking over his shoulder for where Clemons had gone.
With one finger, he pointed to the video screen above the stage, proclaiming, "This is the important part," as images of Clemons flashed before the crowd and he sang a verse about the Big Man's entrance into what was then only the best bar band in New Jersey.
The show had ripped open with "No Surrender," a tale of brotherhood forged in youth and carried into adulthood.
Unlike his contemporaries, Springsteen's modern voice remains resonant and, if anything, its age gives it the grit his past self lacked.
His snarl gave extra emphasis to "Surrender's" promises as he laid them down: "Now young faces grow sad and old and hearts of fire grow cold / We swore blood brothers against the wind, now I'm ready to grow young again."
The band then blasted into "Ghosts," another track off of "Letter to You" that conjures his lost comrades, and torpedoed into "Prove It All Night," with its final verse echoing in the Garden: "You hear their voices telling not to go / They made their choices and they'll never know what it means to steal, to cheat, to lie – what it's like to live and die."
Springsteen, in his raspy whisper, sings it now with the grit of a man who has lived it, who has proven it night after night.
Following his vocal tribute to Theiss in "Last Man Standing," Springsteen brought the crowd to another summer scene — "Backstreets," a tale of a "soft infested summer" filled with the big, broken promises of adolescence and another sacred oath: "You swore we'd live forever, taking it on them backstreeets together."
As the song simmered to its close, Springsteen recalled the books, 45s, and guitar Theiss left behind. He mentioned an old photo of them together on Theiss's porch on his wedding day, the two of them barely 19 years old.
"The rest I'm going to carry right here," he told the crowd, pointing another finger to his heart.
Taken together, these are the only things Springsteen himself knows he will leave behind to his audience someday: these songs and these stories, each a promise of something grander and more resilient on the horizon — the premise of any good Springsteen song.
And if the E Street band is, as Springsteen himself has declared, "death defying," it is also — as much as rock 'n' roll can be — life-affirming.
Springsteen is still clearly feeding off that energy. Monday night left the impression he may have kept going after the nearly three-hour show ended, if only given the chance.
For therein forever lies the fate of the man behind "Born to Run."
When the darkness comes, he'll be there on that hill, and maybe then, he'll be ready to shout into the good night once more: Is there anybody alive out there?
Setlist:
No Surrender
2. Ghosts
3. Prove It All Night
4. Letter to You
5. The Promised Land
6. Out in the Street
7. Candy's Room
8. Kitty's Back
9. Nightshift
10. Trapped
11. The E Street Shuffle
12. Johnny 99
13. Last Man Standing (solo, acoustic)
14. Backstreets
15. Because the Night
16. She's the One
17. Wrecking Ball
18. The Rising
19. Badlands
Encore:
20. Dirty Water (Standells cover)
21. Thunder Road
22. Born to Run
23. Rosalita
24. Glory Days
25. Dancing in the Dark
26. Tenth Avenue Freeze Out
27. I'll See You in My Dreams
Start time: 7:45 p.m.
End Time: 10:35 p.m.
Bruce Springsteen will play Gillette Stadium for two nights in August.
Newsletter Signup
Stay up to date on all the latest news from Boston.com