COVID
Live updates: The latest news on the coronavirus outbreak in New England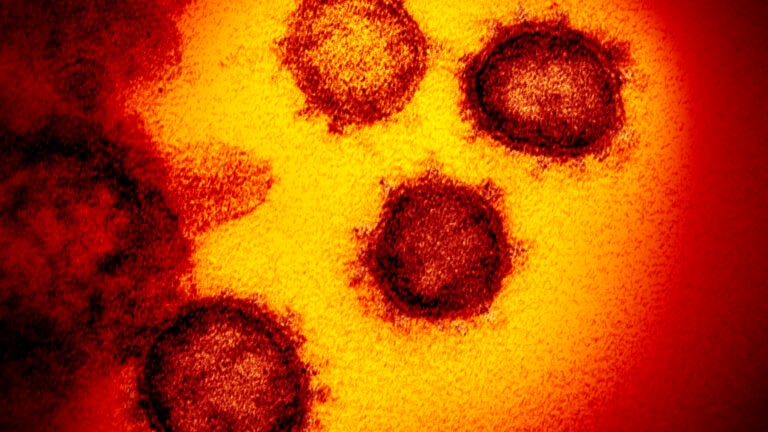 Note: Last week's coronavirus live updates can be found here.
Mass. officials report 70 new COVID-19 deaths, including man in his 30s (April 12)
Grocery store workers in Massachusetts now have access to priority COVID-19 testing.
Gov. Charlie Baker's administration announced that — beginning Saturday — workers at the state's supermarkets and grocery stores are eligible to schedule appointments at the two recently opened "drive-through" testing centers at Gillette Stadium in Foxborough and the Big E fairgrounds in West Springfield. The two sites were previously only available to emergency first responders.
The move comes amid calls from local lawmakers, including Rep. Seth Moulton, for priority testing and protective gear for grocery store workers, who remain on the frontlines of the pandemic. Officials say that appointments for tests must be made in advance by a supervisor or manager; workers do not need to be symptomatic to be eligible.
Thank you @MassGovernor for stepping up and expanding priority testing to grocery store workers who are keeping food on our tables.

— Seth Moulton (@sethmoulton) April 11, 2020
Following pressure from Sen. Ed Markey, the Food and Drug Administration also released new national guidelines Friday recommending that grocery workers wear masks and gloves at all times. And the United Food and Commercial Workers is calling on shoppers to also wear masks and exercise particular caution during the Easter holiday weekend.
"All Americans have a responsibility to help protect these essential workers and their fellow shoppers," UFCW International President Marc Perrone said in a statement.
Connecticut Gov. Ned Lamont extended the state's nonessential business closure and stay-at-home orders until May 20, as the number of COVID-19 cases in the state surpassed 10,000. Connecticut also reported an additional 68 deaths due to the disease, bringing the confirmed total to 448.
Nearly a third of Connecticut's deaths due to COVID-19 have occurred in nursing homes and more than half (249) of those who have died were more than 80 years old.
Rhode Island's Department of Health announced 288 new cases of COVID-19 on Friday, bring the state's total count to 2,015. The number of coronavirus fatalities in the state also increased from 43 to 49. Gov. Gina Raimondo announced Friday that Rhode Island bus system would begin limiting passengers to no more than 15 to prevent crowding.
New Hampshire announced 66 new confirmed COVID-19 cases Friday, bringing the state's total to 885. Officials also announced one additional death, bringing the total fatalities in New Hampshire attributed to the disease to 22. State officials also announced a parking ban Friday along Route 1a, which runs along New Hampshire's coastline, until their beaches "fully reopen."
Maine reported Friday afternoon that the number of coronavirus cases had increased to 586, as well as one additional death for a total of 17. Gov. Janet Mills also signed an executive order delaying the Maine's state primary elections until July 14.
Gov. Phil Scott extended Vermont's stay-at-home order through May 15, as the number of coronavirus cases in the state reached surpassed 700 on Friday. The state also reported one additional death due to COVID-19, bringing the total in Vermont of 25.
Mass. officials report 96 new COVID-19 deaths; total now 599 (April 10)
The Massachusetts Department of Public Health will issue an advisory recommending state residents wear masks or cover their face while in public when they're unable to social distance, Gov. Charlie Baker said in his Friday press conference.
"This protects you from others and protects others from you," he said. "It works both ways."
Consistent with CDC guidance, the advisory will suggest people specifically cover their faces while in supermarkets or pharmacies.
Baker said if people need to go on a walk or a run, they can, but they should not be playing group sports, holding backyard cookouts with friends, or sitting on beaches.
"If you go out, do what you have to do and go home," he said. "That's it."
The new field hospital, called Boston Hope and located at the Boston Convention and Exhibition Center, opened its doors Friday, ready to treat COVID-19 patients.
A fluorescent blue, purple, and yellow sign now stands as a beacon of light next to the 1,000-bed converted facility. 
A symbol synonymous with the #Boston Marathon bombings shines outside of the Boston Convention and Exhibition Center. Doctors and nurses who 7 years ago fought back against terrorism, now battling #COVID19 at the new BCEC field hospital named 'Boston Hope.' #wcvb pic.twitter.com/bMP6hie8Go

— Peter Eliopoulos (@petereliopoulos) April 10, 2020
Outfitted with 500 individual bed cubicles for Boston's homeless population, and 500 for non-critical COVID-19 patients, the hospital saw its first 50 patients Friday. 
First Look. Boston Hope is opening today as our surge is expected. It's MA field hospital and #covid shelter @MassConvention and preparing for up to 1000 patients. I was invited this am so posting pics and explanations about how these get built and work.
Army support arriving 1/ pic.twitter.com/1DzVSAYA4W

— Juliette Kayyem (@juliettekayyem) April 10, 2020
The facility is the second field hospital launched in the state with the goal of freeing up space for local hospitals. 
Partners HealthCare will oversee much of Boston Hope's clinical operations, providing resources for patients from across the Partners system. Jack Hammond, Executive Director of Home Base, a Massachusetts General Hospital Program, will also help oversee the effort. 
Home Base is proud to work with our state and medical leaders in the opening of the "Boston Hope" BCEC medical center today – the state's largest field hospital to help in the fight against #COVID19. @PartnersNews, @MassGovernor, @marty_walsh, @BHCHP https://t.co/cA1yj5Sf1c pic.twitter.com/NmbBJNSFWM

— Home Base (@homebaseprogram) April 10, 2020
"In a moment of great need, we are reminded every day of resiliency and hope, illustrated through our community who have come together to donate time, resources, and talent in support of this important mission," Hammond said in a statement. "Because of the incredible efforts of medical and research personnel, first responders, and military teams who are on the front lines each and every day fighting this medical war, the patients in this region can rely on Boston Hope to continue delivering care with great precision and professionalism."
A similar field hospital, with 250 beds, opened up Thursday at the DCU arena in Worcester. 
A third hospital is also set to open at Joint Base Cape Cod, though officials have not yet announced a timeline. 
A bill that would waive MCAS testing for the rest of the school year in light of the COVID-19 pandemic passed through the House and Senate Thursday. 
The Massachusetts Teachers Association called on the Legislature last Friday to set aside testing as public education worldwide faces disruptions. 
"Our number one priority is to tend to the safety and well-being of students, their families and our educators," MTA President Merrie Najimy said in a statement. "Any remote learning that is happening should focus on creative efforts to help students stay connected to their educators and each other, as well as to deepen their understanding of material they have already learned — not prepping for a test."
The @MA_Senate & House have passed legislation waiving this year's MCAS requirement. @MassGovernor & @JeffreyCRiley still need to take action, but we are on track! Your #CancelMCAS calls to legislators & Riley paid off! https://t.co/fSTCYcaqRD #mapoli

— Mass Teachers Assn (@massteacher) April 10, 2020
Massachusetts students grades 3 through 8 and 10 are currently required to complete MCAS testing by law beginning in March and ending in June.
But since both the House and Senate bills included an emergency preamble, the law cancelling all testing would take immediate effect if signed by Gov. Charlie Baker. 
The MTA said they urge officials to call off MCAS testing requirements, following suit behind other states. 
"Threatening to require students to take a test is not only a colossal waste of time – it is inhumane," Najimy said. "Our members tell us that their students and their families are under unprecedented stress. Families are worried about their health and the loss of their jobs and are coping with being cooped up at home. They don't need something else to worry about right now, which is why so many states, including New Hampshire and Maine, have already canceled their testing requirements."
The Massachusetts Office of Emergency Medical Services is recruiting EMTs to the frontlines by extending EMS certifications that were set to expire on April 1 by 90 days. 
Additionally, the department will issue temporary EMT certification to applicants who are either certified in another state, or were previously certified, and in good standing, within the last 10 years. 
"The whole idea is for surge staffing, or if we get into a pinch where we have staff that are out due to the virus," Greg Davis, Transformative Healthcare's Vice President of Operations, told Boston 25 News. 
For out-of-state EMTs, these temporary certifications will remain valid until the state emergency is deemed over. All previously certified Mass. EMTs will remain certified for 90 days after the state of emergency. 
EMT certification applications can be found here.
Massachusetts' attorney general is investigating alleged price gouging on sales of personal protective equipment as the state works to combat fraud tied to the coronavirus pandemic.
Attorney General Maura Healey said Thursday her office is looking into hundreds of complaints, including several filed by UMass Memorial Health Care, the largest hospital group in central Massachusetts.
CEO Dr. Eric Dickson told Masslive.com his health care network has "been burned a couple of times" as it scrambles to acquire masks, shields and other protective gear for doctors and nurses.
"This horrible virus has brought out the best in people but it's also brought out the worst in people," Dickson said at a town hall-style meeting this week.
Last month, Healey's office passed an emergency regulation outlawing price gouging of essential goods during an emergency.
"We've heard from hospitals and consumers about skyrocketing prices for things like hand sanitizer, face masks and other essential gear needed to prevent the spread of this highly contagious virus and keep our front-line workers safe," Healey said in a statement.
"That's unacceptable and illegal," she said. "No one should be exploiting this crisis and putting the public at risk."
— Associated Press
Five more residents of the Life Care Center of Nashoba Valley have died from the novel coronavirus, bringing the nursing home's death toll to 10. 
"These additional deaths were residents who had transferred out of our facility to hospitals," officials said in a news release from the Littleton facility. 
The care center reported that 74 employees are currently out sick, and after screening 98 residents for the virus, 67 have tested positive. 
As of Thursday, 54 residents still have the virus — 13 of whom have been transferred to a local hospital and 41 who remain on site. 
Two residents are still awaiting test results. 
While 22 residents have been moved off-site to hospitals since March 27, 76 of the 109 original residents remain at the Life Care Center.
The Nashoba Valley facility, operated by Life Care Centers of America, the same company that operates the facility in Kirkland, Washington, linked to 37 deaths from the virus, promised to announce additional updates as needed. 
These new deaths come a week after the National Guard stepped in to test 83 residents, and three days after the Board of Selectmen issued a letter to Public Health Commissioner Monica Bharel and the Department of Public Health.
"We feel compelled to alert you personally, to the preventable public health emergency unfolding in the town of Littleton, and seek your help protecting the safety and welfare of at-risk medical facility residents in our community," the board said in their letter. 
Officials said they believe the Life Care Center failed to "communicate with relatives, provide proper care or preventative measures to patients and staff, inability to manage this crisis, and less than adequate staffing levels at the facility."
"We are specifically seeking assistance inspecting the facility, assessing the medical condition of the patients, testing staff and tracing the contacts of staff and infected residents as they have dispersed through Littleton and surrounding communities, as well as any other action your office deems necessary to mitigate this situation," board members said.
As Congress begins to discuss the next round of coronavirus relief legislation, Sen. Elizabeth Warren is reminding the public that she was the first presidential candidate to release a plan to address the outbreak — along with a second and a third. 
And much like the last relief bill, the Massachusetts senator is pushing to ensure her ideas inform the forthcoming legislation. Following an appearance on a Vox podcast earlier this week, Warren penned an opinion piece Wednesday in The New York Times calling on Congress to do "much more — much faster" to address the dual public health and economic crises.
Warren said the government should take the lead in ramping up production of coronavirus tests, personal protective equipment, drugs in shortage and any future vaccines. She also called for "economic relief beyond cash payments"including the suspension of consumer debt collection, a national moratorium on evictions and foreclosures, and broad student loan debt cancellation, as well as increased monthly Social Security and disability benefits.
Warren also said the legislation should include a "bill of rights" for the essential workers who are "putting their lives on the line to keep America functioning." She said those workers should get paid leave, hazard pay, protective equipment, and protection of their collective bargaining rights. 
Additionally, Warren said relief for businesses should come with conditions that they keep workers on payroll and strong oversight. She also re-upped her slate of proposed election reforms to ensure Americans don't have to choose between "voting this November or staying safe from the virus."
Warren added that the time for "cheap political shots at government is over," invoking former President Ronald Reagan's famous quote that the nine most terrifying words in the English language were "I'm from the government and I'm here to help."  
"In this epidemic, we've seen that among the most frightening words in the English language are 'We're in a crisis and the government doesn't have a plan to get us out of it,'" she said.
Connecticut Gov. Ned Lamont signed an executive order Thursday to make tax deferral and interest-rate reduction programs eligible for taxpayers, businesses, nonprofits, and residents who have been financially impacted by the COVID-19 crisis. 
Here's the video of our 4PM news briefing from today with updates on COVID-19. https://t.co/aRoLw8QfRN

— Governor Ned Lamont (@GovNedLamont) April 9, 2020
Among other modifications, he altered the state's statutes on alcoholic deliveries. Now, anyone who is 21 or older, and is not intoxicated, can order curb-side pickup for alcoholic beverages without providing a signature. 
Rhode Island reported eight new COVID-19 deaths of people ranging from their 20s to their 90s. 
In her Thursday press conference, Gov. Gina Raimondo clarified requirements around quarantining after testing positive for the coronavirus. 
Anyone diagnosed must self-isolate and "be fever free for 72 hours without the use of fever reducing medication, and all their symptoms need to have resolved completely before they can come out of isolation," according to Raimondo's office. 
The City of Boston is set to release race and ethnicity data in COVID-19 cases for the first time Thursday. 
In addition to announcing the data, Mayor Marty Walsh said he's launching a COVID-19 health inequities task force that will focus on identifying and investigating racial and ethnic inequalities during the pandemic. 
"We'll be taking a good hard look at the numbers in Boston to understand and address any inequities that exist. Because we believe that data is critical," Walsh said. "We've been working to collect as much data as possible about race and ethnicity in patients in Boston and I've asked the state and our surrounding communities to help us do the same." 
He said the data released Thursday is far from complete, accounting for only 62 percent of total coronavirus cases in Boston. 
Looking at the initial numbers, Walsh said there are some disparities. 
"It does concern me," he said. 
The task force will review and analyze the data as it affects African American, Latino, and Asian populations in Boston. 
"The task force will strengthen our strategy for equity and access to service, it will help us provide recommendations to resources and strategies that the city can use moving forward," he said. "The members of this task force will reflect the diversity of Boston's neighborhoods." 
Walsh said the task force will also look into any disparities in Boston's immigrant and undocumented communities, noting that as of now, no one should be asked about their immigrant status when seeking testing or medical help. 
Hospitals have reported an increase in COVID-19 patients of color, Walsh said, and areas like East Boston, Hyde Park, Dorchester, and Mattapan have been more severely impacted than other neighborhoods. 
He said the city is looking into access to testing and language barriers as clusters of coronavirus cases have popped up in households throughout these neighborhoods. 
Boston Mayor Marty Walsh at his press conference Thursday raised doubt as to whether the city's emergency order will expire as scheduled on May 4.
"We are not going to be out of the woods by May 4 when the emergency order expires as of right now," Walsh said. "That might be extended." 
Walsh reminded everyone to stay at home and follow officials' guidelines, like no gathering with people outside your immediate family, and sticking to the 9 p.m. to 6 a.m. curfew. 
He said it's likely officials will still be discussing the virus well into July and August, in both Boston and the state. 
Boston Mayor Marty Walsh announced Thursday that a dozen of the largest housing lenders in the city have agreed to defer collecting mortgage payments for at least three months.
"This is about giving some people opportunity and breathing room during these difficult times," Walsh said during a press conference. "No one should have to worry about losing their home right now."
Under the agreement, lenders will also not charge late fees and will not require a lump sum payment after the deferral period, offering instead to tailor individual repayment plans, according to Walsh.
"Now more than ever we have to work together to do everything we can to keep people housed," he said.
The initial 12 institutions that have signed onto the agreement are Bank of America; Boston Private; Cambridge Trust Company; Century Bank; Citizens Bank; City of Boston Credit Union; Dedham Savings Bank; Eastern Bank; Mortgage Network, Inc.; Prime Lending; Salem Five Bank; and Santander Bank, Walsh said.
The announcement follows steps made by the city to help protect renters and homeowners during the economic fallout surrounding the COVID-19 crisis. Walsh and local real estate leaders have urged landlords to forgo evictions; the city has put $3 million towards supporting renters; and officials have extended due dates for property tax bills during the global pandemic.
Walsh said homeowners seeking mortgage relief should contact their lender directly for help, or reach out to the Boston Home Center for more information.
Given projections on how much worse this pandemic may become, Gov. Charlie Baker announced three executive orders to help expand health care capacity and ensure access to in-patient services.
"The first order makes it easier for foreign-educated doctors to be licensed to practice here in the commonwealth," Baker said in his Thursday press conference. 
The order will allow people who graduated from international medical schools and who have completed postgraduate training to be licensed in Mass. 
A second order, he said, will allow nursing school graduates and those in their last semester of nursing programs to practice nursing in the state under the supervision of other licensed medical professionals. 
"These orders will contribute to our efforts to grow a robust community of frontline workers to support our healthcare institutions statewide as they significantly expand their capacity to deal with the surge," Baker said.
He signed a third order that makes certain insurers cover any medically required costs without charging patients. 
"This order is important as we stand up new facilities for healthcare that may be considered out of network under normal circumstances, and will ensure that individuals would be covered who go to those alternative locations for their medical care," Baker said. 
Gov. Charlie Baker says his administration is working hard to expand capacity to handle claims as more people flood the system to file for unemployment compensation.
Over the last three weeks, he said nearly 470,000 individuals filed new unemployment claims. For context, Baker said the state typically sees 7,000 to 10,000 new claims a month. 
"We know several people have had trouble getting through the website and are frustrated waiting for callbacks," he said at his press conference Thursday. "I want you to know that the administration is working this one hard." 
To expand capacity, Baker said officials scaled up the Department of Unemployment Assistance's customer service staff from 50 to over 600 employees who are now working remotely. In whole, he said they've returned over 60,000 calls to applicants in order to get claims and applications processed. 
He also said they're working to expand unemployment support for those in the gig economy, and the DUA is set to begin processing those applications by the end of April. 
As April brings sexual assault awareness month, Lt. Gov. Karyn Polito announced an expansion to SafeLink, Massachusetts' statewide toll-free domestic violence hotline. 
Polito said that in light of the public emergency, SafeLink has expanded its services to connect both sexual assault and domestic violence victims to rape crises centers and local domestic violence programs in their communities. 
This new capacity creates a centralized number for survivors to call and receive services at 877-785-2020. For those who are hearing impaired, the number is 877-521-2601.
These resources, Polito said, will also be available through Mass 211. 
She said the hotline is designed for anyone who needs assistance or safety planning. 
"We know that during this time, individuals are still experiencing sexual violence," Polito said. "We know that survivors and victims will continue to be part of our strategy, our response, and top of mind." 
Experts have warned that they expect to see an increase in incidents of domestic violence as people are told to stay at home and practice social distancing to help stop the spread of the novel coronavirus. 
As cities and towns across the state adapt their normal routines, Beverly Mayor Mike Cahill announced a new one-way sidewalk order on Tuesday. 
"On Sunday, the Board of Health issued an order that the sidewalks on Lothrop Street, between Hale and Stone streets are now one way," Cahill said in a video to the community. "Please walk on the sidewalk facing vehicle traffic – this way no one has to bump into someone walking or jogging the other way along the same sidewalk."
He said the new order will be enforced by police. 
"As for elsewhere around Beverly, I ask you and I strongly advise the following: If there are two sidewalks where you are walking, please walk on the side of the road facing traffic, and the same goes for streets with no sidewalks," Cahill said. "If there is a sidewalk on only one side, please use your best judgement to keep yourself safe – and please, let's all be kind and patient and do our very best to keep a safe physical distance from each other."
The order went into effect at 6 a.m. on Sunday, and police said the emergency order will remain in effect until further notice. 
Massachusetts Attorney General Maura Healey is launching an investigation into the Holyoke Soldiers' Home, where 25 veteran residents have died, 18 of whom tested positive for COVID-19. 
"Our office is launching an investigation into Holyoke Soldiers' Home to find out what went wrong at this facility and determine if legal action is warranted," Healey said in a Tweet, Wednesday. "My heart goes out to the families who lost loved ones under these tragic circumstances."
Our office is launching an investigation into Holyoke Soldiers' Home to find out went wrong at this facility and determine if legal action is warranted. My heart goes out to the families who lost loved ones under these tragic circumstances.

— Maura Healey (@MassAGO) April 8, 2020
Her investigation comes a week after Gov. Charlie Baker hired an outside attorney and former federal prosecutor, Mark W. Pearlstein, to lead a separate independent investigation into the organizational oversight and events leading up to the Holyoke facility's deaths. 
"The investigation will focus both on the events inside the facility that led to the tragic deaths of veterans in the Holyoke Soldiers' Home, and on management and organizational oversight of the COVID-19 response in the Holyoke Soldiers' Home," Baker's office said in a statement.
Holyoke Mayor Alex Morse led a Facebook Live video discussing the situation as it was first unfolding, saying he received no response when originally reaching out to the Soldiers' Home.
"I was shocked on the phone call when the superintendent let me know that there had been eight veteran deaths between Wednesday and Sunday," Morse said. "Without any public notification, without any notification to my office, and also just no notification to the state government that oversees this facility in the first place."
As of Tuesday, 59 other Holyoke Soldiers' Home veteran residents and 31 staffers have also tested positive for the coronavirus, according to Brooke Karanovich, a spokeswoman for the facility. 
For the first time since the beginning of the pandemic, Mass. reported racial and ethnic information about COVID-19 victims. 
Yet the data, released Wednesday, was sparse, making it hard to draw firm conclusions on the pandemic's impact in communities of color throughout the state. 
Statistics suggested that Black and Latino communities faced disproportionately higher rates of infection, though the numbers come with multiple caveats. 
"Information on race and ethnicity is collected and reported by multiple entities and may or may not reflect self report by the individual case," officials wrote in their report. 
Secretary of Health and Human Services Marylou Sudders said at a Wednesday press conference that when a patient's race or ethnicity is not reported, the Department of Public Health classifies the information as missing. 
Similarly, data reported as "unknown" means either the reporter did not know the race/ethnicity of the individual, the individual chose to not provide that information, or the reporting system didn't capture the information. Data reported as "other" indicates either multiple races or that the original reporting system didn't receive the information. 
"COVID-19 testing is currently conducted by dozens of private laboratories, hospitals, and other partners and the Department of Public Health is working with these organizations to improve data reporting by race and ethnicity, to better understand where, and on whom, the burden of illness is falling so the Commonwealth can respond more effectively," officials wrote. 
Sudders announced a public health order Wednesday which will now require health care providers and labs to collect information on race and ethnicity for the new coronavirus. 
"The data on race and ethnicity is far too incomplete in far too many cases," she said. "We are taking steps to improve the submission of these key data points."
Several local legislators and officials, including Sen. Elizabeth Warren, Rep. Ayanna Pressley and Attorney General Maura Healey, have been seeking more racial and ethnic data regarding pandemic patients, particularly amid recent reports that certain minorities may be getting hit harder by the virus.
UMass Memorial Health Care, in partnership with the city of Worcester, opened its temporary field hospital at the DCU Center Thursday, around 7 a.m. 
Inside Massachusetts first field hospital for COVID19 patients

Posted by Matt Reed on Thursday, April 9, 2020
It's outfitted with rows of walled-off hospital beds and will serve patients who are too sick to go home, but no longer require critical care. 
The 24/7 operation is currently recruiting for registered nurses and patient care associates. To apply for a role, registered nurses or current nursing, pharmacy, physician assistant, or respiratory program students can fill out an interest form here. 
In addition to the DCU hospital, two more are scheduled to pop up at the Boston Convention and Exhibition Center in Seaport and at Joint Base Cape Cod. 
While the facility at BCEC is also set to open this week, Boston Mayor Marty Walsh said he's unsure when the site will begin accepting patients. 
Testing sites are continuing to open throughout the state as well. The latest, at the Big E fairgrounds in West Springfield, opened Thursday.
In his Wednesday press conference, Gov. Charlie Baker said the mobile testing site will service first responders and supplement the site at Patriot Place, outside Gillette Stadium, which opened earlier this week. Another testing site for first responders opened last month at Suffolk Downs in East Boston.
Baker said the Big E will offer 200 tests a day by appointment.
Rhode Island officials reported 221 new cases and 20 new hospitalized COVID-19 patients.
During a Wednesday press conference, Gov. Gina Raimondo further extended the state's closure of all non-essential businesses through May 17. 
 Vermont reported 30 new cases as of Thursday, and in his Wednesday press conference, Gov. Phil Scott said things would get harder before they would get better. 
"We can't lift our foot off the gas just yet," he said. "On Friday, you can expect an extension of the state of emergency order." 
Mass. officials report 77 new COVID-19 deaths, bringing total to 433 (April 8)
Gov. Baker files legislation providing healthcare workers liability protections (April 8)
During his Wednesday press conference, Gov. Charlie Baker said he's filed new legislation to provide health care workers and their facilities protections from civil liability while working on the front lines fighting COVID-19. 
"Ensuring that our health care workers have the resources and protections they need has been a top priority for our administration since the beginning of the COVID-19 pandemic," Baker said in a press release. "This legislation offers important protections for health care workers and facilities facing the unprecedented challenges that come with the outbreak of this virus, and we look forward to working with our legislative partners to enact this bill and take another step in our efforts to support the Commonwealth's medical system."
The bill will protect doctors, nurses, and emergency medical technicians from liability and lawsuits if the care they're providing is impacted by the pandemic. 
It will also protect any healthcare workers staffing the field medical stations posted at the DCU Center, Boston Convention & Exhibition Center, and any other locations officials may establish before the end of the crisis.  
Lt. Gov. Karyn Polito said dismissing any health care worker's fear of liability allows them to fully care for COVID-19 patients' medical needs. 
In addition to the new legislation, Baker announced a directive to maximize health care worker's protections under the federal Public Readiness and Emergency Preparedness Act (PREP Act).  
Under the PREP Act, Baker is ensuring that medical professionals and facilities that are distributing or administering testing, drugs, or medical devices for COVID-19 will be protected from suit and liability.
The legislation and extensions of the federal PREP Act, which provides similar protections, are part of an effort to prepare for a surge in COVID-19 patients, which Baker said he expects to peak in Massachusetts between April 10 and April 20. 
He said Mass. is still on the upward slope of this pandemic as the percentage of those testing positive continues to rise.Yet he was cautiously optimistic, noting that Mass. still hasn't seen the same steep acceleration of positive cases that Wuhan or New York has.
COVID-19 cases continue to rise among hospital employees across the state, and among those institutions reporting their numbers, more than 900 hospital workers have tested positive. 
See a breakdown of each hospital's reported numbers below.
Tufts Medical Center:
Brooke Hynes, a spokeswoman for Tufts said as of Wednesday, 85 hospital workers have tested positive with the virus. 
Boston Medical Center:
A spokeswoman for BMC, Jenny Eriksen Leary, said as of Tuesday, 98 employees had tested positive. 
Beth Israel Lahey Health system:
345 employees across all campuses have tested positive with COVID-19, according to spokeswoman Chloe Meck. 
She noted that employees who have tested positive "include both patient-facing and non-patient facing staff."
Brigham and Women's Hospital:
As of Tuesday, Brigham and Women's officials reported that 183 employees have tested positive for COVID-19. 
Massachusetts General Hospital: 
MGH reported that as of Wednesday, 200 clinical and non-clinical staff had contracted the coronavirus, though officials said they believe workers did not contract the virus while at the hospital. 
"Based on hospital data, our broad implementation of CDC-guided infection control procedures throughout the hospital and the extent of community spread now ongoing in Massachusetts," officials wrote on MGH's website, "it is believed that the vast majority of these individuals did not contract the virus at work."
As of 5 p.m. Tuesday, Massachusetts public health officials reported that 13,027 people in the state have been subject to monitoring or quarantine for COVID-19 — a 7,851-person increase from last week.
Officials also reported that 5,402 people had completed monitoring and were no longer in quarantine, while 7,625 were currently undergoing monitoring.
The state's data is updated every Wednesday by noon.
Massachusetts COVID-19 data shows that three smaller counties carry a disproportionately large number of the state's deaths. 
"One of the things we are doing a deeper dive on is … the regional percentages of death per capita," Secretary of Health and Human Services Marylou Sudders said during a Tuesday press conference. 
Five Western Mass. lawmakers called on the Baker administration to explain why Franklin County has so many deaths per 1,000 residents, according to Commonwealth Magazine. 
The magazine reported how Franklin County has 17 deaths, but a relatively small population of 70,935 people. Similarly, Berkshire features an unusually high death count with 18 people in comparison to a 127,328 person population. 
Hampden County, with a 469,116 person population, holds the second most deaths in the state at 57, according to the magazine.
Sudders said while her office will focus on whether or not COVID-19 may be impacting different ethnic groups throughout Mass., the deep dive will be "looking at where nursing homes are where deaths have occurred by counties and the like, so that we can actually sort of pinpoint what is it in that region that contributes to a higher per capita death. Because right now, it's Essex County [and] Berkshire in particular [that] have higher percentages of death rates."
After city councilors voted in an emergency law Tuesday, Haverhill police will begin fining people for gathering in public in groups larger than 10. 
With the new policy in place, anyone in groups larger than 10 occupying Haverhill public spaces may face a $50 fine for their first social distancing violation, a $100 fine on second violation, and a $300 fine for a third violation, according to Boston Channel 25 News. 
The station reported that emergency personnel are exempt from the ordinance, and people staying six feet apart will not be fined. 
"This is an ordinance we hope we never have to use, and one as a civil liberties attorney I thought that I would never in my lifetime submit," Mayor James Fiorentini said in a video conference with city councilors. "But these are unprecedented times."
Rhode Island officials reported 14 new hospitalized COVID-19 patients, and 147 new cases.
In her public update Tuesday, Gov. Gina Raimondo extended many of the state's COVID-19 restrictions, like no restaurant dine-in service, and no gatherings of more than five, until May 8. 
As of Tuesday, Maine Governor Janet Mills announced a plan to open alternative care sites with help from the Maine National Guard and the Maine Emergency Management Agency. 
The alternative sites, which are part of an effort to free up hospital beds, will be run in partnership with other Maine healthcare systems and will open in Portland and Bangor. 
"I hope we never need to use these alternative care sites, but we cannot afford to wait to find out," Mills said in a statement. "Establishing them now will ensure that, if the need does arise, we will be prepared and Maine people will receive appropriate care."
 Vermont Gov. Phil Scott announced Tuesday that he's requesting a federal disaster declaration to assist the state in responding to the COVID-19 pandemic. 
I've written to @POTUS requesting a federal disaster declaration to assist VT in its response to COVID-19. I'm incredibly proud of the heroic efforts of Vermonters as we face this pandemic, but federal help is necessary to ensure our health and safety. https://t.co/e8QIFhrtJj

— Governor Phil Scott (@GovPhilScott) April 7, 2020
The fund, if granted, would provide a 75 percent reimbursement to state and local governments for emergency protective measures.
"The COVID-19 disaster is of such severity and magnitude that effective response is beyond the capabilities of the state and the affected local governments," Scott wrote in his letter to President Trump. "Federal assistance is absolutely necessary to ensure the health and safety of all individuals in Vermont."
Trader Joe's announced Tuesday that it has temporarily closed its location in Boston's Allston neighborhood, after an employee at the store reported symptoms consistent with COVID-19.
Store officials said the employee was last present at the North Harvard Street store on Sunday. The location — one of three Trader Joe's stores within Boston's city limits — is undergoing additional cleaning and is slated to reopen on Thursday.
The Allston store was among seven Trader Joe's stores nationwide that are being temporarily closed due to coronavirus-related concerns, according to the announcement Tuesday.
While it's unclear if any customers were at risk, the company said that employees at the respective locations "have been informed and understand the steps to take to best safeguard the health of their communities."
"There is nothing more important to us than the health and safety of our Crew Members and customers," Trader Joe's said in a statement. "We believe in being proactive and transparent in addressing issues, and we value information and clear communication."
During a Tuesday press conference, Gov. Charlie Baker said the commonwealth will infuse $800 million in critical stabilization funding to support healthcare providers across the state. 
Secretary of Health and Human Services Marylou Sudders said the funding will support hospitals, nursing facilities, primary care providers, and behavioral health providers. 
"Healthcare providers have stepped up in unprecedented ways the past few weeks while experiencing significant impact on their revenue and operations," she said. 
Half of the money, $400 million, will be allocated to 28 safety net and high Medicaid hospitals. This will include a 20 percent rate increase for COVID-19 care.
Sudders said more than $80 million of the funding will go toward nursing facilities while $30 million will be dedicated to other healthcare providers who are delivering medical care to COVID-19 patients. 
She said personal care attendants will also receive $30 million, and community health centers will receive $50 million.
The funds will be distributed from now until July. 
Gov. Baker said his administration is continuing to seek locations across Mass. to implement testing sites similar to the first-responder site at Patriot Place in Foxborough, and the drive-through facility that opened in Lowell on Tuesday. 
Secretary Sudders said the Lowell testing site offers patients results within 15 minutes. And if you test positive, she said a contact tracer from Partners In Health will let you know what you need to do to self-isolate.
When launching the contact tracing program over the weekend, Sudders said more than 5,000 people submitted applications, noting that 2,500 have already been scheduled for interview screenings. 
In his Tuesday press conference, Mayor Marty Walsh announced new parking measures, making all metered and overnight parking free for healthcare workers and medical professionals. 
Walsh said any healthcare workers who receive a parking ticket can email a photo of their ticket and their medical ID to [email protected] to waive any fees. He said the new policy works retroactively, too, for all workers who received tickets before April 7 and need their fees waived. 
The only violations officials will not waive, Walsh said, are for parking in front of a fire hydrant or a handicapped spot. 
In the next few weeks, the mayor said he's going to be asking more of the city and needs every resident to take the restrictions seriously.   
"We are not powerless in this situation," Walsh said, noting that what we saw in Italy and what we're seeing in New York doesn't have to happen in Massachusetts. 
He said the field hospital at the Boston Convention and Exhibition Center will be operational by Thursday and he expects Boston's homeless COVID-19 patients to be some of its first occupants. 
Marty Martinez, Boston's chief of Health and Human Services, said there are close to 200 positive COVID-19 cases in the homeless community. 
Of those tested, Martinez said a majority showed no symptoms. 
Massachusetts General Hospital, Brigham and Women's Hospital, and UMass Memorial Medical Center in Worcester have been approved by the federal Food and Drug Administration to launch the first U.S. clinical trial of a Japanese flu drug that may treat the coronavirus, a doctor involved in the test told The Boston Globe. 
The trial, which was approved Tuesday, will use the drug "favipiravir" to treat COVID-19 patients and analyze its effectiveness, according to the newspaper. 
In Japan, doctors are leading their own trials, assessing the drug's safety as a potential COVID-19 treatment 
Favipiravir, which was developed by a subsidiary of Fujifilm, has produced "encouraging outcomes in clinical trials in Wuhan and Shenzhen involving 340 patients," according to The Guardian. 
The Globe reported that about 50 or 60 patients across the three Mass. hospitals will be involved in the trial. 
"These things do take a little bit of time," Dr. Robert W. Finberg, an infectious disease specialist at UMass Memorial, told the newspaper about the trial. "We will not get an instant answer."
Most of the residents at Life Care Center of Nashoba Valley have tested positive for COVID-19 after the National Guard stepped in on Friday to administer tests.
Of the 83 residents tested by the Guard, 48 tested positive, which brings the total number of positive cases among the residents at the senior care facility to 65. That includes 14 who are hospitalized.
"We have also updated our number of expired patients to five as of yesterday; all of them died in the hospital after leaving our facility," a news release from the center on Tuesday said. "Our condolences go out to their loved ones."
A total of 31 residents tested negative, one test was inconclusive, and another three are pending.
At the time that the testing by the Guard was announced, 17 people had tested positive. That included one resident who died, eight other residents, and eight staff members.
Town officials said the facility didn't follow protocols after a worker and a resident initially tested positive for the deadly virus, and public health officials were "stonewalled" by those at the facility, Jim Garreffi, the town's director of public health, said in a news release at the time.
The Nashoba Valley facility is owned by Life Care Centers of America, which also owns a facility in Kirkland, Washington, where 35 people died of the virus.
Tufts University will begin housing medical personnel, first responders, and patients, including those recovering from the coronavirus, in its dorms, according to the college's president, Tony Monaco.
"This is not only our civic obligation but also an important way for us to help minimize the spread of the virus, which in turn will reduce risk of exposure to members of our Tufts community and neighbors in our host communities," Monaco said in a statement to the community Monday. "This is especially important as our local hospitals prepare for a surge of cases in coming days and weeks that threatens to overwhelm their capacity."
The university will house Somerville and Medford first responders who are unable to return home to potentially vulnerable family members because they are awaiting test results, or who have tested positive and need to isolate.
An update on how @TuftsUniversity has partnered with our local communities, hospitals and health care providers to help in the fight against COVID19. https://t.co/Gq9OyDxUc1

— Anthony Monaco (@MonacoAnthony) April 6, 2020
Similarly, dorms will be opened to Cambridge Health Alliance and Tufts Medical Center personnel who cannot return home to potentially vulnerable family members.
COVID-19 positive Cambridge Health Alliance patients who no longer need critical care but still require isolation will also be allowed to transfer to a Tufts residence hall.
"We will be able to do this because we have segmented our campus into separate zones for different types of populations, meeting the needs of each while protecting everyone's health," Monaco said. "Our local and healthcare partners will provide all care and support, including medical care, food delivery, waste removal, security, cleaning, and other needs."
He said though the transition raises concerns about Tufts community members' safety, it helps free up valuable space in Massachusetts's hospital systems.
Those who have been exposed to COVID-19, Monaco said, will remain separated from those who have not.
"As COVID-19 continues to have an impact globally and locally, it is clear that support and action are needed from all corners. Individuals, communities, and institutions can all play a part in mitigating the spread of this pandemic," he said. "We have the ability to help with our space, facilities, infrastructure, and partnerships. We need to match our capacities to providers' needs in order to help relieve the pressure on the healthcare system."
A drive-through testing site in Lowell opened Tuesday, offering on-the-spot COVID-19 tests and results at no cost to Mass. residents and screening up to 1,000 patients a day, according to a press release Tuesday. 
The Baker-Polito administration partnered with CVS to launch the new location, becoming the third state to do so alongside Georgia and Rhode Island. 
"The continued expansion of testing, along with our new efforts around community tracing, will enable the Commonwealth to better track and slow the spread of this virus," Gov. Charlie Baker said. 
Officials said all patients tested will receive quick results on-site, allowing them to properly seek treatment or quarantine as needed. 
Testing at the Lowell site, which is located in the parking lot of the Showcase Cinemas at 32 Reiss Avenue, will be overseen by licensed health care providers from MinuteClinic, the retail medical clinic of CVS Health. 
Any patient seeking testing will need to pre-register in advance to schedule a same-day time slot. Testing is currently limited to high-risk patients.
After experiencing mild COVID-19 symptoms, a member of Gov. Charlie Baker's cabinet, Secretary Thomas A. Turco, of the Executive Office of Public Safety and Security, said he has tested positive for the coronavirus. 
"I have notified my close contact colleagues and am working from home, where I remain in frequent contact by phone and email with public safety agency heads and my senior staff," he wrote in a statement, Monday. 
He said the EOPSS team has been following the Department of Public Health's guidelines and working remotely, following Baker's social distancing advisory.  
"When it has been essential to meet in person, we have been careful to adhere to DPH and CDC health and safety guidance," he said. "I am deeply grateful to my colleagues in the office and the public safety community for stepping so seamlessly into new and important roles to protect the Commonwealth's residents and communities.  That work will continue without interruption."
Twenty-five veteran residents at the Holyoke Soldiers' Home have died as of Monday. 
Of those deaths, 18 tested positive for COVID-19 and three are pending testing results; one cause of death is still unknown and three tested negative for COVID-19, according to Brooke Karanovich, a spokeswoman for the facility. 
Karanovich said 59 other veteran residents and 31 staffers have also tested positive for the coronavirus. 
While the Massachusetts National Guard is currently supporting the Soldiers' Home, officials are also seeking additional staffing support through contract workers and per diem workers. 
Karanovich said to help mitigate the spread, additional contracted housekeeping staff have also been brought onsite for ongoing terminal cleaning.
At the Chelsea Soldiers' Home, she said three veteran residents have died from the coronavirus.
Fourteen others have tested positive, and 258 veteran residents are still awaiting test results.
Connecticut reports 1,231 new COVID-19 cases; Rhode Island reports 1,082 COVID-19 cases; N.H. reports 42 new cases; Maine reports 6 new COVID-19 hospitalizations; and Vermont reports 22 deaths. See details from each state below.
In his Monday update, Gov. Charlie Baker and First Lady Lauren Baker announced the Massachusetts COVID-19 Relief Fund, which will provide support for essential frontline workers and vulnerable populations across Massachusetts. 
"The compassion and generosity of the people of Massachusetts continues to inspire and amaze me, and I have no doubt that our state will continue to step up and give back to Massachusetts communities so that we can come through this crisis stronger and more united than ever before," Baker said in a press release. 
With over $13 million kickstarting donations, the fund will also support undocumented populations, people with disabilities, and Mass. residents and immigrants facing food and housing insecurity, or a loss of critical services due to COVID-19.   
Anyone hoping to make a donation can visit the fund's website here. 
"These are unprecedented and uncertain times, and the people of Massachusetts are struggling," Lauren Baker said in a press release. "The Massachusetts COVID-19 Relief Fund will help us connect those who are most acutely impacted by COVID-19 with the resources and services they need to get through this difficult time and stay safe, healthy, and supported." 
Gov. Baker also announced a new Lowell-based testing site, which will partner with CVS to test up to 1,000 people a day on an appointment basis. 
Another site, he said, is set to open later this week at the Big E in West Springfield.
Lacking personal protective equipment and testing swabs, the mobile COVID-19 testing facility at the New Hampshire Army National Guard Armory in Manchester was shut down on Friday, according to the Manchester Emergency Operations Center.
"This decision was made in consultation with local partners and is based on several factors, including, but not limited to, shortages in available personal protective equipment (PPE) and testing swabs and the need to clean and service equipment at the testing site," Emergency Operations Center officials wrote in a news release.
The mobile operation, which originally launched on March 14, tested over 1,000 people before closing on April 3.
As of Friday, Manchester had reported 63 confirmed COVID-19 cases.
While the mobile testing facility is down, officials said testing will continue at Catholic Medical Center, Elliot Health System, and Dartmouth-Hitchcock.
With construction underway, the Boston Convention and Exhibition Center in Seaport will be converted into a 1,000-bed temporary field hospital, Mayor Marty Walsh announced at a press conference Thursday.
The site would house the state's second field hospital, following one set up at the DCU Center in Worcester.
Walsh said ideally, the space will provide 500 beds for the city's homeless population and 500 beds for overflow patients with COVID-19 who don't need full hospitalization. 
While plans are still being hammered out, Boston officials launched a request for proposals in hopes of finding a partner to help run the emergency medical sheltering facility. 
Gov. Charlie Baker said a third field hospital will be set up at Joint Base Cape Cod, a military base in Bourne. 
He said each field station aims to create space in hospitals for critical COVID-19 patients. 
"When people are ready to move from an acute level of care, because they no longer need to be there but they still need to be watched over and cared for," Baker said, the state wants "to be able to move them to a lower level site … so that the hospital, the acute facility, can continue to serve additional people who not only are COVID-19 folks, but also are other folks who are dealing with the many other issues that our hospitals deal with in Massachusetts everyday."
Baker said there are ongoing efforts to find a site for a fourth field hospital in Western Mass.
The Professional Fire Fighters of Massachusetts reported that at least 87 firefighters have tested positive with COVID-19 in the commonwealth as of Sunday. 
These numbers are alarming, but firefighters across Massachusetts and the United States will continue to answer your calls for service. Please help us to help you – Stay Home. #StayHomeandSaveLives pic.twitter.com/Xc32n06IAs

— Fire Fighters of MA (@THE_PFFM) April 5, 2020
While 831 firefighters have been tested, 583 are currently in quarantine and 1,814 have had a documented exposure to the virus. 
"These numbers are alarming, but firefighters across Massachusetts and the United States will continue to answer your calls for service," the labor union said in a Tweet on Sunday. "Please help us to help you – Stay Home."
A drive-thru coronavirus testing site opened Sunday in the parking lot of Gillette Stadium, the home stadium of the New England Patriots.
The Foxborough site is designated specifically for police officers, firefighters and other first responders and will be able to test up to 200 people a day for free.
Gov. Charlie Baker, after touring the testing site Sunday, said similar facilities will also be established in other parts of the state. One is already operational at Suffolk Downs, the former horse racing track in East Boston.