COVID
Charlie Baker voices opposition to Donald Trump's order to suspend immigration due to the coronavirus
"It doesn't make any sense, and I don't think it makes us any safer."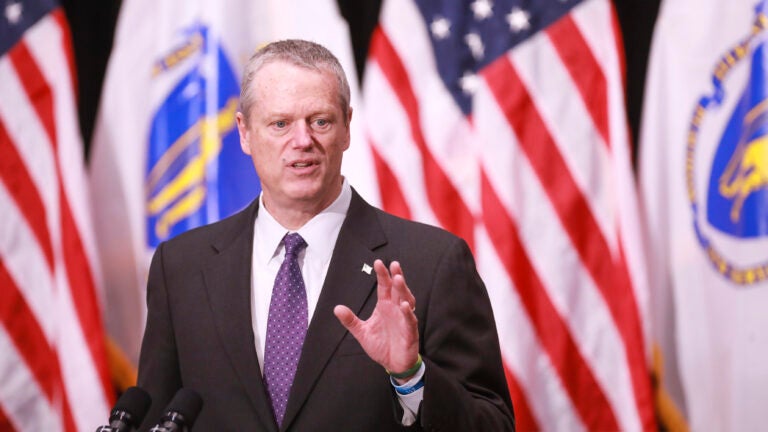 Massachusetts Gov. Charlie Baker said Tuesday that he opposes President Donald Trump's decision to suspend immigration to the United States over coronavirus concerns.
"I'm opposed to the order," the Republican governor said during his daily press briefing Tuesday afternoon. "It doesn't make any sense, and I don't think it makes us any safer."
Trump announced his intentions to issue an executive order temporarily suspending immigration in a tweet Monday night, citing "the need to protect the jobs of our GREAT American Citizens" in the midst of the pandemic. 
The order would build on actions that the Republican administration has already taken to aggressively limit immigration during the public health crisis. As The New York Times reported, Trump has used coronavirus concerns to expand travel restrictions, slow visa processing, and block asylum seekers.
Illustrating his opposition to Trump's planned order, Baker noted Tuesday that the early source of the COVID-19 outbreak in Massachusetts wasn't immigrants seeking to live in the United States but "two folks here on a business conference," referring to the now-infamous Biogen meeting in February at the Boston Marriott Long Wharf hotel.
It's unclear whether the order would also ban leisure or business travel to the United States; since Trump's tweet, the White House has released few details about the president's plans.
Either way, Baker — a moderate Republican who has spoken out against Trump's previous moves to restrict immigration — joins the Bay State's Democratic congressional delegation in opposition to the order.
Reps. Katherine Clark and Joe Kennedy III said it was an attempt to distract from the federal government's scrutinized response to the pandemic, while others — including Sen. Elizabeth Warren and Rep. Ayanna Pressley — criticized Trump for using the order to further his "xenophobic agenda."
"I don't support it," Baker reiterated Tuesday. "It doesn't make us any safer."