COVID
Hair stylists petition for 'soft opening' before scheduled end of non-essential business shutdown
Cosmetologists and beauty professionals are asking Gov. Baker to allow them to meet privately with one client at a time.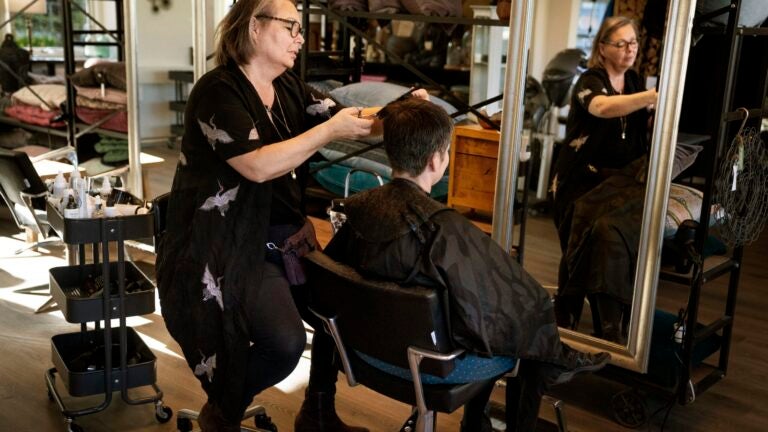 Massachusetts cosmetologists and beauty professionals are calling on Gov. Charlie Baker to make an exception to his executive order shuttering all non-essential businesses until May 4 because of the coronavirus pandemic, and instead allow a "soft opening" for hair salons across the state. 
The petition, organized through MoveOn.org, asks Baker to let beauty professionals meet "privately with one client in the salon per stylist at a time" starting April 27, more than a week before the order closing non-essential businesses is currently scheduled to lift.
As of Tuesday morning, the campaign had amassed 5,297 of its 6,000 signature goal.
"All necessary precautions and sanitation protocols will be taken [as] approved by the state of Mass. And the local board of health will be followed," Dawn Desrosiers, who organized the petition, wrote in its description. "Our industry needed to be recognized and deemed as an essential business."
Concerned about an uptick in cases, Baker extended the non-essential business closure order on March 31 to May 4, only allowing businesses that offer essential services, as listed on the governor's website, to operate until then.
The order encourages businesses and organizations not included on the list to continue operations remotely, in a way that doesn't require workers, customers, or the public to enter physical shops.
The hair stylist's petition states that hairdressers would wear a mask while performing beauty services, and leave time in between clients to clean and wipe all services. 
"The survival of independent beauty professionals is at risk," Desrosiers wrote in the campaign. "We are facing a huge financial hardship."
<hr>