COVID
Community health centers grapple with financial strain, equipment shortages while battling COVID-19 in vulnerable communities
"The issue of personal protective equipment is very dire at the moment."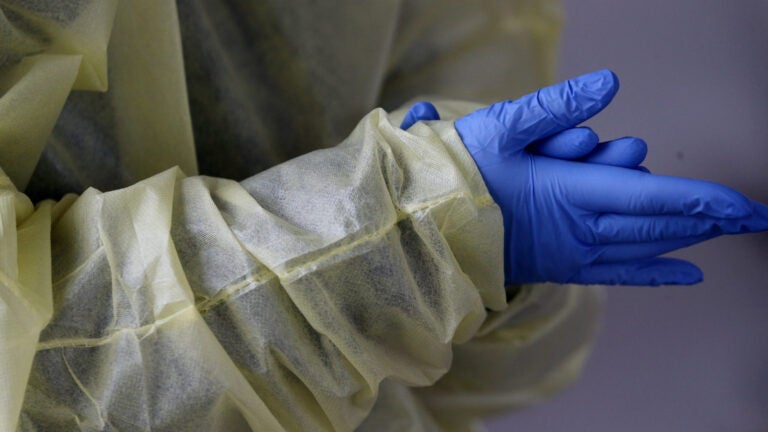 Community health centers across Massachusetts are warning they are facing severe financial strain and critical equipment shortages even as they work with state and local officials to expand coronavirus testing and tracing in communities that are disproportionately at risk for COVID-19.
The state's 52 community health centers have worked to transition their services to be more responsive to urgent care with the COVID-19 pandemic and to protect employees and patients alike by using telehealth, James W. Hunt Jr., CEO of the Massachusetts League of Community Health Centers, told Boston.com. But with the necessary cancellations of checkups and other "wellness visits," like dentist appointments, there has been a precipitous loss in revenue to the facilities that were already fragile financially.
The state's community health centers serve as primary care providers for about 1 million Massachusetts residents, often serving as a "one stop" shop for people in vulnerable communities, offering integrated services, behavioral health, oral health, and eye care. While 38 of the centers receive federal funding, they also rely on grants and contracts at the private and public level, through MassHealth, Medicare, private insurance, and Accountable Care Organizations.
"They serve all those that reach their doors regardless of their ability to pay," Hunt said. "Language barriers are not an issue — we speak the language of the people in our communities, and we're responsive to those individual community and cultural needs."
Early in April, some state health centers, including the East Boston Neighborhood Health Center, announced staff furloughs because of revenue shortfalls. Hunt estimated that the centers have seen on average a 60 percent decline in revenue, typically generated by patient services, because of COVID-19.
"That basically takes this fragile financial organizational structure and makes it even more so," he said.
Hunt said two federal investments in community health centers nationwide have been helpful so far in keeping the facilities running.
"One a very tiny one of a $100 million spread over the 1,381 health centers nationwide — that's about $60,000 per health center," he said. "And the second investment of $1.32 billion that's just been advanced to the health centers in the form of grants last week."
That investment being infused into health centers now will stabilize programs for about six weeks. Massachusetts health centers have also been working with MassHealth to ensure that the health facilities "are here as we emerge out of this crisis," Hunt said.
"In the case of COVID-19, with us expecting that returning to normalcy as it relates to revenue will be a six-month process, we're going to need many, many more billions of dollars to keep the programs stable for the next three to six months," he said.
Last week, Boston Mayor Marty Walsh announced that six community health centers in the city that were seeing higher incidences of COVID-19 were being awarded emergency grants from the Boston Resiliency Fund to expand testing for the coronavirus in their communities. The grants went to Bowdoin Street Community Health Center, Codman Square Community Health Center, DotHouse Health, Mattapan Community Health Center, Uphams Corner Community Health Center, and Whittier Street Community Health Center, which had already begun offering expanded testing.
The move followed after Boston officials released data in early April that revealed the coronavirus was disproportionately hitting the city's communities of color. The city launched a COVID-19 Health Inequities Task Force to provide guidance on how to address the inequities in data analysis, testing sites, and health care services for Blacks, Latinos, Asians, and immigrants amid the pandemic.
"We know that there are significant inequities that put our communities of color and immigrant population at higher risk for contracting coronavirus, developing severe illness, and impeding them from accessing care," Walsh said in a statement on the creation of the task force.
On Monday, the mayor said the goal is to have every community health center providing testing to residents in their neighborhoods.
Every community deserves full access to COVID-19 testing. We will continue to work to expand access to testing for all…

Posted by Marty Walsh on Monday, April 20, 2020
"Based on initial data collected by the City of Boston, we know that COVID-19 is disproportionately affecting people of color and people living in certain neighborhoods," Sandra Cotterell, CEO of Codman Square Health Center, said in a statement on receiving the city's grant last week. "These funds will allow us, and other community health centers receiving grant funds, to ensure access to neighborhood-based testing, and identify ways to prevent spread."
Codman is offering testing for community members who have symptoms of COVID-19. Call 617-822-8271 before coming in. pic.twitter.com/FuARd6mkbM

— Codman Square Health Center (@CodmanHealth) April 17, 2020
Hunt said health centers across the state are ramping up to do more and more testing. He expects to see testing become "widespread" at community health centers in the next weeks as they work with the state and Partners in Health to trace COVID-19 positive patients and their contacts, while providing care to those in the community who are diagnosed and need help. So far 32 health centers have signed up to work on contact tracing with local public health departments and Partners in Health.
"We'll be working with Partners in Health and with other community supports to isolate and to provide in-home services to those who may very well not be as sick who can be serviced at home with the necessities of food, life, etc., and we'll be working in collaboration with those communities," Hunt said.
But as those efforts increase, the health centers are facing shortages of the personal protective equipment needed to protect staff from the virus while serving the community.
"The issue of personal protective equipment is very dire at the moment and it varies from health center to health center," Hunt said.
Right now, he said, the league is working to obtain N95 masks, tyvek suits, and gloves to create a "rotating stockpile" for the state's health centers. He said the league is asking the state, MEMA, and FEMA to make health centers a priority, in the same way that hospitals and nursing homes have been a focus for obtaining test swabs and protective equipment.
"We're not asking that anything be taken away from where it's needed, but in order to maximize the impact of health centers on the most vulnerable in our society — particularly people of color, people of a different language — in communities is going to require further health center outreach," he said. "And that's going to require not only the resources but it's also going to require that personal protective equipment — writ large in the long haul."
Hunt said every health center is accepting donations of PPE that is up to code.