COVID
Guidance on how hospitals can ration ventilators during COVID-19 has been revised after equity concerns. Here's what changed.
The initial recommendations received backlash over how disparities could disproportionally impact coronavirus patients of color.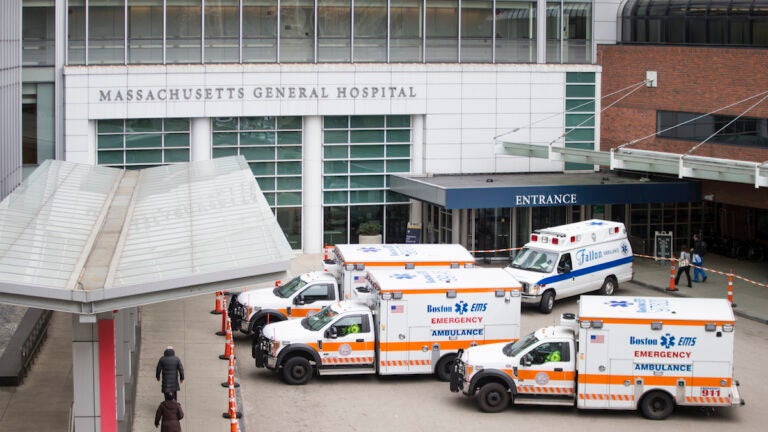 State public health officials have released revised guidance to hospitals for how facilities can ration equipment critical to combatting COVID-19, including ventilators and ICU beds, after a wave of criticism raised concerns over equity in the initial recommendations issued earlier this month.
The "Crisis Standards of Care Planning Guidance for the COVID-19 Pandemic" provides a non-mandatory framework for hospitals, if at capacity, to make "tragically difficult decisions" should they ever be forced to do so.
The initial recommendations utilized a priority scoring system to assess patients — with the goal of saving the most lives and the most life-years — that determined scores based off of co-morbid conditions among patients.
The guidance raised objections from lawmakers and advocates, who said longstanding health care system and socioeconomic disparities would disproportionately impact patients with disabilities and patients of color, who are more likely to suffer from co-morbid illnesses due to those conditions.
The revised guidance, released Monday, removes references to co-morbidities from the allocation framework, and instead underscores the focus on each patient's short-term survivability and near-term prognosis.
There is also explicit acknowledgement that inequities exist in the health care system, that disability alone is not enough to make a triage decision, and that hospitals should put diversity officers on review and oversight committees when possible. Reasonable accommodations should be considered for patients with disabilities, officials say.
"These voluntary guidelines were the work of an advisory group with extensive experience in medicine, ethics and public health and have been revised to reflect the direct input of stakeholders to develop guidelines that clarify concerns regarding equity and disparities," a state Department of Public Health spokesperson said in a statement. "The recommendations were created to prevent unconscious bias against people of color, people with disabilities and other community members who are marginalized."
So far, the recommendations have not been needed, even as the number of cases in Massachusetts has surged, pushing the Bay State into the epicenter of the coronavirus outbreak in the United States in recent days. With over 39,600 confirmed cases Monday night, Massachusetts had the third highest case count in the country, behind New Jersey, with 88,806, and New York, with 247,543.
Gov. Charlie Baker said Tuesday that as of end of the day Monday, 3,800 beds across the state were occupied by COVID-19 patients, with over 10,000 beds — or about 58 percent of the total capacity — still available, including 2,600 ICU beds.
Officials anticipate hospitalizations to rise though in the coming days, he said.
"Our health care system is keeping up … but the data shows we're still very much in the grips of a pandemic here in Massachusetts," Baker said during a press conference.
Under the new recommendations, a team of triage officers at each hospital would issue scores to each patient based on "objective medical criteria" that takes stock of how an individual's underlying conditions limit their near-term prognosis — or whether they are likely to die within five years — and how severe underlying conditions limit life expectancy to within one year.
The change essentially ensures that a patient projected to live at least another five years receives the same priority as someone expected to live decades longer.
Patients with lower scores are prioritized. Priority is also given to patients with viable pregnancies and health care workers who are "vital to the public health response." In event of a tie, younger patients are prioritized.
"In some cases valid prognostic data will not be available to determine whether a patient has a condition that significantly limits near-term prognosis. In these cases, clinicians should make conservative judgments regarding prognosis, relying upon individualized assessment and the most expert clinical judgment available to them," the guidance says. "In other words, triage officers should not assign points based on the patient's underlying conditions when the prognosis is uncertain. The mere existence of certain underlying medical conditions (including without limitation a diagnosis of end stage renal disease, a diagnosis of congestive heart failure, or a diagnosis of dementia) should not be used in and of themselves to assign points without objective, medical evidence that such conditions are of a severity that would significantly limit near term life expectancy."
The document also notes that in cases of limited data — if "laboratory values or other elements" needed to determine a score are not available in a time-sensitive case — "the triage officer will do his/her best to approximate a priority score."
Dr. Lachlan Forrow, director of ethics and palliative care at Beth Israel Deaconess Medical Center and who served on the committee that helped craft the guidance, told The Boston Globe the five-year component is aimed at avoiding decisions such as whether to allocate resources to someone with a terminal illness but whose life expectancy could still be beyond a year.
If the five-year component was not included, the recommendations could potentially direct providers to giving a ventilator to "that person equally to a person who has a 30-year life expectancy," Forrow told the newspaper. "That just seemed wrong."
But worries about how the guidance would play out in practice remain.
Colin Killick, executive director of the Disability Policy Consortium, told the Globe the changes are a "genuine effort" to direct hospitals to avoid bias in decision making, but he raised concerns about the five-year prognosis factor.
"Emergency room staff, in the middle of a crisis, with limited access to diagnostic tools and time, are going to be asked to determine somebody's life span at that kind of scale," Killick said. "I don't know how you avoid falling back on stereotypes and on broad assumptions based on somebody's diagnosis rather than their individual case."
Dr. Alister Martin, an emergency room doctor in Boston, said the new guidelines can still give priority to those without existing conditions, according to the Globe.
"These social determinants of health are still very much going to drive who's going to get a ventilator and who's not going to get a ventilator," said Martin, one of hundreds of health care workers who signed a letter sent to state officials voicing concerns with the initial framework.
Alongside the revised guidance, state Public Health Commissioner Dr. Monica Bharel issued an order Monday requiring any health care facility that uses the guidance to notify DPH prior to rolling out the protocols. Additionally, facilities must provide information and records so the department can monitor quality control and equity in the process.
Bharel will also form an advisory group to offer input on issues of health care equity and disparity, officials said.
Read the full guidance.