COVID
Charlie Baker was asked about banning in-store grocery shopping. He said it might defeat the purpose.
Some have called for allowing delivery or pickup only at grocery stores over coronavirus concerns.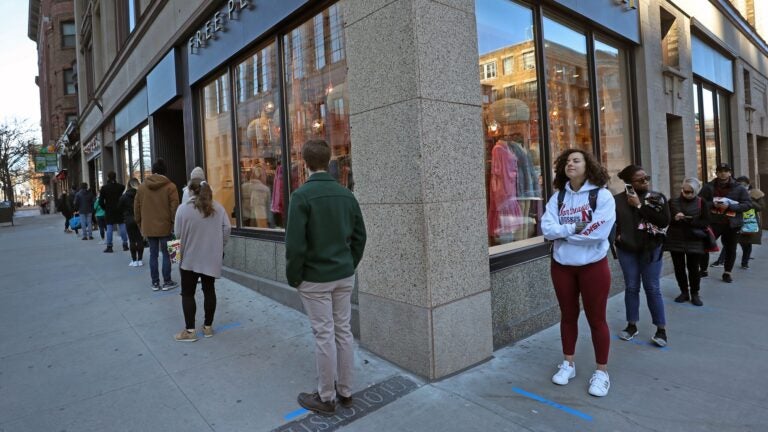 Gov. Charlie Baker's administration has worked to encourage and expand online grocery shopping, but has no plans to make it a requirement in the midst of the coronavirus outbreak.
"I haven't had people ask for that," Baker said during a press conference Wednesday, when asked by a reporter if he was considering an order to keep customers from entering supermarkets by mandating "curbside pickup only or delivery only for the grocery stores."
Some experts have suggested the drastic policy may be necessary to keep grocery store workers safe and limit the spread of COVID-19, as CNN reported Wednesday. Many smaller, independent grocery stores — and even a few select Whole Foods and Kroger locations across the country — have converted to delivery or curbside pickup due to concerns that in-store crowding could spread the virus between customers and workers.
However, both methods require more in-store staff, and online grocery ordering services have already been overwhelmed by high demand amidst the pandemic. Baker noted Wednesday that a statewide order could also create crowding outside the stores.
"The one concern I would have about that is the pileup it would create in the parking lots, which may defeat some of issues associated with distancing in the first place," he said.
Baker's latest guidance to grocery stores does say that supermarkets that offer curbside pickup or delivery (not all of them do) should encourage customers to "use those methods before coming into the store." The administration has also applied to join a federal pilot program to allow Supplemental Nutrition Assistance Program recipients to use EBT cards for online grocery orders.
Baker reiterated Wednesday that the state's occupancy limits for supermarkets and guidance that people should wear a face covering while shopping — in addition to the laundry list of previous distancing and cleaning rules — were intended to address concerns about the disease spreading in grocery stores. He also said that the state has "backed up and supported every community that's moved more aggressively to make [the mask advisory] an enforceable order."
Baker's comments came after reports Tuesday that a third grocery store worker in Massachusetts had died due to COVID-19. Across the country, at least 41 grocery store employees have died from the virus, according to the Washington Post. And a recent poll conducted by the United Food and Commercial Workers International Union found that 85 percent of grocery workers said that customers were not practicing proper social distancing.
During his press conference, Baker — who has repeatedly thanked grocery store employees for their "critical" work during the pandemic — said the reality was that they and other essential frontline workers, from health care workers to emergency responders, would continue to face a certain degree of danger.
"There are a lot of people — we've all said this before — who are putting themselves and their families, in many cases, in harm's way every single day," he said. "And we're doing the best we can to make sure we create a framework that provides as much protection as we possibly can."