COVID
Braintree-based Oofos donates thousands of sneakers to frontline medical workers
"The best use we can find for this product right now is to get it on the feet of people who need it the most."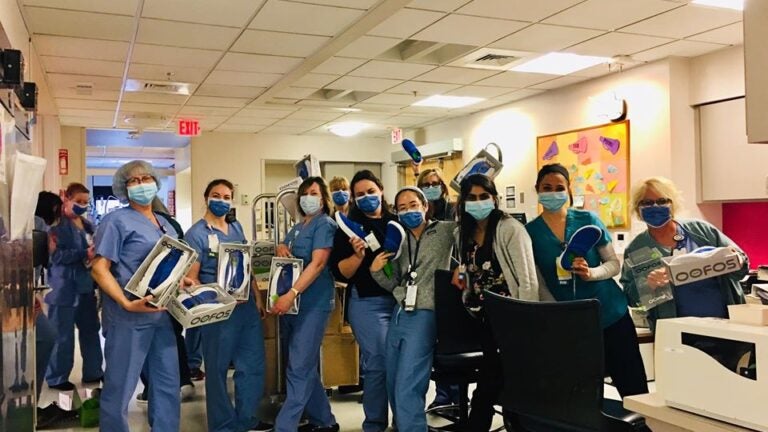 Over the past few weeks, Braintree-based footwear company Oofos has donated 3,200 pairs of sneakers to support healthcare workers on the front lines of the coronavirus pandemic. The recipients have included 22 hospitals nationwide, including local providers like Massachusetts General Hospital, South Shore Hospital, and Tufts Medical Center. 
"One of the reasons our shoes are really important for somebody in the medical industry…is that it's built to protect the human body from hard surfaces we walk around on all day long. Nurses have always been a core audience," said Oofos head of marketing Darren Brown.
The shoes have already been put to use at recipient hospitals. 
"Receiving Oofos' new OOmg shoes was not only a great morale booster, but also an incredible help in caring for our patients during this unprecedented time," said Gayle Kahler, a registered nurse in the NICU at Floating Hospital for Children at Tufts Medical Center, which received over 100 pairs of shoes. "Looking around my unit I see a lot of my colleagues in their cute and comfortable bright blue OOFOS now, and it's really a happy feeling. The generosity shown by this company has had an impact that they'll never fully understand."
On the Oofos Instagram page, one commenter from a California hospital wrote, "I was one of the lucky nurses at Scripps Memorial LJ to receive a pair. They are cute and so comfy! Thanks again, this is so appreciated right now."
Oofos uses a foam designed to absorb impact rather than rebound like traditional athletic shoes. The foam is also non-absorbent, which means the shoes can be wiped down quickly or sanitized using a washing machine.
The company initially planned to donate 1,000 pairs of shoes, but after an overwhelmingly positive response from both medical professionals and their own employees, they donated an additional thousand pairs—and then a thousand more.
"After (the first two rounds) we kind of sat back and said, can we do more?" said Brown. "What can we physically do as an organization? We're a small company, but let's dig deep…the best use we can find for this product right now is to get it on the feet of people who need it the most." 
Medical professionals can purchase Oofos sneakers through a partnership with ID.me online at a discounted rate.