COVID
What to know about the state's Food Security Task Force and the new Pandemic EBT program
To fight hunger in the state, officials established a task force and recently implemented a new food benefits program.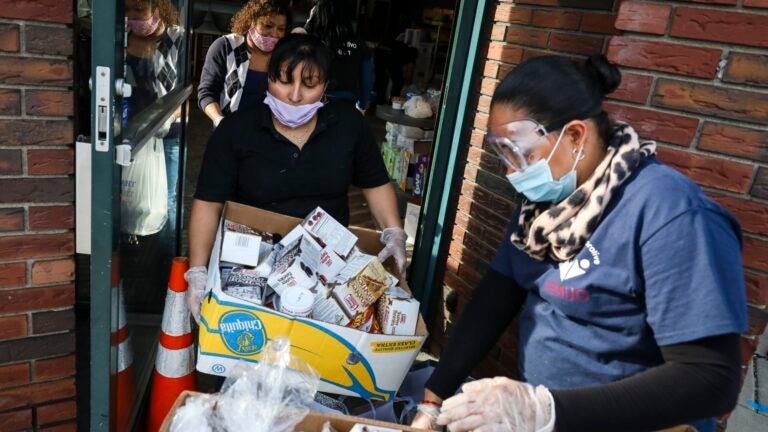 As the coronavirus pandemic has left a wave of economic impacts in its wake, many across the commonwealth are struggling to put food on the table. To fight that need, the state's COVID-19 Command Center established a Food Security Task Force that held its first meeting Wednesday. 
Health and Human Services Secretary Marylou Sudders said the task force comprises a coalition of lawmakers among other partners, including the Greater Boston Food Bank, Project Bread, and The Shaw Foundation. 
"The idea is to truly centralize coordination of resources and communication across sectors and across federal, state, and municipal resources, to meet the urgent food needs across every part of our state," Sudders said in a Wednesday press conference. 
Now, the task force has 30 days to create and submit a plan that ensures every Massachusetts family has the food it needs. 
"The goal of the group is to obviously identify immediate needs, to maximize our nutrition program access, and create and implement plans that address all parts of our state and explore these creative partnerships to maximize resources," she said. 
Sudders noted that members of the task force will not only plan for the immediate future, but also the long haul. 
"It'll include a summer season, and launch back to school and obviously thinking beyond the school year. It is to foster communication across all key stakeholders, pursue traditional solutions," she said, "but to be open to experimenting with new ideas and innovation — using data to drive our decision making, set priorities and direct resources."
Sudders said Mass. is also one of the first four states to launch the Pandemic Electronic Benefit Transfer program under the Families First Coronavirus Response Act, which was signed into law in March. 
#DTA & @MASchoolsK12 received approval from @USDANutrition to offer Pandemic EBT (P-EBT) food benefits for any child who received free or reduced-price #schoolmeals across the Commonwealth -bringing in ~$200 million to over 500,000 children.​

Learn more: https://t.co/WrdgT506yB pic.twitter.com/tIBCO1vF1U

— Mass. Department of Transitional Assistance (DTA) (@DTA_Listens) April 23, 2020
This new program will support families of the roughly 470,000 children who qualified for free- or reduced-priced lunch during the 2019-2020 school year, according to the U.S. Department of Agriculture, and who are no longer receiving those meals with schools closed through June due to the pandemic.
Food security, Sudders said "is not just important right now, but it will be as we work through the economic impacts of the pandemic."
Households receiving benefits from the program will directly receive an EBT card loaded with $5.70 per school day per child, which amounts to about $28.50 a week. 
MA children who are eligible for free or reduced-price school meals will soon receive additional support to purchase food during school closures associated with #COVID19. Anyone needing information about Pandemic EBT can learn more from @projectbread https://t.co/HeSQFVANzy pic.twitter.com/IStzHjpTA1

— Hannah Kane (@HannahEKaneMA) April 22, 2020
Sudders also noted that any home located within school districts that have implemented universal lunch will automatically be enrolled in the program, including some families who normally make too much money to qualify for benefits.
"During this public health and economic crisis, families who were previously over income eligibility limits may have lost income sources and need this critical financial support to purchase … nutritional food for their family," she said during the news conference.
Project Bread President Erin McAleer recently told Boston.com that before the pandemic, about 9% of Massachusetts residents faced hunger. As of March, in the wake of the shutdowns, she said nearly 38% of people are now food insecure. 
While Boston Public Schools serve lunch and breakfast at sites across the state on weekdays, and the National Guard distributes food to COVID-19 hotspots, many are asking whether charity or community food relief efforts will be enough. 
And this hunger is far from unique to Massachusetts; it's affecting people across the globe. 
In a recent New York Times article, experts estimated that about 265 million people worldwide could be on the brink of starvation by the end of 2020. 
Normally, severe food insecurity is more siloed — occurring regionally after natural disasters, or political instability, the Times reported. 
But this pandemic has created a global hunger crisis, experts told the newspaper, leaving people from Honduras to South Africa to India protesting lockdowns and a lack of access to food. 
"Instead of coronavirus, the hunger will kill us," Nihal Singh, a New Delhi worker, told the newspaper. 
Here in the commonwealth, the Food Security Task Force has started its work, and secretary Sudders said after the 30 days of planning have passed the Baker administration will update the public with a new plan and recommendations to keep Massachusetts residents from going hungry.